1980s
Jeffrey Herf, Ph.D.'81
, is a history professor at the University of Maryland, where he studies the intersection of ideas and politics in modern European history, specializing in 20th-century Germany. He has published extensively on Germany during the Weimar Republic, Nazi Germany and the Holocaust, and on West and East Germany during the Cold War.
Joan Danziger, M.M.H.S.'83
, a former federal human-services agency aide and veteran nonprofit administrator, was named the new chief executive for Allied Community Services, a Connecticut nonprofit agency that serves people with developmental disabilities. Joan had been Allied's chief operating officer since May 2011. Before joining Allied, she was vice president at the Corporation for Independent Living in Hartford. She also has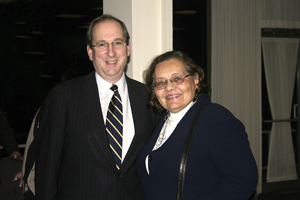 President Fred Lawrence welcomed famed freedom
rider Diane Nash to campus as part of Brandeis' 50th
anniversary celebration of the Freedom Rides, a pivotal
moment in the civil rights movement that was brought to
life by a book by Ray Arsenault, M.A.'74, Ph.D.'81,
and an award-winning documentary. The event was
sponsored by the Louis D. Brandeis Legacy Fund for
Social Justice.
held administrative posts with support agencies in Massachusetts and Pennsylvania.
Henry Greenspan, Ph.D.'86
, a lecturer in the University of Michigan's Residential College, was awarded a Fulbright to study at Concordia University in Montreal. As the Fulbright Visiting Research Chair in North American Society and Culture at Concordia, Henry is spending four months conducting research for a project titled "Beyond Testimonies: Developing the Collaborative Model in Oral Histories with Genocide Survivors." Henry is a licensed clinical social worker, psychologist and playwright. He is author of several books, book chapters and journal articles on genocide survivors and their testimonies. He has presented at numerous conferences around the world as a contributor and keynote speaker on the topic of genocide survival and the importance of oral histories. His Holocaust-themed play, "Remnants," has appeared on more than 200 stages across North America, Europe and Israel. The latest work from award-winning novelist
Ha Jin, M.A.'89, Ph.D.'93
, "
Nanjing Requiem
," tells the story of the horrors of the Japanese occupation of Nanjing, then the capital of China's Nationalist government. The narrative centers on Jinling Women's College, a landscaped campus in the heart of the city. "The college itself becomes a character, the early hope of its founders that it would be a premier seat of learning as much despoiled by the war as are the lives of those who love and labor within it," wrote The New York Times reviewer Isabel Hilton. "The college represents humanity and civilization, repeatedly violated and nearly destroyed."
Submit a Class Note