Class of 1981
I celebrated my 23rd wedding anniversary with my wife, Andrea, in Hawaii. We have two boys, a sophomore at UPenn who enjoyed a summer abroad at Aachen University in Germany, and an eighth-grader who enjoys music and comedy. I am a senior financial adviser at Firstrust Financial Resources in Philadelphia, working with private clients on asset management and estate planning.
In August 2013, Pam Siegel Berk; Michelle Lasker Mandleblatt; Fern Lazarus Schapiro; Tanya Lipkowitz-Briendel, P'15; Amy Alkoff Chasin; Debbie Lapin Freire; Sara Adler Darnell; and Cindy Cohen Zuckerbrod celebrated a Brandeis girls' reunion at the Norwich Inn in Vermont. Amy writes, "Fun was had by all. We love being with one another as much now as we did then." Ellen Wolk has practiced chiropractic for 21 years. Her office is on Main Street in Waltham, and she has taken care of many Brandeis students and employees. She writes, "It's always fun to talk over my days at Brandeis with current students. Things have certainly changed since 1981!" One of Ellen's Brandeis roommates is also a chiropractor. Wendy Rubinstein is a senior scientist at the National Institutes of Health (NIH) and director of the NIH Genetic Testing Registry. She received an NIH Director's Award and was named a top doctor by U.S. News & World Report. Wendy and her husband, Carl Cohen, were at the 19th Maccabiah Games in Israel in July to see their son Joel score the winning try (goal) for the U.S. rugby team, earning the 7s team a gold medal. Silvia Tenembaum Schneider and her husband, Alan, celebrated their 25th anniversary. They live in Kfar Adumim, Israel, and have four children: Gilad, 24, works in security; Yoni, 22, serves in the Golani brigade in the army; Hadas, 18, just graduated from high school and will soon begin a pre-army academy; and Moriah, 12, is in seventh grade. Silvia is a clinical psychologist with a private practice in Jerusalem. She works with children, adolescents and adults, and also does parent counseling. Lawrence Salas has lived in Salem, Mass., since 2005 with his wife, Kathleen. Their daughter, Fiona, was born in 2005, and their son, Ben, was born two years later. Lawrence is a quality assurance engineer at Nuance Communications (makers of Dragon) in Burlington. Abby Parsonnet was named Webster Bank's regional president for metropolitan New York. She is responsible for the bank's commercial middle-market business. She has also worked as senior vice president at JPMorgan Chase and as a restructuring adviser in the corporate finance practice of FTI Consulting, where she was a senior managing director.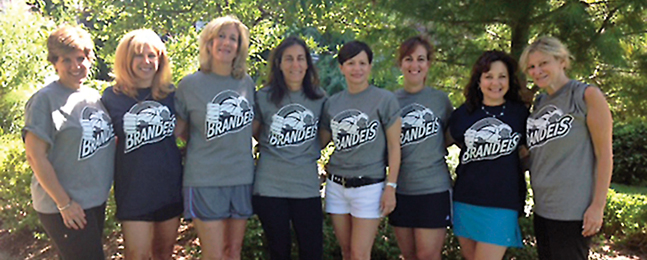 CLASSY WOMEN: Several members of the Class of 1981 — Debbie Lapin Freire; Michelle Lasker Mandleblatt; Pam Siegel Berk; Sara Adler Darnell; Amy Alkoff Chasin; Tanya Lipkowitz-Briendel, P'15; Cindy Cohen Zuckerbrod; and Fern Lazarus Schapiro — gathered for a reunion at the Norwich Inn in Vermont.
Submit a Class Note