Class of 2011
Elisheva Baskin, MA'12, and Michael Stein were married on July 28, 2013, at the Palisadium in Cliffside Park, N.J. Elisheva is an editorial assistant in New York for myjewishlearning.com, a website about Judaism and Jewish life. She creates newsletters and edits content for the site. Michael is a rabbi and Jewish studies teacher at the Abraham Joshua Heschel High School in New York City. Jason Henry Simon-Bierenbaum is the outreach coordinator and program associate at the MassLEAP (Literary Education and Performance) Collective and is active with the Louder Than a Bomb poetry slam. Jason is also a slam team coach at Boston's Institute of Contemporary Art and a middle-school wrestling coach. He is pursuing an MFA at the University of Massachusetts, Boston. Beau Bonness is an actor in Los Angeles and has picked up roles in films, TV shows and commercials. He recently appeared in an episode of TV's "Mistresses." Harrison Bannett is a clinical researcher at the Ophthalmic Consultants of Boston. Hannah Perlman started law school at Boston University.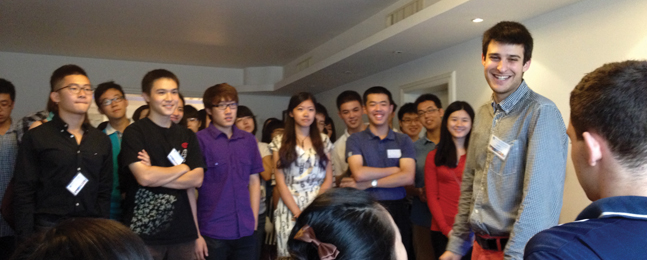 CHINA SYNDROME: Jamie Fleishman '11 (right) helped organize a summer gathering in Beijing for alumni, current and incoming students, and parents. More than 70 people attended the event, which featured a buffet dinner and remarks by Jian Wei, a lecturer in Chinese at Brandeis. Other event organizers included Chang Liu '12, Jesse Appell '12, Jie Dong '12 and Jake Laband '12.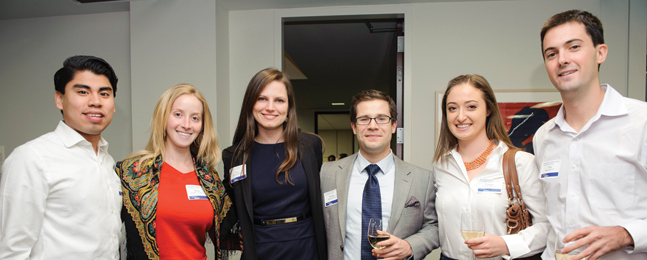 GLOBAL EXCHANGE: Jonathan Lopez '11, MA'12; Nicole Cordero '11, MA'12; Kim Myers, MA'13; Tom Weaver, MA'12; Colleen Purcell, MA'13; and Tyler Vance, MA'13, joined 75 other alumni at a presentation by Reto Francioni, CEO of Deutsche Börse AG (the German stock exchange). The event was co-sponsored by the Perlmutter Institute for Global Business Leadership and Brandeis International Business School (IBS), and hosted by Eric Weinstein '76, managing director of Neuberger Berman in New York City and a member of the IBS Board of Overseers.
Submit a Class Note