Class of 2012
It's kind of nuts that it has been more than a year and a half since graduation. It sounds like many of us have had quite a time. Thanks to the many people who responded to my email just to say hello — it's great to hear from so many of you. I teach seventh- and eighth-grade social studies at St. HOPE Leadership Academy in West Harlem while pursuing my master's in special education at Hunter College. This is my second year in the Teach for America program. I moved into an apartment with Victoria Cohen '09 and Aubrey Knox '09. I am really enjoying New York City, so if any of you are ever in town, feel free to say hi.
Emily Kraus and Dan Willey, who met on their first day at Brandeis, are engaged. They both attend Boston University School of Law. Dafna Gutfreund married Liron Gamzeh on Aug. 4, 2013, in Garfield, N.J. Dafna is an accounts receivable collections coordinator at Golden Touch Imports, a women's apparel import and distribution company. Her husband is in his last year at Columbia University College of Dental Medicine. The couple resides in New Jersey. Zachary Sax is in his second year at the New York College of Podiatric Medicine in Manhattan. He is overjoyed to announce his engagement to Adi Fried '14. Louis Polisson started rabbinical school at the Jewish Theological Seminary. He and Gabriella Feingold '14 were engaged in April 2013. Over the summer, Amber Kornreich studied in Paris with U.S. Supreme Court Justice Ruth Bader Ginsburg through the Tulane Law School Institute of European Legal Studies. A student at Florida International University College of Law, she serves as president of the Law School Democrats. Stacey Frisch is pursuing her MD at Albert Einstein College of Medicine. Right before school started, she had a wonderful Eurotrip with Jenny Goltser. They ran into Bryan Flatt in Florence. The 'Deis is everywhere! Wajida Syed is a communications coordinator at Bose Corp. She is also a visual designer at MIIM Designs, a Boston/San Francisco startup specializing in pluralistic spaces, architecture and art. Asya Bashina lives in Boston and works as a marketing specialist for SolidWorks at Dassault Systemés, a global 3-D design software company. Outside work, Asya does social media and alliance marketing for Bird & Stone (birdandstone.com), a socially conscious jewelry company she started with Elana Reinholtz '11. Mariah Swiech Henderson spent her first year after graduation working as an EMT at Armstrong Ambulance in Arlington, Mass. She recently started work as a patient care associate at Mount Auburn Hospital's emergency department in Cambridge. When she's not filling out paperwork to apply for physician assistant programs, she can be found biking or baking. Mariah lives in Somerville with Rachel Feldman '11 and Emily Baum '11, MA'12. Ilana Sidorsky is pursuing her MA in experiential Jewish education at the Jewish Theological Seminary's Davidson School. She spent last semester studying in Jerusalem and enjoyed running into Brandeis grads all over the city. She worked last summer as a community educator at Genesis/BIMA, a Brandeis high-school program. She's happy to report the campus is looking great. Hillary Gimpel spent last year working for jU: Jewish University, a new Jewish organization at the University of Chicago that helps students create their own innovative Jewish experiences and communities. She is now pursuing her MSW at Washington University in St. Louis. Nathan Mizrachi set off on the ancient Camino de Santiago, departing Vezelay, France, on Aug. 19, 2013, and finishing 1,000 miles later in Santiago de Compostela, Spain, on Oct. 25. He recommends fellow alumni walk the Camino — whatever their age, physical condition or religious values. Follow Nathan's journey at lifeisacamino.com. Kate Alexander left Washington, D.C., for Gulu, Uganda, and reports that she is loving every moment of it. She says it's a big leap of faith and a better landing than she could have dreamed. John Wong is back in Kuala Lumpur, Malaysia, and hopes Brandeis graduates come to visit him. Evan Delgaudio runs his own theater in Boston. Aidan and Dotan Horowitz (whose stage name is "Dotan Ryder") moved to Los Angeles to pursue careers as actors, singers and writers. New members of the SAG-AFTRA union, they would love to connect, network, work with and just hang out with fellow Brandeisians in the area. Usman Hameedi works at Memorial Sloan-Kettering Cancer Center in New York City as a research technician in the new Cell Metabolism Core Facility. He also performs in the New York slam poetry community. Usman admits to missing the unique taste of the wraps sold in Lower Usdan. Yael Katzwer is the managing editor of two weekly newspapers in New Jersey: the West Orange Chronicle, and the News Record of Maplewood & South Orange. Evan Rabin moved back to the Boston area to start a job as a business development consultant at Oracle. He had been teaching chess for the New York City nonprofit Chess-in-the-Schools. Ashni Dave is working on Circle of 6, a violence-prevention app that allows users to quickly contact up to six pre-programmed contacts with a request for an interruption or to be picked up from the user's GPS location. Circle of 6 is available to all iPhone and Android users as a free download. Nettie Faratci works at N Street Village, a social services agency in Washington, D.C., where she serves as an assistant in the wellness center. She is an alumna of the D.C. program of AVODAH: The Jewish Service Corps.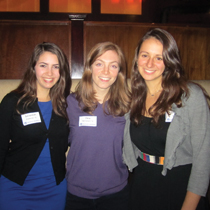 TRIVIAL PURSUIT: Bold (Brandeisians of the Last Decade) alumni showed their knowledge of the university as well as their mastery of other fun facts at the second annual Bold Trivia Night at Dillon's Restaurant and Bar in Boston. Savannah Pearlman, Dina Nathanson and Madeleine Barr, all '12, chaired the event.
Submit a Class Note