Class of 2010
Max Fischlowitz-Roberts married Alli Gold on July 7, 2013, in Philadelphia. They were fortunate to share the occasion with many Brandeisians, including Max's mom, Sue Fischlowitz '68, P'03, P'10; brother Aaron Fischlowitz-Roberts '03; sister-in-law Rachel Gold '08; the officiants, Rabbi Isabel de Koninck '04 and Rabbi Roni Handler, MA'05; and Mathew Schutzer '08; Ari Fleisher '07; Jason Gray '10, MA'10; Jackie Feinberg; Seth Werfel; Ayal Weiner-Kaplow '11; Amy Goldsmith; Geoffrey Cohen; Harrison Bannett '11; Rebecca Fisher; Jeff Horowitz and Talia Salzberg Horowitz; Jonah Kaitz '07; Harrison Kessler '09, MA'10; Sam Knee '07; Adam Lapetina '12; and Louis Polisson '12. Elizabeth Macedo married Bryce Eckley on June 22, 2013, at Lake Pearl in Wrentham, Mass. She writes, "Four of my eight bridesmaids were Brandeisians, and we had tons of Brandeisian guests as well!" Allie Mussen was engaged to Nick Arnold in March 2013. In May, she graduated from Hofstra's School of Law with her Juris Doctor. Samantha Greenberg and Shai Dobrusin were engaged in May 2013. Derek Strykowski is pursuing a PhD in music at Brandeis. He was engaged earlier this year to Jessica Wang, a content coordinator at Cengage Learning. Adam Ross was discharged from the Israel Defense Forces after serving as a commander in the Infantry Corps and began working in Jerusalem as the director of social media and outreach at Hiddush-Freedom of Religion for Israel. Carmela Breslin is engaged to Michael Bertha. Carmela is coordinator of data and special projects at the Hospital Council of Western Pennsylvania. She earned her MA in public health from the University of Pittsburgh and is pursuing a master's degree in health care administration. Michael is a 2010 graduate of the U.S. Military Academy at West Point, N.Y., and is stationed at Fort Drum. A June 28 wedding in Pittsburgh is planned for this year. Elizabeth Abbate is in her third year in the clinical psychology program at the Massachusetts School of Professional Psychology. She is in a track that focuses on children, adolescents, families and resilience. Anna Kaufman finished her three-year rotational program at Sun Life Financial and was offered a position within the company. She moved into an apartment in Newton, Mass. Chao Huang graduated from Columbia Law School. Sarah Gross is a licensed real estate salesperson in Florida and New York. A resident of Gramercy Park in NYC, she works with sellers, purchasers and renters at a top Manhattan luxury brokerage firm, Town Residential. She has closed deals valued at more than $15.5 million.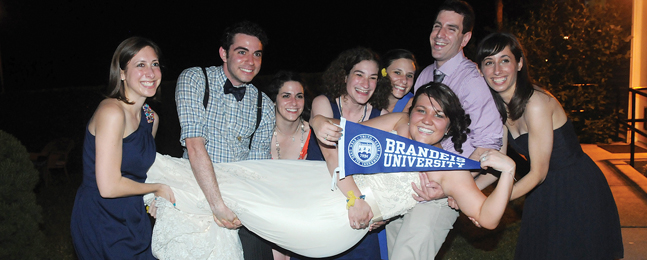 IN GOOD HANDS: Brandeis classmates helped launch Elizabeth Macedo '10 into married life at her wedding to Bryce Eckley. Standing, from left: Susan Landau, Abe Roisman, Lizzie Abbate, Rebecca Ratner, Rachel Sherman, Jeremy Gottlieb and Debra Greene, all '10.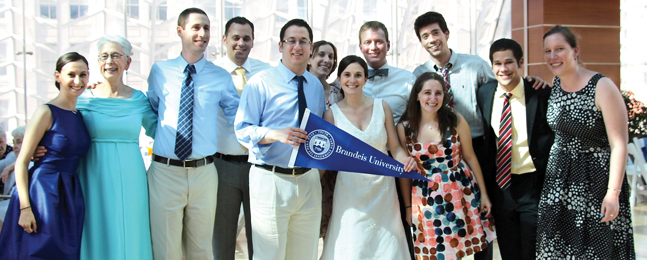 FAMILY AFFAIR: Max Fischlowitz-Roberts '10 was surrounded by his nearest and dearest when he married Alli Gold. From left: Rachel Gold '08, his sister-in-law; Sue Fischlowitz '68, P'03, P'10, his mother; Aaron Fischlowitz-Roberts '03, his brother; Mathew Schutzer '08; Max; Ari Fleisher '07; Alli; Jason Gray '10, MA'10; Jackie Feinberg '10; Seth Werfel '10; Ayal Weiner-Kaplow '11; and Amy Goldsmith '10.
Submit a Class Note