Class of 2008
I have enjoyed hearing everyone's wonderful news! I am studying to be a rabbi at Reconstructionist Rabbinical College. My husband, Alan Cherney — we were married on Oct. 19, 2013 — is an emergency medicine resident at Lehigh Valley Health Network in Allentown, Pa. We love getting together with our Brandeis friends and celebrating their many happy occasions.
Dina Fine Maron was promoted to associate editor at Scientific American. She had been a reporter covering health, medicine and biology. Before joining SciAm, she wrote for The Boston Globe, Newsweek, Time.com, Greenwire, ClimateWire and Science News. Dina won the National Media Award for news reporting from the National Association of Drug Court Professionals in 2010 and the Outstanding Media Award for news reporting from the National Alliance on Mental Illness in 2009. She holds a master's degree in public health from Johns Hopkins. Yael Mazor-Garfinkle joined 451 Marketing as creative project manager. While part of the American Jewish World Service Volunteer Corps in India, she developed Web strategy and content for an Indian nonprofit and executed business communication and social media seminars for craft artisans. Dana Naliboff married Jonah McBride on June 15, 2013, at Tower Hill Botanic Garden in Boylston, Mass. Dana works at the Education Development Center in Waltham, where she does grants and contracts administration in the Office of Sponsored Programs. Jonah is a senior scientist at Charles River Analytics. They live in Waltham with their two dogs. Lauren (Shapiro) Jassil and her husband, Ryan, moved to Colorado in June 2013 and are enjoying all that beautiful state has to offer. She is a manager for early childhood services at a large nonprofit near Denver. Sam Vaghar serves as executive director of Millennium Campus Network (MCN), which makes campus organizations across the nation more effective and sustainable in their efforts to reduce extreme poverty and advance the UN Millennium Development Goals. MCN has engaged more than 4,000 campus leaders through its annual conferences and allocated more than $50,000 in grants to support activism on campus and overseas. Albert Zevelev is a PhD candidate in economics at Wharton. He expects to earn his degree in May 2015. Jeremy Heyman, MS'08, is starting his sixth year at the Bronx's ELLIS Preparatory Academy, New York's only public high school for newly arrived immigrant English language learners. Since moving to Washington Heights following graduation to join the new school's faculty, Jeremy has been a chemistry teacher, a data specialist, a grants administrator, a college access counselor, and a STEM (science, technology, education and math) outreach coordinator. He is also in his second year of a PhD in science education at Teachers College, Columbia University. Nikhil Agarwal earned his PhD in economics from Harvard and is doing postdoc work at the Cowles Foundation at Yale. He will join the faculty in MIT's economics department next fall. He writes, "Last but not least, I married my beautiful wife, Eleanor, who is a Wellesley graduate doing her PhD in microbiology at Tufts." Jeffrey Stein recently celebrated his third anniversary operating his own golf design and construction business, Stein Golf Construction. Currently in Dubai building a new Trump golf course, he also worked in England, Brazil and North Carolina in 2013. He is in the process of renovating an office/loft space in Port Chester, N.Y., where he will live and work. Kara (Manson) Hume and Patrick Hume '07 were married on Aug. 3, 2013, in Brattleboro, Vt. They celebrated with close family and friends, including many Brandeisians: Matt Rogers, Molly Haas-Hooven '09, Sierra Kagen '09, Gavi Young Fenster '09, Eli Matzner, Becky Webber, Deniz Cordell '07, Jenn Giorno, Jason Fenster, Samson Quaintance '09, Avital Asuleen '06, Nathan Paoletta '06 and Chris Allison '07. Since graduating, Kara has pursued acting in the Boston area, and Pat earned his MFA in writing for the stage and screen at Lesley University. The couple joined the ranks of Brandeis alumni in Los Angeles when they moved to the West Coast in September 2013. Miriam Farber married Beni Wajnberg in June 2013 in White Plains, N.Y. Mat Schutzer and Hilary Spear were in the wedding party, and Rabbi Dvora Weisberg '81 officiated. Many Brandeis friends were there to help celebrate. Andrea Lubitz and Alexander Botwick were married on May 26, 2013, in Boston. Many Brandeis friends were on hand to celebrate their long-awaited nuptials. The couple lives in Philadelphia, where Andrea is starting her general surgery residency at Temple University Hospital. She received her medical degree from the University of Medicine and Dentistry of New Jersey-Robert Wood Johnson Medical School. Alexander just completed his general dentistry residency at Morristown Medical Center in New Jersey. He graduated from the University of Connecticut's School of Dental Medicine. Rachel Jarman Myers, the museum and special projects coordinator at the Goldring/Woldenberg Institute of Southern Jewish Life in Jackson, Miss., was profiled in The Jewish Daily Forward. She developed the Traveling Trunk, a hands-on curriculum to teach non-Jewish children in secular public and private schools about Jewish culture and immigration, and expand awareness of the South's Jewish history. Dani Gobuty Eskow founded an online Jewish learning company that teaches students all over the world, including Japan. Amanda Kelly married her college sweetheart, Alex Silberman. They live in Newton, Mass. Amanda is pursuing her MBA in marketing at Babson College, and Alex works as a digital advertising executive. Peter Kozodoy, who lives in the New Haven, Conn., area, is co-founder and chief strategy officer at GEM Advertising (thinkgem.com). He was recently engaged to Jenna Adams. Rachel Marder just started at the Ziegler School of Rabbinic Studies in Los Angeles. She is also a freelance writer for The Jerusalem Post and the Jewish News Service. Graham Humphrey received his MA in museum studies from Johns Hopkins. Cantor Sarah Krevsky is serving as the full-time chaplain resident at the Veterans Administration Hospital in New York City. After graduating from Brandeis, she studied for the cantorate at Hebrew Union College-Jewish Institute of Religion's Debbie Friedman School of Sacred Music, where she was ordained in May 2008. Bessie Bianco and Frank Longo '09 have teamed up to put an end to bullying. They created Nobul Apparel, a clothing company dedicated to spreading love and positivity to a generation suffering from bullying. The company sells snapback hats with "Nobul" — a play on the words "noble" and "bully" — on the front. It hopes to expand its line and sell other apparel items in the future.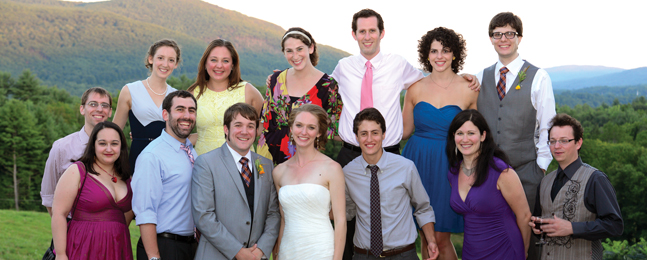 GUESTS OF HONOR: A host of Brandeis alumni were on hand for the wedding of Kara Manson '08 and Patrick Hume '07. Front row, from left: Jenn Giorno '08, Jason Fenster '08, Patrick, Kara, Samson Quaintance '09, Avital Asuleen '06 and Nathan Paoletta '06. Back row: Matt Rogers '08, Molly Haas-Hooven '09, Sierra Kagen '09, Gavi Young Fenster '09, Eli Matzner '08, Becky Webber '08 and Deniz Cordell '07.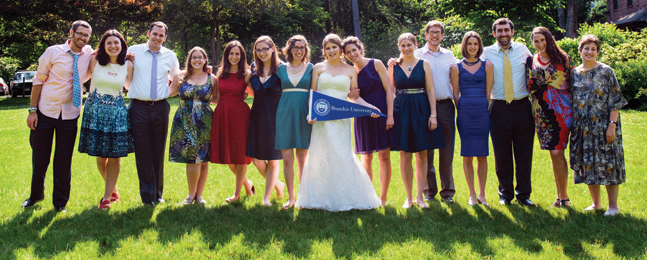 UNITED IN LOVE: Many Brandeis alumni were in attendance as Miriam Farber '08 married Beni Wajnberg. From left: Aron Klein '05, Naomi Adland '08, Mathew Schutzer '08, Adra Lustig '09, Rachel Gold '08, Rachel Hillman '07, Julie Aronowitz '07, Miriam, Hilary Spear '08, Elyssa Cohen '08, Alan Cherney '08, Sarah Marion, Jason Fenster '08, Gavi Young Fenster '09 and Rabbi Dvora Weisberg '81.
Submit a Class Note