Class of 1984
Class Correspondent
Denise Silber Brooks, P'16
30th Reunion
June 6-8, 2014
Our 30th Reunion is on the horizon. I am looking forward to being back on campus with many of you. Put the dates in your calendar now and plan to attend. It's been great hearing from you through Class Notes, email and Facebook. Here's my own update: I've been married to Lewis Brooks '80, P'16, for 28 years. We have a 22-year-old son, Eddie, who recently graduated from Johns Hopkins University and is now pursuing a doctorate in geophysics at Northwestern University. Our 19-year-old daughter, Hannah '16, is in her sophomore year at Brandeis — living in a Rosenthal suite one floor below the suite where I lived my sophomore year. I've been the director of research for LiveWire, an online market research company, for almost 20 years. I was elected to our local school board and began my four-year term in December. I became the first Democrat ever elected to my town's school board. I can't wait to catch up with everyone in person in June.
Kenneth Lench joined the law firm Kirkland & Ellis, where he provides securities enforcement defense, advises boards and companies, and counsels financial institutions on securities regulations. He spent 23 years at the U.S. Securities and Exchange Commission (SEC), most recently as chief of the structured and new products unit in the SEC's Enforcement Division. Named to lead the unit when it was established in January 2010, Kenneth and his colleagues pursued cases against Goldman Sachs, J.P. Morgan, Citigroup, Credit Suisse, Mizuho, Wells Fargo/Wachovia, Option One, Stifel, Nicolaus & Co., and RBC Capital Markets. The cases provided about $1.7 billion in financial recovery for harmed investors. He first joined the SEC in 1990 as a staff attorney. Robert Barsky — a professor of English, French and Italian, and Jewish studies at Vanderbilt — was named a visiting scholar in the Migration and Diversity Division at Free University of Amsterdam Law School by the Dutch Royal Academy. During the previous academic year, he was a visiting scholar at the Institute for Advanced Study's Toulouse School of Economics. He is developing a new portal for the online journal AmeriQuests and writing a new book on undocumented immigrants in the United States. He is also completing a novel, "Hatched." Because Scott Sokol thought he didn't have enough degrees yet, he completed his rabbinic ordination. He now serves as director of education at the Metro­West Jewish Day School in Framingham, Mass., after 17 years at Hebrew College, where he served as dean and professor of psychology, Jewish education and Jewish music. He also began a three-year term as secretary of the American Academy of Pediatric Neuropsychology. In September, he and his wife, Francene Reichel Sokol, MA'87, PhD'91, celebrated older son Benjamin's bar mitzvah. They also have a younger son, Samuel. Brian Saber is president of Asking Matters, which provides Web-based and in-person training on how to ask for charitable gifts. Through Asking Matters, Brian leads workshops, speaks at conferences and coaches individuals around the U.S. and internationally in the art of making the "ask." He resides in South Orange, N.J., with his 12-year-old son. Russell Paris and his wife, Julie, received the 2013 Music Legend Award at the 53rd annual Topanga Banjo-Fiddle Festival for their work in the acoustic music community. Their 17-year-old house concert series is internationally recognized, and they have both served on the board of Folk Alliance Region West, a music organization they helped start more than a decade ago. Russell and Julie recently celebrated their 28th wedding anniversary. He has worked as a graphic designer at his own firm, JRP Productions, for 20 years. They also have three 20-something sons who keep moving back home. Neal Schwartz is happily living in San Francisco, where he runs his oddly named architecture practice, Schwartz and Architecture, and is an associate professor in architecture at the California College of the Arts. After graduating from Brandeis, he completed joint master's degrees in public policy and architecture at Harvard's Kennedy School of Government and Graduate School of Design. He just celebrated his 25th anniversary with his husband, Ron, and returns home to visit Brandeis friends often. Go to schwartzandarchitecture.com to see what he's been up to. Vicki Goldsmith lives in Albuquerque, N.M. When she's not working, she's outdoors with a camera trying to capture the beauty of New Mexico on film. Jeremy Pava, P'17, P'17, has been a senior partner and CFO of Aspen Square Management, a private national real estate investment and management company, since 1985. He and his wife, Ann, P'17, P'17, have three children. Nathaniel and Devorah, both '17, attend Brandeis. Hilary Markowitz Machlis lives in Westport, Conn., with her husband of 25 years, Roger Machlis. She has a master's degree in elementary education and has taught third grade at Carmel Academy in Greenwich for the past eight years. She is best known for her "munchable math" lessons — multiplication never tasted so good! When she is not teaching, she can be found pounding the pavement as she trains with Roger for their marathon runs. They have run the New York City Marathon twice, as well as marathons in Berlin, Paris, South Africa and Toronto. They have two daughters: Carly graduated from Tufts in May and works in New York City; Elana is a junior at Franklin & Marshall.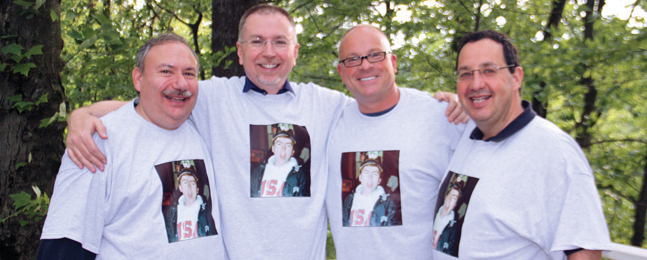 THEY SAY IT'S YOUR BIRTHDAY: Col. David Wolff '84 (left), Martin Alintuck '84 (second from right) and Scott Sinrich '83 (right) met up in New York to help Steve "Vinny" Walker '84 (second from left) mark his 50th birthday. The group wore T-shirts emblazoned with a photo of Vinny circa 1982.
Submit a Class Note