Violence Prevention Educators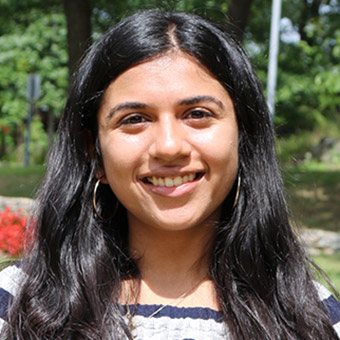 Tanashya Batra '21
Tanashya Batra (she/her) is the Events and Trainings Coordinator, Violence Prevention Educator and a Peer Advocate. She is a junior majoring in International and Global Studies and Business. As a peer advocate, she is looking forward to helping survivors and contribute to de-stigmatizing sexual assault on campus. Outside of PARC, she is an ambassador for Brandeis admissions and a tutor for the Waltham group. She enjoys traveling and reading.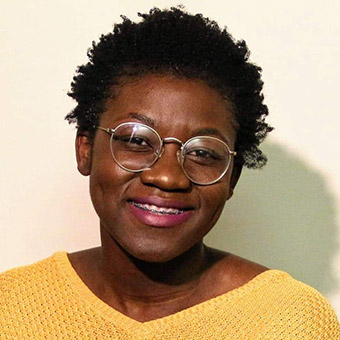 Geraldine Bogard '21
Geraldine Bogard (She, her, hers) is a junior who is majoring in Education Studies and Minoring in Theater Arts: Acting. At PARC, she is the Community Engagement Coordinator and a Violence Prevention Educator. Outside of PARC, Geraldine is the Facilitator of The John Bible Study group and a Community Advisor for The Department of Community Living (DCL). Geraldine is passionate about giving back to her community. She admires the enthusiastic, ambitious, and supportive students who are contributing to the continuing development of the Brandeis Campus. She hopes in everything she does she can help to assure the well being and safety of the Brandeis Community.
Juan Bordon '22
Juan Bordon (he/him) is a peer advocate and a Violence Prevention Educator at PARC. He's from Asuncion, Paraguay and a sophomore majoring in International and Global Studies (IGS). Besides that, he is also exploring other areas this year such as Anthropology and Computer Science. Along with working at PARC, Juan works as an ISSO student ambassador and a Spanish tutor on campus. Besides that, Juan enjoys singing (only in the shower though). He is pleased to continue to be a part of the PARC community this semester and looks forward to spreading awareness of sexual assault prevention. He speaks English, Spanish, Guarani, Italiano, and some ASL. 
Si necesitas ayuda, ven a mi horario de oficina por favor.
Se hai bisogno di aiuto, vieni nel mio ufficio per favore.
Reikotevẽro pytyvõ, eju che rendápe roñemonguetá hag̃ua.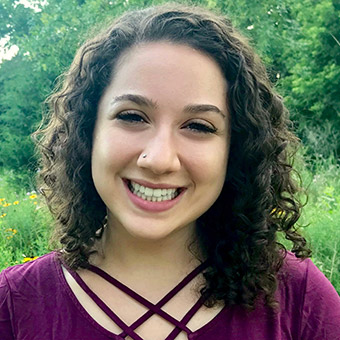 Lexi Foman
Lexi Foman (she/her) is a Violence Prevention Educator in training. She is a junior from Saint Paul, Minnesota. She intends to major in Politics and double minor in Legal Studies and Women's, Gender, and Sexuality Studies. Outside of PARC, Lexi is the president of TableTalk Brandeis, is a Millennium Fellow, and is a Brandeis Beacon. As a Violence Prevention Educator, she looks forward to working to educate about and de-stigmatize sexual violence on the Brandeis campus.
Ali Hagani
Ali Hagani (she/her) is a Peer Advocate and a Violence Prevention Educator with PARC. She is a sophomore majoring in Sociology with minors in Legal Studies and Social Justice/Social Policy (SJSP). Outside of PARC, Ali is a representative with The Right to Immigration Institute (TRII) and is an Undergraduate Representative (UDR) for the Sociology Department. As a Violence Prevention Educator, Ali is excited to educate members of the Brandeis community on mechanisms of positive bystander intervention. In doing so, Ali hopes to collectively work towards a culture to end violence.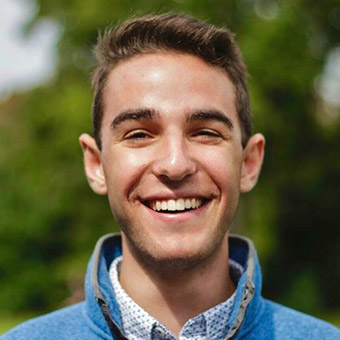 Aaron Pins
Aaron Pins (he/him/his) is a violence prevention educator at PARC. He is a junior from Holden, Massachusetts, majoring in politics and environmental studies with a minor in anthropology. Outside of PARC, he is an ambassador for the Brandeis admissions office, a representative with the Right to Immigration Institute and a member of Alpha Epsilon Pi fraternity. Aaron also enjoys traveling, skiing and spending time outside. As a violence prevention educator, he looks forward to facilitating trainings and helping to promote a safer culture within the Brandeis community.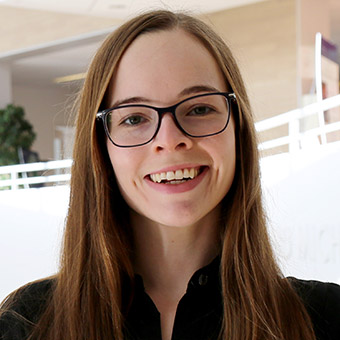 Gabrielle Reeve
Gabrielle (she/her/hers) is a second-year Master of Public Policy candidate at the Heller School, concentrating in women's, gender and sexuality studies. Originally from the Boston area, she is a returned Peace Corps volunteer who served in the Philippines teaching English at an integrated school and to out-of-school youth. During her service, she also planned and implemented Girls Leading Our World camps for out-of-school youth, which included workshops on self-esteem, sexual health, healthy relationships and consent. Gabrielle looks forward to continuing to work on issues of consent and sexual violence at Brandeis as a violence prevention educator and to learning from the insights and creativity of her peers during trainings and workshops.
Becky Schwartz '20
Becky Schwartz (she/her/hers) is a violence prevention educator at PARC, double majoring in psychology and anthropology. Outside of class, she is also the events coordinator at the Feminist Majority Leadership Alliance, a member of Student Conduct Board, a research assistant at the Social Interaction and Motivation  lab and a team member at the Brandeis University Bookstore. She is also active in cheerleading and the Brandeis Orthodox Organization. Becky is looking forward to all that PARC will accomplish this coming year.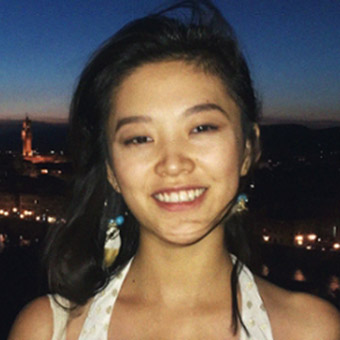 Carrie Sheng
Carrie Sheng (she/her) is a violence prevention educator. She is a junior majoring in international global studies, philosophy and studio art, with minors in art history and legal studies. She is serves as a student representative on Undergraduate Curriculum Committee. Her goal for this semester is to raise awareness of and help prevent sexual harassment, sexual violence and other types of violence on campus.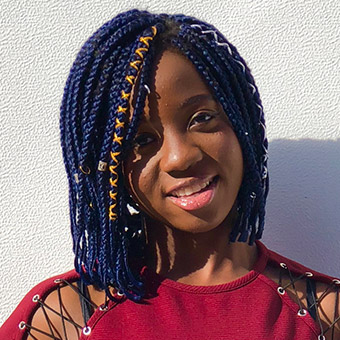 Precious Ufomadu
Precious Ufomadu (She/Her/Hers) is a Violence Prevention Educator at PARC. She is currently a Junior at Brandeis University double majoring in Economics and International and Global Studies (IGS). She is a Brandeis International Business School (IBS) Scholar and is enrolled in the 5 year BA/MA Program in International Economics and Finance. She is a Community Advisor (CA) in a first-year dorm, volunteers with TAPS (Teaching Assistants in Public Schools) and is the Activities Coordinator for BASO (Brandeis African Student Organization). Precious is a Texas-born Nigerian who loves to learn and travel. She hopes that as an educator at PARC, she will be able to gain enough knowledge to foster dialogue about consent and healthy relationships within her community and beyond.