News and Events
2021-22 Events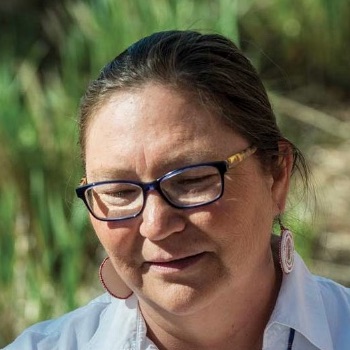 Webinar: Indigenous Spiritual Landscapes and The Natural World
April 6, 2022
Rosalyn LaPier (Blackfeet/Métis), Ph.D.
As a post-event to the March 29-30 Richman Fellowship residency of climate scientist Peter Frumhoff at Brandeis,  Rosalyn LaPier spoke on Native American spirituality and the environment.  This webinar took place on April 6, 3:30-4:50pm and was open to the campus community.  
Dr. Rosalyn LaPier is an award-winning Indigenous writer, ethnobotanist and environmental activist with a BA in physics and PhD in environmental history. She is an Assistant Professor of Environmental Studies at the University of Montana and Research Associate at National Museum of Natural History, Smithsonian Institution. 
Sponsors:  Program in Religious Studies; Center for German and European Studies (CGES); Environmental Studies; International Center for Ethics, Justice, and Public Life; Office of Sustainability; and Sociology
Critical Conversations
March 9, 2022
Religious Community: Cohesion or Conflict?
Scholars have long reflected on the capacity of religion to serve as a vehicle for social cohesion, social conflict and social change. By expressing and reproducing common values, rituals and cultural traditions, religious communities can imbue human life with meaning and a sense of belonging. But what happens when these communities are implicated in social conflict, either because their dogmas and ideologies are inflexible, or because they use political and economic power to create or legitimize social hierarchies? This conversation will explore the roles of religious communities in perpetuating and/or combating social injustice, such as racism and antisemitism. We will also look at the dynamics of difference within these communities, particularly when public narratives assert unity at the expense of minority voices.
Participants
Wendy Cadge, Professor of Sociology and Women's, Gender and Sexuality Studies and Barbara Mandel Professor of the Humanistic Social Sciences

Jonathan D. Sarna, University Professor and Joseph H. and Belle R. Braun Professor of American Jewish History

Derron Wallace, Assistant Professor, Education and Sociology
Moderator
Kristen Lucken, Chair, Religious Studies, Lecturer, International and Global Studies, Religious Studies, and Sociology
For more information on the Brandeis Critical Conversations program
2020-21 Events
Race, Religion, and Politics in America: Where Do We Go from Here?
April 28, 2021
Wednesday, 10-11:30am
Hosted by Religious Studies;  co-sponsored by African and African American Studies and American Studies
In this hard-hitting discussion on American religion and politics, Anthea Butler addresses white racism that lies at the core of conservative evangelical activism and power. What is the future for American politics and the religious coalitions that support and sustain white power elites?
Zoom link: https://brandeis.zoom.us/j/98983222044?pwd=UFFkVzhKc0hRZFU3Mk9IYVplZlYydz09
Anthea Butler is Associate Professor of Religious Studies and Africana Studies at the University of Pennsylvania.  Her new book White Evangelical Racism: The Politics of Morality in America,  is  out March 2021 on Ferris and Ferris, a division of UNC Press.  Her other books include Women in the Church of God in Christ: Making A Sanctified World,  published also by The University of North Carolina Press.  A historian of African American and American religion, Professor Butler's research and writing spans African American religion and history, race, politics, and evangelicalism. She writes opinion pieces covering religion, race, politics and popular culture for The New York Times, The Washington Post, CNN, NBC. You can see her on the recent PBS series The Black church in America, and the forthcoming American Experience on Billy Graham, set to air May 2021 on PBS.  
Exploring a Religious Studies Minor
October 2, 2020
Friday, 10-11am 
We look forward to seeing you on Friday! 
Shari Boiskin and Jaiden Gividen
Religious Studies UDRs
2019-20 Events
"Who Is My Neighbor?"
November 14, 2019
Student panel discussion
Kindness Day Multifaith Dinner and Student Panel
November 11, 2019
Meet the UDRs Ice Cream Social
October 24, 2019
Students will learn about the PRS minor from our Uber-UDR, Shari Boiskin.
2018-19 Events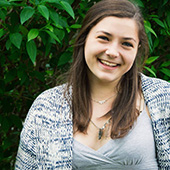 UDR Rebecca Hersch Elected to Phi Beta Kappa
April 5, 2019
Rebecca's major is in NEJS and sociology with a minor in religious studies. Her thesis titled "The Sisterhood of Salaam Shalom: The United Response of Muslim and Jewish Women to Moral Shocks" (working title) is about The Sisterhood of Salaam Shalom, a Jewish and Muslim women's interfaith group primarily located in the United States. She employs a social movement lens to study the growth of the Sisterhood and the goals and experiences of the members. Rebecca is primarily interested in their united responses to moral shocks, such as the hate crimes in Pittsburgh and New Zealand. In 2020, she will be working for the Foundation for Jewish Camp as the day camp fellow.
Congratulations Rebecca!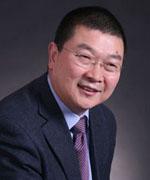 "The Theoretical Characteristics of Tibetan Buddhism: An Introduction Based on the "Great Treatise on the Stages of the Path to Enlightenment"
March 26, 2019
Lecture by Professor Dedong Wei
Dr. Dedong Wei is the director of the International Center of Buddhist Studies at Renmin University of China, and currently an adjunct researcher of the Department of East Asian Languages and Cultures at Columbia University. He received his PhD from Renmin University in 1997 and has published many books and papers, including "The Essence of Buddhist Yogacara Philosophy," "The Explanation and Translation of Madhyanta Viobaga Sastra," "Field Trip on World Religions," "Desensitization for Religion," and "Cultural Awakening of Religion." He is well recognized as a leading scholar of Buddhist studies.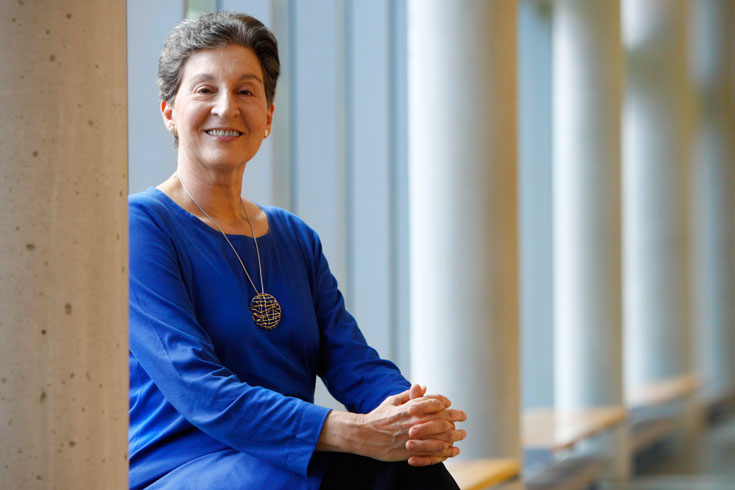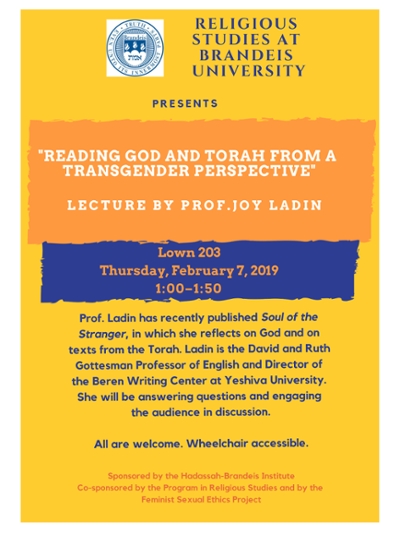 "Reading God and Torah from a Transgender Perspective"
February 7, 2019
Professor Joy Ladin has recently published "Soul of the Stranger," in which she reflects on God and on texts from the Torah. Ladin is the David and Ruth Gottesman Professor of English and Director of the Beren Writing Center at Yeshiva University. She will be answering questions and engaging the audience in discussion.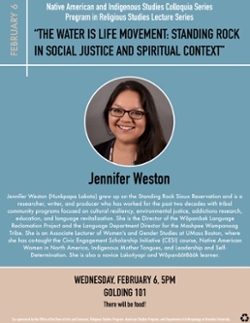 "The Water is Life Movement: Standing Rock in Social Justice and Spiritual Context"
February 6, 2019
Jennifer Weston is a researcher, writer and producer who has worked for the past two decades with tribal community programs focused on cultural resiliency, environmental justice, addictions research, education and language revitalization. Currently, she serves as the director of the Wôpanâak Language Reclamation Project and the languaged director for the Mashpee Wampanoag Tribe. She is an associate lecturer of women's and gender studies at UMass Boston, where she has taught the Civic Engagement Scholarship Initiative (CESI) course, Native American Women in North America: Indigenous Mother Tongues, Leadership and Self-Determination.
2017-18 Events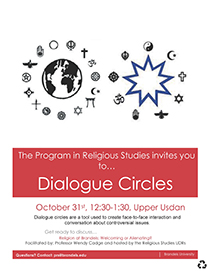 Dialogue Circle: Religion at Brandeis
October 31, 2017
Dialogue circles are a tool used to create face-to-face interaction and conversation.
Get ready to discuss:
Religion at Brandeis: Welcoming or Alienating?
Facilitated by Wendy Cadge, Professor in the Department of Sociology and chair of the Women''s, Gender and Sexuality Studies Program at Brandeis University.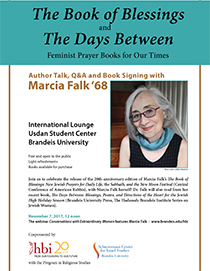 Marcia Falk: "The Book of Blessings and The Days Between"
November 6, 2017
Author talk, Q&A and book signing with Marcia Falk
Join us to celebrate the release of the 20th-anniversary edition of Marcia Falk's "Book of Blessings: New Jewish Prayers for Daily Life, the Sabbath, and the New Moon Festival" (Central Conference of American Rabbis), with Marcia Falk herself. Falk will also read from her recent book, "The Days Between: Blessings, Poems, and Directions of the Heart for the Jewish High Holiday Season" (Brandeis University Press, The Hadassah-Brandeis Institute Series on Jewish Women).
The Central Conference of American Rabbis is delighted to bring Falk's groundbreaking book of creative liturgy back into print. With new essays by scholars Rabbi Sue Levi Elwell, Rabbi Naamah Kelman, Rabbi Dalia Marx and Rabbi David Ellenson, this volume will inspire a new generation and re-ignite those who encountered this innovative collection when it was first published in 1996.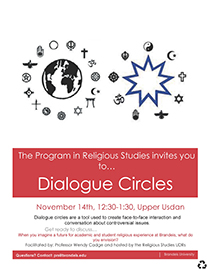 Dialogue Circle: "Your Brandeis Religious Experience Vision"
November 14, 2017
Dialogue circles are a tool used to create face-to-face interaction and conversation.
Get ready to discuss:
When you imagine a future for academic and student religious experience at Brandeis, what do you envision?
Facilitated by Wendy Cadge, Professor in the Department of Sociology and Chair of the Women's, Gender and Sexuality Studies Program at Brandeis University.
Hosted by the Religious Studies UDRs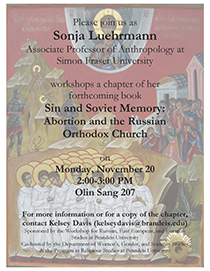 "Sin and Soviet Memory: Abortion and the Russian Orthodox Church"
November 20, 2017
Please join us as Sonja Luehrmann, associate professor of anthropology at Simon Fraser University, workshops a chapter of her forthcoming book, "Sin and Soviet Memory: Abortion and the Russian Orthodox Church."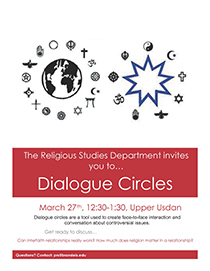 Dialogue Circle: "Interfaith Relationships"
March 27, 2018
Dialogue circles are a tool used to create face-to-face interaction and conversation.
Get ready to discuss:
"Can interfaith relationships really work? How much does religion matter in a relationship?"

2016-17 Events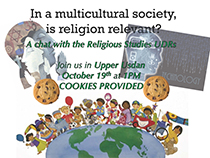 "In a Multicultural Society, is Religion Relevant?"
October 19, 2016
A chat with the Religious Studies UDRs
Throughout history, religion has held a strong presence. However, in contemporary times with relatively new connectivity and globalization working to make a multicultural society with universalist values, what is the relevance of religion?
Join PRS UDRs Gabi Hersch and Lily Wageman for a captivating conversation about this, as well as any questions you may have about the Religious Studies department, including classes, faculty, events, what it takes to be a minor and more!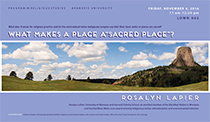 "What Makes a Place a 'Sacred Place'"?
November 4, 2016
with Rosalyn LaPier
What does it mean for religious practice and for the environment when indigenous peoples say that their land, water or places are sacred?
Rosalyn LaPier, University of Montana and Harvard Divinity, an enrolled member of the Blackfeet Nation in Montana and Red River Métis, is an indigenous writer, ethnobotanist and environmental historian. She wrote the award-winning "City Indian: Native American Activism in Chicago, 1893-1934" (with David Beck) and "Invisible Reality: Storytellers, Storytakers and the Supernatural World of the Blackfeet" (in press).
Read The Hoot Article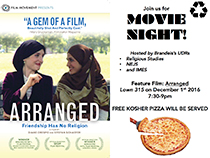 Film Night: "Arranged"
December 1, 2016
Religious Studies, Near Eastern and Judaic Studies (NEJS) and Islamic and Middle Eastern studies (IMES) hosted Film Night! Pizza was served and the movie "Arranged" was shown.
This film centers around two young women — one an orthodox Jew, the other a devout Muslim — who meet and become friends as first-year teachers at a public school in Brooklyn. Over the course of the year they learn that they share much in common, not least of which is that they are both going through arranged marriages.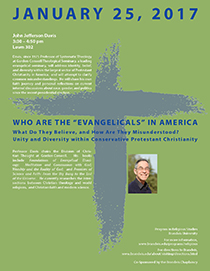 "Who are the 'Evangelicals' in America: What Do They Believe, and How Are They Misunderstood? Unity and Diversity within Conservative Protestant Christianity"
January 25, 2017
with John Jefferson Davis
John Jefferson Davis is professor of Systematic Theology since 1975 at Gordon-Conwell Theological Seminary, a leading evangelical seminary. He addressed identity, belief and diversity within the largest sector of Protestant Christianity in America, and clarified common misunderstandings. He shared his own faith journey and personal reflections on current internal discussions about race, gender and politics since the recent presidential election.
Davis chairs the Division of Christian Thought at Gordon-Conwell. His books include "Foundations of Evangelical Theology," "Meditation and Communion with God," ''Worship and the Reality of God," and "Frontiers of Science and Faith: From the Big Bang to the End of the Universe." He currently researches the intersections between Christian theology and world religions, and Christian faith and modern science.
Sponsored by the Kraft-Hiatt Fund and the Program in Religious Studies. Co-Sponsored by the Brandeis Chaplaincy.
Read The Hoot article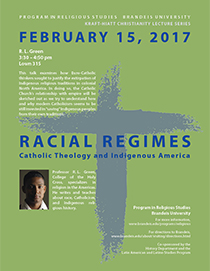 "Racial Regimes: Catholic Theology and Indigenous America"
February 15, 2017
R. L. Green, PhD, assistant professor in the religious studies department at College of the Holy Cross, examined how Euro-Catholic thinkers sought to justify the extirpation of indigenous religious traditions in colonial North America. In doing so, he sketched out the Catholic Church's relationship with empire to help us understand how and why modern Catholicism seems to be still invested in saving indigenous peoples from their own traditions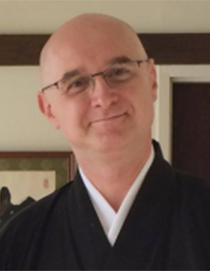 The Practice of Zen Meditation
March 2, 2017
Dokurō Roland Jaeckel served for a number of years as the Buddhist chaplain at Boston University and is currently a Buddhist chaplain at Harvard University. From 2004 until 2011 he led the Zazen-kai at the Cambridge Buddhist Association (CBA) and served as the last abbot of the CBA. Dokur is a member of the American Zen Teachers Association, a peer organization of Zen teachers of various lineages.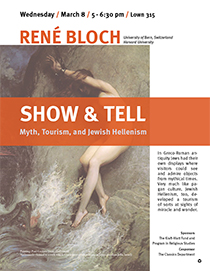 "Show and Tell: Myth, Tourism and Jewish Hellenism"
March 8, 2017
René Bloch is Professor of Jewish Studies at the University of Bern (Switzerland), where he holds a joint appointment in the Institute of Jewish Studies and the Institute of Classics. Bloch currently serves as a Harry Starr Fellow in Judaica at Harvard University.
Bloch discussed Greco-Roman antiquity Jews, who had their own displays where visitors could see and admire objects from mythical times. Very much like pagan culture, Jewish Hellenism, too, developed a tourism of sorts at sights of miracle and wonder.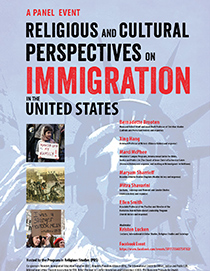 "Religious and Cultural Perspectives on Immigration in the United States"
March 9, 2017
Panelists will discuss how the histories of religious/cultural groups combined with religious teachings may influence the perspectives of said group on immigration policy in the United States. Are people in America inclined to help immigrants because of their own history of discrimination? Are people worried about how the changing American demographic will impact their group identity? These are some of the types of questions we hope to discuss, especially in light of the recent proposed travel ban.

Through this event, we aspire to engage both Brandeis faculty and students (graduate and undergraduate) across the spectrum of the liberal arts in this crucial current events topic. The purpose of this panel is to educate, initiate dialogue and inspire action. We want to make it clear that the panelists are speaking from their own knowledge (through scholarship or experiences), and they are not speaking on behalf of everyone in said religious/cultural group.
Panelists
Bernadette Brooten, Myra and Robert Kraft and Jacob Hiatt Professor of Christian Studies (Catholic and Protestant history and response)
Xing Hang, Assistant Professor of History (Chinese history and response)
Marci McPhee, Director of Campus Programs, International Center for Ethics, Justice and Public Life (The Church of Jesus Christ of Latter-day Saints (Mormon) history and response, and working with immigrants in Waltham)
Maryam Sharrieff, Brandeis Interim Muslim Chaplain (Muslim history and response)
Mitra Shavarini, Lecturer, Sociology and Women's and Gender Studies (Iranian history and response)
Ellen Smith, Associate Professor of the Practice and Director of the Hornstein Jewish Professional Leadership Program (Jewish history and response)
Moderator
Kristen Lucken, Lecturer, International & Global Studies, Religious Studies and Sociology
Sponsored by the Program in Religious Studies (PRS)
Co-Sponsored by: Brandeis Immigration Education Initiative, Brandeis Pluralism Alliance, Common Ground, Heller Program in Conflict Resolution and Coexistence, The Hornstein Program for Jewish Professional Leadership, Intercultural Center, The International Center for Ethics, Justice and Public Life, Student Association for TRII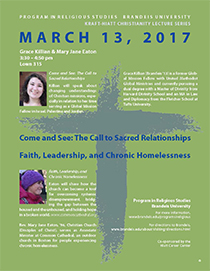 "Come and See: The Call to Sacred Relationships / Faith, Leadership and Chronic Homelessness"
March 13, 2017
Grace Killian, '13, will speak about changing understandings of Christian missions, especially in relation to her time serving as a global mission fellow in Israel, Palestine and Jordan. Killian is a former global mission fellow with United Methodist Global Ministries and currently pursuing a dual degree with a Master of Divinity from Harvard Divinity School and an Master of Art in Law and Diplomacy from the Fletcher School at Tufts University.
Rev. Mary Jane Eaton, '96, Christian Church (Disciples of Christ), will share how the church can become a tool for overcoming systemic disempowerment, bridging the gap between the housed and the unhoused, and holding hope in a broken world. Eaton serves as associate minister at Common Cathedral, an outdoor church in Boston for people experiencing chronic homelessness.
Sponsored by the Robert and Myra Kraft and Jacob Hiatt Fund, Program in Religious Studies.
Co-sponsored by the Hiatt Career Center.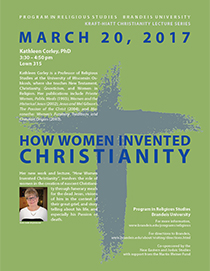 "How Women Invented Christianity"
March 20, 2017
Kathleen E. Corley
is a professor of Religious Studies at the University of Wisconsin Oshkosh, where she teaches New Testament, Christianity, Gnosticism and Women in Religion. Her publications include "Private Women, Public Meals" (1993); "Women and the Historical Jesus" (2002); "Jesus and Mel Gibson's The Passion of the Christ" (2004); and "Maranatha: Women's Funerary Traditions and Christian Origins (2010)."
Her new work and lecture, "How Women Invented Christianity" involves the role of women in the creation of nascent Christianity through funerary meals for the dead Jesus, visions of him in the context of their great grief and storytelling about his life, especially his Passion or death.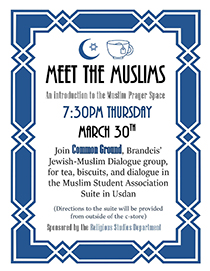 "Meet the Muslims: An Introduction to the Muslim Prayer Space"
March 30, 2017
Join Common Ground, Brandeis' Jewish-Muslim Dialogue group, for tea, biscuits and dialogue in the Muslim Student Association Suite in Usdan.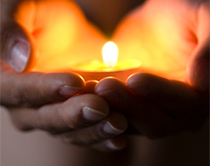 Want to Know More about the Religious Studies Program?
April 5, 2017
Are you a NEJS or IMES major? Do you take East Asian studies and South Asian studies courses? You might already be on your way to becoming a religious studies minor! Do you have questions about becoming a religious studies minor? Would you like to potentially major in religious studies?
If you answered "yes" to any of these questions, come speak to PRS UDR, Gabi Hersch.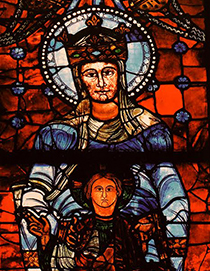 "Technology of Stained Glass and the Use and Meaning of its Imagery"
April 5, 2017
Join Virginia Raguin for a talk on the technology of stained glass and the use and meaning of its imagery in the context of some of Europe's great medieval cathedrals.
"Humanistic"
April 27, 2017
Venerable Jue Qian Shi is the director of Fo Guang Buddhist Temple Boston. She has served in Fo Guang Shan Temple of Toronto as the advising Venerable of Localization of Buddhism division, Public Relation division and Fo Guang Shan Young Adult division and is also the advising Venerable of Waterloo Buddha's Light Center.
Venerable Jue Qian Shi was ordained as a nun in Taiwan, Fo Guang Shan Temple. She has obtained a master's degree in business from Victoria University of Technology (Australia) and a bachelor's degree and master's degree in Chinese Buddhism by Fo Guang Shan, Tsung Lin University.
As a member of Hsi Lai Temple, she teaches the Sunday English Buddhism Class. In Toronto, she conducts English and Chinese Buddhism Dharma and meditation workshops in temples, prisons, hospitals, high schools, colleges, universities and various interfaith conferences.