Kenneth C. Hayes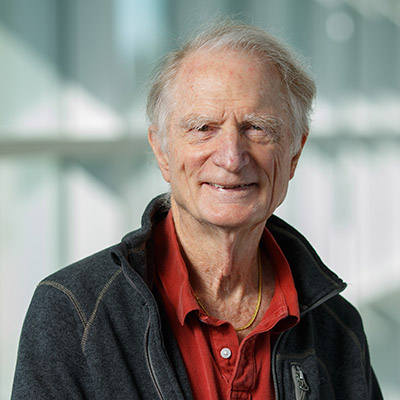 Professor Emeritus of Biology (Nutrition)
Expertise
Lipid Metabolism
Comparative nutritional pathophysiology in man and animals. Lipoprotein metabolism and atherogenesis, diabetes and obesity.
Awards
Elected Fellow, American Society Nutritional Sciences (2008)
Food Processing Magazine award for most significant new food product brought to market ("Appetize") (1995)
Outstanding Presentation Award, American Oil Chemist Society (1992)
Hill's Award for research contributing to Improved companion animal nutrition, Eastern States Veterinary Conference (1990)
NIH Research Career Development Award (1972 - 1977)
NIH Postdoctoral Fellow (1968 - 1969)
20 university patents with nutritional applications
Lab
Our long-term research objective is to determine the impact of diet macronutrients (carbohydrates, fat, protein, phytochemicals, and fiber) on disorders of lipid and glucose metabolism with a primary focus on insulin, blood glucose, and lipoproteins and their association with chronic diseases, particularly diabetes complications, obesity, gallstones, and atherosclerosis.
For the last 2 decades we have focused on diabetes, initially using fat-fed mouse models to induce obesity, while studying the role of major macronutrients (CHO, fat, PROT) on development of insulin resistance and type 2 diabetes (T2DM). Interestingly, obesity and insulin resistance are prevented by increasing the dietary PROT:FAT ratio in the C57/BL6-DIO mouse model of chronic diabesity, carbohydrate having almost no influence in the equation as long as the PROT:fat ratio is adjusted during any given carb intake. This is unlike humans, where CHO and the diet glycemic load are most important in terms of T2DM pathogenesis.
More recently we have established a breeding colony of Nile grass rats (actually most likely in the gerbil family) that develop spontaneous T2DM when kept in captivity and maintained on standard rodent lab chow. And unlike common mouse and rat models, Nile rat diabetes is induced readily by hiCHO diets, and largely prevented by certain soluble fibers or phytochemical supplements. The Nile rat is also noteworthy because like humans, it divides into subpopulations of 'resistant' or 'susceptible' individuals in their propensity to diabetes similar to the so-called "thrift gene" that has been proposed for certain indigenous human populations that readily develop diabetes when exposed to Western diets and life style. The objective continues to be to define macronutrient interactions that prevent T2DM while assessing genetic aspects of their unusual diabetic proneness, ie. to discover different diet interventions that will deter or prevent the onset and expression of the diabetes in our Nile rats with the idea that a successful intervention will be applicable to the human experience, as well.
Selected Publications
Bolsinger J, Landstrom M, Pronczuk A, Auerbach A and Hayes KC. (2017) "Low glycemic load diets protect against metabolic syndrome and Type 2 diabetes mellitus in the male Nile rat."J Nutr Biochem

 

42: 134-148.
Taher M, Nakao S, Zandi S, Melhorn MI, Hayes KC and Hafezi-Moghadam A. (2016) "Phenotypic transformation of intimal and adventitial lymphatics in atherosclerosis: a regulatory role for soluble VEGF receptor 2."

 

FASEB J

 

30(7): 2490-2499.
Mensink RP, Sanders TA, Baer DJ, Hayes KC, Howles PN and Marangoni A. (2016) "The Increasing Use of Interesterified Lipids in the Food Supply and Their Effects on Health Parameters."

 

Adv Nutr

 

7(4): 719-729.
Leow SS, Bolsinger J, Pronczuk A, Hayes KC and Sambanthamurthi R. (2016) "Hepatic transcriptome implications for palm fruit juice deterrence of type 2 diabetes mellitus in young male Nile rats."

 

Genes Nutr

 

11: 29.
Osborne AE, Sanchez JA, Wangh LJ, Sambanthamurthi R and Hayes KC (2015). "Oxidative Damage is not a Major Contributor to AZT-Induced Mitochondrial Mutations."

 

Journal of AIDS & Clinical Research

 

06(04).
Noda K, Nakao S, Zandi S, Sun D, Hayes KC and Hafezi-Moghadam A. (2014) "Retinopathy in a novel model of metabolic syndrome and type 2 diabetes: new insight on the inflammatory paradigm."

 

FASEB J

 

28(5): 2038-2046.
Bolsinger J, Pronczuk A, Sambanthamurthi R, and Hayes KC (2014). "Anti-diabetic effects of palm fruit juice in the Nile rat (Arvicanthis niloticus)."

 

J Nutr Sci

 

3: e5.
Bolsinger J, Pronczuk A and Hayes KC (2013). "Dietary carbohydrate dictates development of Type 2 diabetes in the Nile rat."

 

J Nutr Biochem

 

24(11): 1945-1952.
Osborne AE, Sanchez JA, Solomon M, Stopa A, Wangh LJ, Sambanthamurthi R and Hayes KC. (2014) "Palm Fruit Juice Mitigates AZT Mitochondrial Genotoxicity and Dose- Dependent Cytotoxicity."

 

Journal of AIDS & Clinical Research

 

5(12).
Kunces LJ, Cusack LK, Kupchak BR, Volk BM, Freidenreich DJ, Aristizabal JC, Saenz C, Pei R, Guo Y, Fernandez ML, Bruno RS, Maresh CM, Kraemer WJ, Pronczuk A, Hayes KC and Volek JS. (2013) "Triglyceride recrystallized phytosterols in fat-free milk improve lipoprotein profiles more than unmodified free phytosterols in hypercholesterolemic men and women."

 

J Am Coll Nutr

 

32(4): 234-242.
Khosla P and Hayes KC. (2012) "Saturated fat and lipemia: importance of study design and triglyceride structure."

 

Am J Clin Nutr96(1): 216-218; author reply 218-219.
Sambanthamurth R, Tan Y, Sundram K, Abeywardena M, Sambandan TG, Rha C, Sinskey AJ, Subramaniam K, Leow SS, Hayes KC and Wahid MB (2011). "Oil palm vegetation liquor: a new source of phenolic bioactives."

 

Br J Nutr

 

106(11): 1655-1663.
Sambanthamurthi R, Tan Y, Sundram K, Hayes KC, Abeywardena M, Leow SS, Sekaran SD, Sambandan TG, Rha C, Sinskey AJ, Subramaniam K, Fairus S and Wahid MB. (2011) "Positive outcomes of oil palm phenolics on degenerative diseases in animal models."

 

Br J Nutr

 

106(11): 1664-1675.
Hayes KC and Expert panel (2010). "Fatty acid expert roundtable: key statements about dietary fatty acids."

 

J Am Coll Nutr

 

29(3 Suppl): 285S-288S.
Hayes KC and Pronczuk A. (2010) "Replacing trans fat: the argument for palm oil with a cautionary note on interesterification."J Am Coll Nutr

 

29(3 Suppl): 253S-284S.
Chaabo F, Pronczuk A, Maslova E, Hayes K. (2010) "Nutritional correlates and dynamics of diabetes in the Nile rat (Arvicanthis niloticus): a novel model for diet-induced type 2 diabetes and the metabolic syndrome."

 

Nutr Metab

 

(Lond). 2010 Apr 15;7:29.
Berson EL, Rosner B, Sandberg MA, Weigel-DiFranco C, Brockhurst RJ, Hayes KC, Johnson EJ, Anderson EJ, Johnson CA, Gaudio AR, Willett WC, Schaefer EJ. (2010) "Clinical trial of lutein in patients with retinitis pigmentosa receiving vitamin A."

 

Arch Ophthalmol.

 

2010 Apr;128(4):403-11.
Noda K, Melhorn MI, Zandi S, Frimmel S, Tayyari F, Hisatomi T, Almulki L, Pronczuk A, Hayes KC, Hafezi-Moghadam A. (2010) "An animal model of spontaneous metabolic syndrome: Nile grass rat."

 

FASEB J.

 

2010 Jul; 24(7): 2443–2453.
Sanoudou D, Duka A, Drosatos K, Hayes KC, Zannis VI. (2010) "Role of Esrrg in the fibrate-mediated regulation of lipid metabolism genes in human ApoA-I transgenic mice."

 

Pharmacogenomics J.

 

2010 Jun;10(3):165-79.