Make a Gift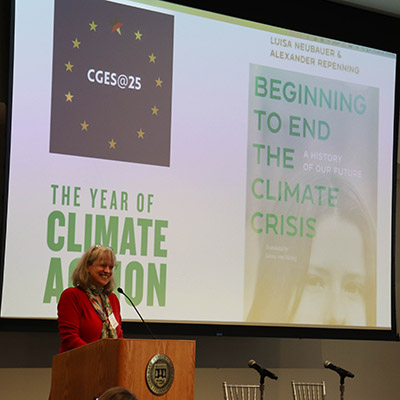 We would like to extend a sincere thank you to our supporters for their generosity in donating to CGES. As a part of our 25th anniversary, we would like to recognize donors who contributed to our celebration this year as well as helped us to continue our important work. If you have not yet contributed to our birthday gift, please use this new donations website and join the wonderful friends below who have already decided to support our work!

Your Donation will:
Help support and expand CGES in-person and virtual events
CGES has made a name for its high-quality  interactive webinars that address current developments in Germany and Europe, bringing people together from both sides of the Atlantic with experts to learn more about a variety of issues, including antisemitism and racism in Germany and Europe, contemporary German literature and film, among many others
 CGES has also made a special effort to promote awareness of the climate crisis. 
Since the pandemic started, CGES has reached thousands of people in over 34 countries with the CGES online webinar series. We plan to continue engaging through virtual content, but we also aim to increase our in-person events to help bring the Brandeis community and wider Boston area friends together again post pandemic.
Support projects students and faculty in study and research on Germany and Europe
In addition to events promoting transatlantic dialogue, CGES supports research and travel to Germany and German speaking countries for Brandeis faculty and students.
CGES Donors
We express our gratitude to the German Academic Exchange Service (DAAD) for supporting our work as well as the many donors who have generously given over the years to help us continue everything that we do.
CGES Silver Anniversary Co-Sponsor
Nicholas Alexander Brown, BA'10
Sandra Resnick, MA'00, PhD'06 and John Field
CGES@25 Birthday Gift
CGES Webinar Co-sponsors
Maike Byrd
Gail Finney
Sabine von Mering
CGES@25 Birthday Gift on Brandeis' 75th
Luise F. Pusch and Joey Horsley
Margie and Tony Lee
Margaret E. Ward
Robin Feuer Miller, Faculty
CGES@25 Birthday Gift
Maike Byrd
Dante Diwan, alum
If you are not listed and would like to be recognized for a gift that you have made, please contact Sonja Catano at sonjacatano@brandeis.edu and your name will be added shortly.