Widening the Circle: Reflections on A Trip to Germany
Tuesday, November 10, 2022
2 - 3:30 pm Eastern Time (US)
Zoom Webinar
About the Event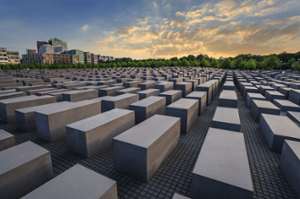 As part of its International Bridge-Building initiative, Widen the Circle brought eight American activists, scholars, and organizers, along with three German Obermayer Award winners, for an immersive week of learning and sharing to Germany in June 2022.
Widen the Circle's Visiting Program brings American educators, activists, and thought leaders to meet with counterparts in Germany to jointly explore how the power of local history can combat racism and prejudice. Participants in this week-long experiential education program explore similarities and differences in the ways that the U.S. and Germany deal with their violent pasts and legacies of injustice. They also focus on how to overcome American resistance to acknowledging the history and ongoing legacy of racism in the U.S.
About the Speakers
Jerry Rubin is the former President and Chief Executive Officer of JVS (Jewish Vocational Service). He is responsible for the overall direction and management of the organization, and leads its Leadership Team. He holds a Bachelors in Government from Clark University and a Masters in City Planning from the Massachusetts Institute of Technology. He is the author of numerous book chapters, articles, and monographs on housing, economic development and workforce development issues. Jerry is a board member of the Economic Empowerment Trust Fund of the Commonwealth of Massachusetts, the Hyde Square Task Force, and MIRA. Jerry is also a member of the 2019 Class of Barr Fellows. 
Joel Obermayer's family has a long history of working to create positive change through tikkun olam (repairing the world) including by starting a powerful project in Germany to preserve Jewish history and culture. Joel has made it his life's mission to extend this project by founding Widen the Circle in 2019. Widen the Circle is a nonprofit organization that works with people uncovering local history related to oppression and using the lessons of that history to create a more just world today. Widen the Circle is active in both Germany and the United States and draws on Joel's experience as a journalist for National Public Radio and other outlets, and as a consultant in the nonprofit sector.