Framing Migration: Photos and Comics and the Ethics of Representation
***Note: This event will be entirely in German.
Thursday, December 1, 2022
2:20 - 3:40 pm Eastern Time (US)
Mandel Reading Room 303, Mandel Center for Humanities
Please RSVP for this in-person event.  Coffee, tea, and snacks will be available.
About the Event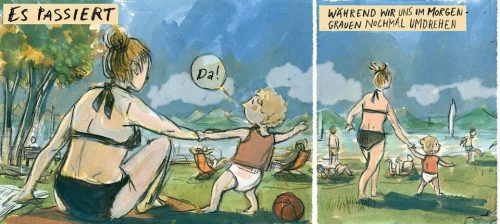 In the digital era, photos of precarious vulnerability can circulate immediately on a global level. They can easily be reproduced and recontextualized without the knowledge or consent of the portrayed individuals and might even lead to legal repercussions or persecution. In her talk, Heidi Denzel de Tirado will present different forms of photojournalism and comics journalism and discuss their role in the debate about the ethics of presentation and representation of migrant bodies.
About the Speaker
Heidi Denzel de Tirado is a Visiting Associate Professor of German Studies at Dartmouth College. She is the author of several articles on fictional biographies, border films, ethnographic sitcoms, media monitoring and media activism. She is the author of the monography Biographische Fiktionen: Das Paradigma Denis Diderot: 1765-2005 (2008), co-editor of the special issue Framing Islam: Faith, Fascination, and Fear in Twenty-First-Century German Culture (Colloquia Germanica, 2017) and is currently working on a book on visual representations of mobility and migration.