2011-12 Events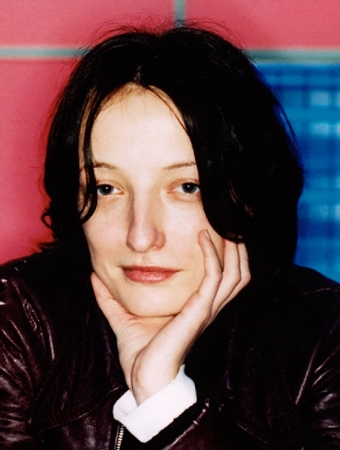 Filmgespräch (Conversation About Film) in German and English
April 20, 2012
with young German filmmakers Dörte Franke and Marc Bauder
"Editing Victor Klemperer's Diaries"
April 17, 2012
A conversation with Klemperer-student and editor Walter Nowojski, Berlin (in German)
It was thanks to Klemperer-student Walter Nowojski's tireless efforts that Victor Klemperer's Nazi-year diaries "Ich will Zeugnis ablegen bis zum Letzten, 1933-1945" were finally published by Aufbau Verlag only after German unification in 1995. Klemperer's daily records of his survival as a Jew married to a non-Jew in Dresden count among the most important authentic documents chronicling the experience of the Holocaust in Germany. An excerpt was published in English under the title "I Shall Bear Witness." Following the success of the initial publication, Nowojski continued to edit several other volumes of Klemperer's diaries and related works. He is currently working on digitizing Klemperer's extensive manuscripts.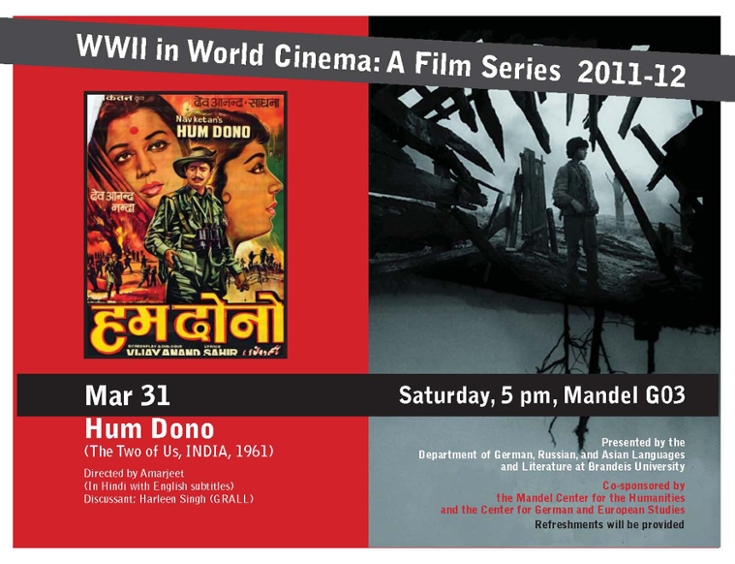 Film Screening: "Hum Dono" ("The Two of Us") India, 1961
March 31, 2012
WWII in World Cinema: A Film Series 2011-12
Directed by Amarjeet (in Hindi with English subtitles) 
Discussant: Harleen Singh (GRALL)
Presented by the Department of German, Russian and Asian Languages and Lieterature at Brandeis University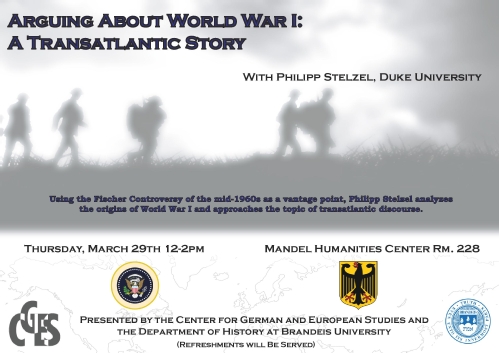 "Arguing About World War I: A Transatlantic Story"
March 29, 2012
Philipp Stelzel, Duke University
In 1961, the West German historian Fritz Fischer published a voluminous study on the German Empire's war aims during World War I. By arguing that Germany had been primarily responsible for the war's outbreak, Fischer caused an enormous controversy that preoccupied not only his West German colleagues but also a broader public and ultimately even the Federal Republic's Parliament. American historians played a significant role in this debate, which today appears as the beginning of a critical West German perspective on the recent German past. Using the "Fischer Controversy" as a vantage point, the talk analyzes the transatlantic debate about the origins of World War I between the 1920s and the 1970s.
Philipp Stelzel is a visiting assistant professor of history at Duke University. He received his doctorate in modern European history from the University of North Carolina, Chapel Hill in 2010. Before coming to UNC, he studied at the University of Munich and, as a Fulbright scholar, at Columbia University where he received his MA in 2003. His current book project, "A German Special Path: Critical Social History as a Transatlantic Enterprise, 1945-1989," analyzes the intellectual exchange between German and American historians from the end of World War II to the 1980s.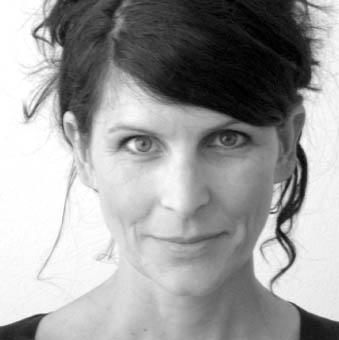 "Troubling Futures: The Emotional Impact of Climate Change Cinema"
March 22, 2012
with Alexa Weik von Mossner, University of Fribourg and the Rachel Carson Center for Environment and Society
Affect and emotion are of central importance to our enjoyment and understanding of film, and as an integral part of human cognition they also play a major role in our assessment of various risk scenarios. Because of their extraordinary ability to engage audiences emotionally, filmic representations of ecological risk sometimes interact in powerful ways with media reports on real-world events and scientific projections of possible future developments. My talk investigates how, exactly, cinema-released documentaries, such as "An Inconvenient Truth" and "The Age of Stupid," and blockbuster disaster films, such as "The Day After Tomorrow," engage viewers emotionally and cognitively in their imagined climate risk scenarios. Drawing on cognitive film theory and the findings of empirical audience response studies, it aims to provide a deeper and more comprehensive understanding of how popular culture texts influence their audiences' perceptions of the personal, societal and ecological risks associated with global climate change.
Alexa Weik von Mossner is a literary and cultural studies scholar with an interest in the relationship between cultural texts and the environment. She is docteure of American literature and culture at the University of Fribourg, Switzerland and an associate at the Rachel Carson Center for Environment and Society at the LMU Munich. She worked for several years in the German film and television industry as a production manager and later scriptwriter before earning her doctorate in literature at the University of California, San Diego in 2008. She has published articles on ethnic and transnational American literature, postcolonial literature, environmental justice, cosmopolitanism, cognitive ecocriticism and environmental film. Her current research project focuses on the imagination of global ecological risk scenarios in American popular culture.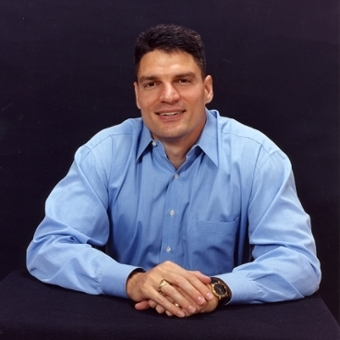 Jewish-German Dialogue with Bryan Mark Rigg
March 19, 2020
Bryan Mark Rigg is author of "Lives of Hitler's Jewish Soldiers" (Kansas University Press, 2002).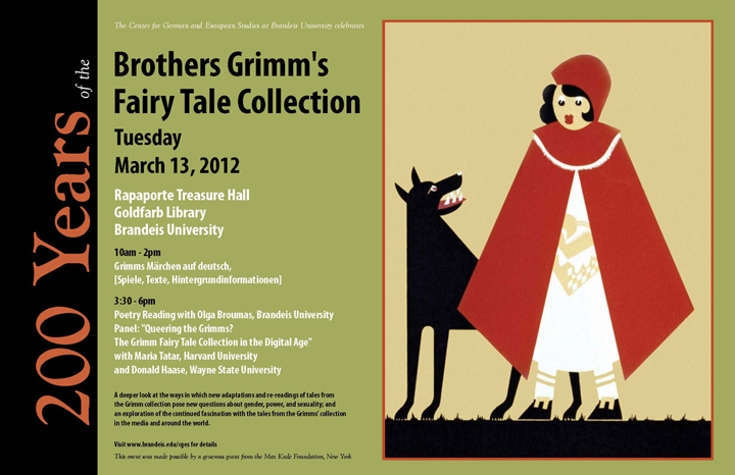 200th Anniversary of the First Publication of the Brothers Grimm's Fairy Tale Collection (1812)
March 13, 2012
One-day symposium with fairy tale experts Maria Tatar and Donald Haase, and a poet Olga Broumas 
Program
"Grimm's Märchen auf Deutsch. Lesungen," Spiele, Hintergründe
"Grimm Fairy Tale Collection in the Digital Age"
A deeper look at the ways in which new adaptations and re-readings of tales from the Grimm collection pose new questions about gender, power and sexuality; and an exploration of the continued fascination with the tales from the Grimms' collection in the media and around the world.
Poetry Reading with Olga Broumas
Olga Broumas is an award-winning poet and professor of the practice of English at Brandeis University.
Panel Discussion with Maria Tatar and Donald Haase
Maria Tatar is the John L. Loeb Professor of Germanic Languages and Literatures. She chairs the Program in Folklore and Mythology at Harvard University, where she teaches courses in German studies, folklore and children's literature.
Donald Haase is associate dean and professor of German at Wayne State University. His research includes folktales and fairy tales, the Brothers Grimm, children's literature and film, reception studies, European romanticism, comparative literature. Editor, "Marvels and Tales: Journal of Fairy-Tale Studies." Editor, "Series in Fairy-Tale Studies."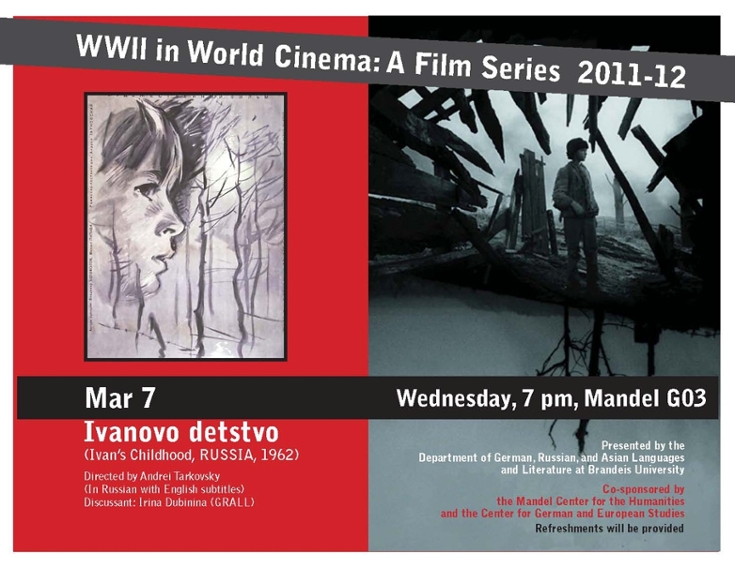 Film Screening: "Ivanovo Detstvo" ("Ivan's Childhood") Russia, 1962
March 7, 2012
WWII in World Cinema: A Film Series 2011-12
Russian refreshments will be served.
Film Screening: "About Face"
March 5, 2012
WWII in World Cinema: A Film Series 2011-12
First Brandeis-sponsored Jewish-German Dialogue meeting in New York City
Documentary film screening followed by a talk by Fritz Weinschenk, one of the people featured in the documentary.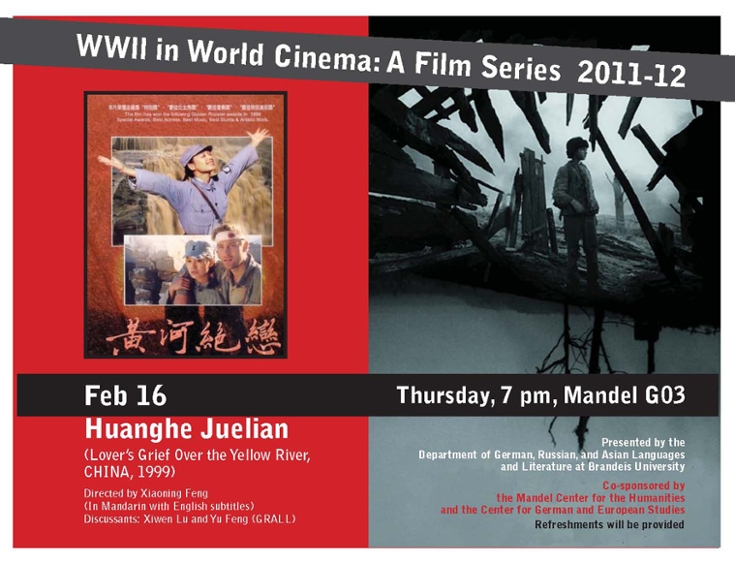 Film Screening: "Huanghe Juelian" ("Lover's Grief over the Yellow River") China, 1999
February 16, 2012
WWII in World Cinema: A Film Series 2011-12
Presented by the Department of German, Russian and Asian Languages and Literature (GRALL).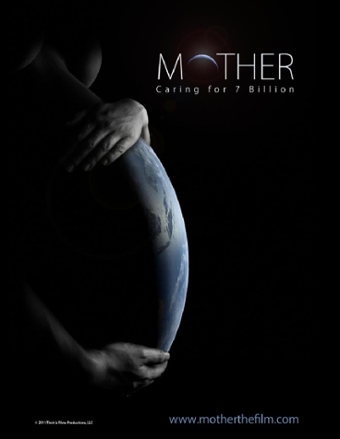 Documentary Film Screening: "Mother: Caring for 7 Billion"
February 14, 2012
Film screening followed by a discussion with Robert Walker, new president of the Population Institute (voice on Capitol Hill since 1969), and Purnima Mane, recently of the UNFPA and now incoming president of Pathfinder International (providing reproductive health services in the developing world since 1957).
School of Science

Center for German and European Studies

Environmental Studies

Sustainable International Development

Women's and Gender Studies

International Center for Ethics, Justice and Public Life
"Taking Responsibility: Europe's Role in Addressing Climate Change"
February 9, 2012
Live from Essen, Germany (in English):
Video conference and panel discussion about climate change as an issue of social justice
Panelists
Dr. Bernd Sommer, research analyst to the German Advisory Council on Global Change
Maximilian Muengersdorf, of the graduate colloquium "Challenges to Democracy through Climate Change" at the Institute for Culture (KWI) in Essen.
This event is part of  'DEIS Impact! Festival of Social Justice (a week of more than two dozen events).
"The Music of Heinrich Schütz (1585 - 1642)"
February 11, 2012
Symposium followed by a concert
Heinrich Schütz brought German church music to a pinnacle of interpretive depth that would be equalled only by J. S. Bach 100 years later. Musicology professor Eric Chafe and guests discuss Schütz's musical interpretation of texts from both Jewish and Christian perspectives.
Professional early music singers and instrumentalists join the Brandeis University Chorus, the Chamber Choir and the Early Music Ensemble for a performance of Schütz cantatas. Sarah Mead and James Olesen, directors.
Movie Night: "Der Untergang" ("Downfall")
December 8, 2011
We watched the movie "Downfall" about Traudl Junge, the final secretary for Adolf Hitler who tells of the Nazi dictator's final days in his Berlin bunker at the end of WWII.
German food was served.
"do Deutsch" — Campusweek Deutsch ist Wunderbar!
November 14, 2011
A week-long program with music, discussion and art celebrating the German language
November 17, 2011
Learn from Can Erbil and Orhan Karsligil how their experience attending a German High School in Istanbul shaped their career path and outlook on life.  
Orhan Karsligil was born in Istanbul, Turkey. After graduating from Deutsche Schule Istanbul, he attended Bogazici University in Istanbul where he studied chemical engineering. He received his doctorate in chemical engineering from MIT in 2000. Since then he has been working at the same IT consulting company, currently as its IT manager, balancing that with doing research at MIT in the bioinformatics field. He is married and has two daughters.
Can Erbil is a research fellow at EcoMod, Global Economic Modeling Network, where he is involved in research and teaching economic modeling. EcoMod is based in Brussels. Erbil is also a consultant at the Federal Reserve Bank of Boston, working on a project for the New Hampshire Tax Commission to estimate the economic impacts of changes in income, sales and property taxes.
On two different occasions, Erbil has worked in the International Trade Division of the World Bank as a consultant and data manager. He has conducted intensive empirical research using international data sources, and delivered policy recommendations to client countries on issues such as market openness.
Concert, Lecture and Dance: "The Art of Klezmer and Yiddish Song"
November 16, 2011
featuring Hankus Netsky, Michael Alpert, members of the Klezmer Conservatory Band and students from the New England Conservatory
Lecture: "Eastern European Jewish Musical Roots — Still a Vital Wellspring."
Michael Alpert, internationally renowned Yiddish singer, fiddler and dance leader, is a founding member of the klezmer super-group, Brave Old World, and a former member of Kapelye.
Dr. Hankus Netsky, local klezmer revival pioneer, is founder and director of the Klezmer Conservatory Band and Music Director for Itzhak Perlman's "In the Fiddler's House" and "Soul of Jewish Music" projects. He directs the Discovery Project at the National Yiddish Book Center and is chair of the Contemporary Improvisation Department at the New England Conservatory.
Zoe Christiansen, virtuoso klezmer clarinetist, is a student in the Contemporary Improvisation Department at the New England Conservatory.
The concert was followed by a dance and refreshments. This event was designed for people of all ages to celebrate the renewal of traditional Eastern European Jewish culture.
"German Jewish Aspirations in Music and Culture"
November 14, 2011
in 19th and 20th Century Germany
Dr. Mark L. Kligman, Professor of Jewish Musicology, Hebrew Union College, Jewish Institute of Religion

Dr. Tina Fruhauf, Adjunct Assistant Professor at Columbia University

Dr. Michael Zank, Acting Director of the Elie Wiesel Center for Judaic Studies, Boston University

Dr. Pamela Potter, Professor of Musicology, University of Wisconsin, Madison

Dr. Anthony Polonsky, Albert Abramson Professor of Holocaust Studies, Brandeis University

Dr. Eugene R. Sheppard, Associate Professor of Modern Jewish History and Thought, Brandeis University

Judith S. Pinnolis, Academic Outreach Librarian for Graduate Studies and Humanities
Presented by The Jewish Music Forum of the American Society of Jewish Music
The Tauber Institute for the Study of European Jewry

Center for German and European Studies

Library and Technology Services
Reading with Award-Winning Author Martin Walser
November 8, 2011
with an introduction by Susanne Klingenstein
Prolific and award-winning German author Martin Walser joined us for a reading and discussion (in German and English) of his newest works.
About the author
Born in 1927 and raised in Nazi Germany under the shadow of World War II, Martin Walser became one of the most important authors of contemporary German literature. He calls himself a "literary expert on identity damage." The International Literature Festival Berlin describes Walser's mainly male petit bourgeois protagonists as "characters plagued by identity problems, feelings of inferiority and dependency" and are characterized by "interior monologues, their weaknesses portrayed through irony, with precision and humor." In 1955, the "Group 47," an influential German literary association, awarded Walser a prestigious prize for one of his stories. Two years later, he won the Hermann Hesse Prize for his first novel "Ehen in Philippsburg" (Marriage in Philippsburg). In 1976, his novel "Jenseits der Liebe" ("Beyond Love") was panned as outright awful by Germany's premier literary critic; but just two years later the same critic hailed the novella "Ein Fliehendes Pferd" (A Runaway Horse), published in 1978, as a masterpiece. The novella along with Walser's next novel, "Das Schwanenhaus" (Swan Villa) cemented Walser's reputation as a German writer of canonical stature.
Martin Walser won the Georg Büchner Prize in 1981, Germany's highest literary award, and was awarded the Peace Prize of the German Book Trade in 1998. The Peace Prize jury observed, "the author of German unification explained Germany to the Germans themselves and to the world." However, Walser's acceptance speech triggered a heated and damaging debate as to whether or not he had said that he wanted to be done with the German past. At Brandeis, Mr. Walser talked about the task of writing and the complexities involved in writing a public speech. For his lifetime achievement, Mr. Walser has also been awarded the order "Pour le Mérite" and named "Officier de L'Ordre des Arts et des Lettres."
His trip to the United States is part of the "do Deutsch" event series on German culture and language. The "do Deutsch" campaign aims to raise awareness among students and their parents, teachers of German and political decision makers as well as the media of the value of language learning. The German Missions and the Goethe Institutes in the U.S. invite you to embark on the adventure of learning German, the most widely spoken language in Europe. Come and discover things German — German culture, art, language, literature, philosophy, politics and Germans themselves.
The 2011 Chocolate Cake Lecture: "Stefan George and Lyric Modernism"
November 7, 2011
with Professor Christophe Fricker, Rutgers University
November 9, 2011
Screening of award-winning film in commemoration of the 1938 Kristallnacht pogrom
"A feature-length documentary that tells the remarkable yet previously untold story of thousands of young Jewish immigrants who fled Germany and Austria in the early days of Hitler's regime, only to perform an 'about face,' returning to confront their oppressors as American GI's and British Tommie's in WWII."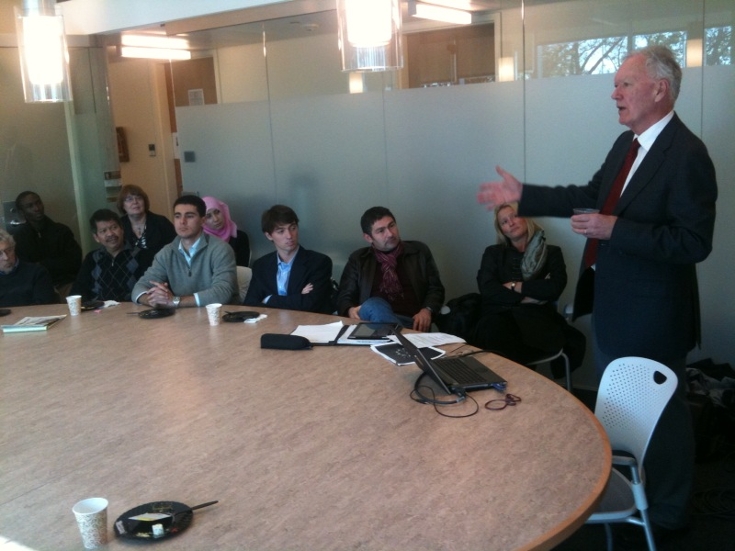 "Update on the Euro Crisis: What is It Really? Who Done It and Why? What Might It Mean to Us? "
October 28, 2011
A special lecture with CGES Director emeritus George Ross
Ad personam Chaire Jean Monnet, Université de Montréal
Morris Hillquit Professor in Labor and Social Thought, Emeritus, Brandeis University
Faculty Associate, Minda de Gunzburg Center for European Studies, Harvard University
After Wall Street and Washington, it is now Brussels and the EU that threaten the global economy. Brussels and the EU are even more difficult to understand than Wall Street. Why have the Europeans had so much trouble doing the right things? Answers are complicated, but worth trying to find. The crisis, in the words of an NPR correspondent, is simultaneously "terrifying and boring," but we will try to get beyond the boredom, even if we cannot guarantee that we will transcend the terrifying.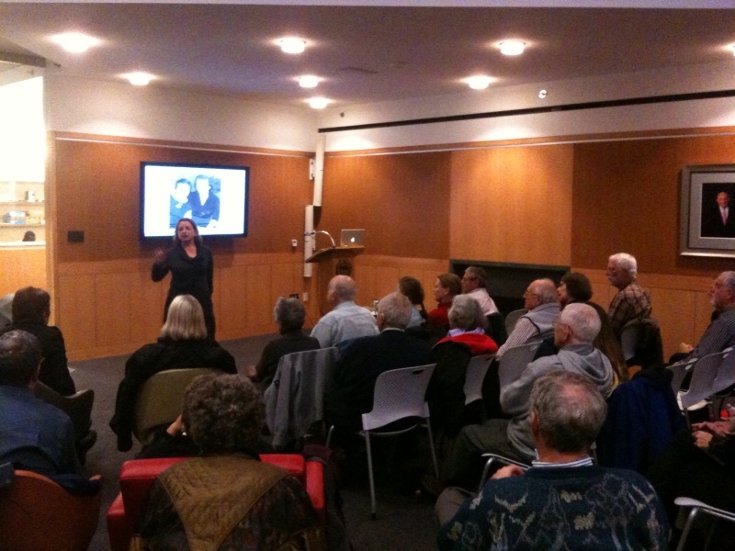 October 27, 2011
"Life and Loss In the Shadow of the Holocaust: A Jewish Family's Untold Story"
(2011; Cambridge University Press)
Uta Larkey's book is based on correspondence between members of a Jewish family before, during and after the Holocaust. Larkey and her co-author, Rebecca Boehling, reveal how the Kaufmann-Steinberg family was pulled apart under the Nazi regime and left divided between Germany, the United States and Palestine. The family''s unique eight-way correspondence across two generations brings into sharp focus the dilemma of Jews who faced the painful decision of when and if they should leave Nazi Germany.

The book captures the family members' fluctuating emotions of hope, resignation and despair, as well as the day-to-day concerns, experiences and dynamics of family life despite increasing persecution and impending deportation. Headed by two sisters who were among the first female business owners in Essen, the family was far from conventional, and their story contributes a new dimension to the understanding of life in Germany during these dark years.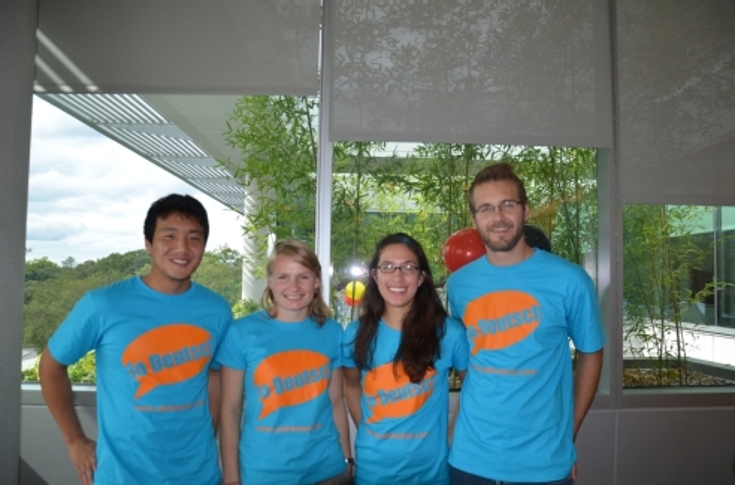 Welcome Back Reception and Day of German Unity
October 3, 2011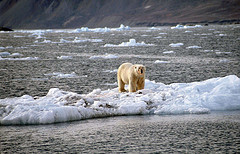 "Photography and Climate Change"
September 19, 2011
with Ulrike Heine from the University of Giessen, Germany
How are photographs used to communicate different aspects of climate change? Ulrike Heine, from the Research Group Transnational Media Events at the Justus-Liebig-Universitaet Gießen, Germany, will discuss a set of projects originating in the fields of photojournalism, art photography and commercial photography.
Heine, who completed her studies in art history and cultural studies in Leipzig and St. Petersburg, Russia is currently working toward her doctorate on the topic of "Photography and Climate Change" as a visiting fellow at Boston University's Frederick S. Pardee Center for the Study of the Longer-Range Future.
"The Vilna Ghetto Theater: Yiddish Poetry Set to Music (1941-1943)"
Sophie Michaux (voice) was born in London. She is currently studying voice at the Longy School of Music with Anna Gabrieli. Although Ms.Michaux is concentrating on the classical opera repertoire, her rich mezzo-soprano also makes her a sought-after soloist for jazz and tango ensembles.
Eugenia Gerstein (piano) was born in Moscow, Russia. She taught at the Music Teachers' College in Voronezh, where she chaired the Department of Music Theory. Since leaving Russia in 1994, Eugenia Gerstein embarked on a career in music education and choral conducting.
Susanne Klingenstein (lecture) was born in Germany. After studying at the University of Heidelberg and Brandeis University, she pursued Yiddish literature and postgraduate work in American literature at Harvard University. In 1991 she earned a PhD in American Studies. She teaches philosophy and history of medical culture at the Harvard Medical School. She is a regular contributor to Frankfurter Allgemeine Zeitung and is currently writing an introduction to "Yiddish Literature" for Beck Verlag in Munich.
On Sept 6, 1941, the Germans established a ghetto in Vilna (then the occupied Republic of Poland — today Vilnius, Lithuania) where they forced about 40,000 Jews to work 10-hour shifts on starvation diets. In January 1942, a theater opened in the Vilna Ghetto. Though some were initially hesitant to embrace the undertaking, the theater performances were a huge success with the suffering ghetto inmates. For a few hours they offered the relief of laughter and tears. In commemoration of the ghetto's establishment 70 years ago, we are presenting moving and witty excerpts from four revue shows composed by gifted composers and lyricists.