Writing Against the Silence in Post-War Germany. A Lesbian Coming-of-Age-Story

Tuesday, February 14, 2023
12 - 1:30 pm Eastern Time (US)
Zoom Webinar
Co-Sponsored by the Department of Women's, Gender, and Sexuality Studies.
About the Event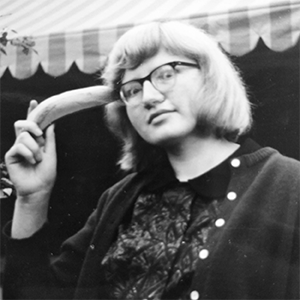 First there was the economic miracle, and later the "Swinging Sixties" – but stories like those of Luise F. Pusch did not get told in postwar Germany. Not until the Corona lockdown acted as a trigger did Germany's most prominent feminist linguist recall and narrate the details of her oppressive lesbian childhood and youth. Breaking the silence about unbearably homophobic postwar decades, Pusch writes of her time in East Westphalia as a schoolgirl with a love of music, and of her early years as a student in Hamburg. The volume is a prequel to the earlier autobiographical account Sonja. A Melancholy for the Advanced, which Pusch published in 1981 and which told of her lengthy and challenging partnership with a woman in a wheelchair.
About the Speaker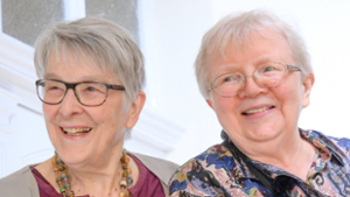 Luise Pusch (right) with her wife Joey Horsley
Luise Pusch and Joey HorseyTogether with Senta Trömel-Plötz and Marlis Hellinger, Luise F. Pusch initiated the field of feminist linguistics in Germany, and she has published numerous volumes of linguistic and socio-cultural criticism. Moreover, Pusch is a pioneer in the field of women's biography; here too she has published many groundbreaking books, and she created and continues to curate the international biographical website, FemBio.org. Since 1987 she has also published Berühmte Frauen, an annual diary and calendar with 12 biographical articles and a wealth of additional biographical data on distinguished women with significant anniversaries throughout the year.