Department Newsletter - Nuntius
Department of Classical Studies 2018-2019
The Department of Classical Studies has seen another wildly successful academic year!

11 graduates in the MA program from Summer 2018, Fall 2018, and Spring 2019!
Rebecca Lynn Aucoin
Savannah Ulalian Bishop
Scott G. Chase
Lucas Lambert Hartsough
Brittany Joyce
Derrek Joseph Joyce
Evan Michael McDuff
Cory Leeson Palmer
Matthew Joseph Previto
Katherine Margaret Riggs
Justin Anthony Soares
5 undergraduate majors!
Emily Schrager Dana - Magna Cum Laude with Highest Honors in Classical Studies
Matthew Jae-Yun Downs -Cum Laude
Yair Jacob Koas - Summa Cum Laude with High Honors in Theater Arts
William Lu - Magna Cum Laude with High Honors in Classical Studies
Helen C. Wong - Summa Cum Laude with Highest Honors in Classical Studies
2 undergraduate minors!
Maria Rene Alegria Orantes - Magna Cum Laude
Daylen Kyle Domeyer
---
All of us in the Department of Classical Studies wish you nothing but success wherever you go! We'd also like to highlight some of specific student achievements from this year!
Pursuing a PhD is a path of passion, dedication, and hard-work. Best of luck to all of our recently accepted students:

Ruth Portes '18, PhD Classics, Cornell University
Erin Brantmayer '18, PhD Classical Archaeology, University of Texas
Evan McDuff, PhD Anthropology Boston University
Scott Chase, PhD Religious Studies, Boston University
Brittany Joyce, PhD Classics, University of Michigan
Matthew Previto, PhD Archaeology and History, Stanford University
This year we had three undergraduate seniors research, write, and defend Senior Theses within the Department of Classical Studies! All three were superb displays of scholarship.
Emily Dana, "Agency and Authorship: Greek and Israelite Wisdom Literature in Dialogue"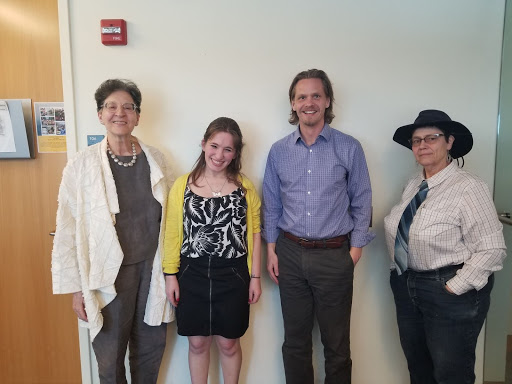 William Lu, "An Empire Divided: Gallienus and the Crisis of the Third Century"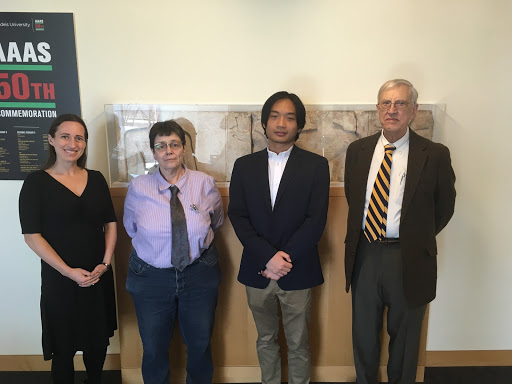 Helen Wong, "Forming Kraters in Cyprus: A Petrographic and 3D Scanned Exploration of Iron Age Cypriot Ceramic Continuity"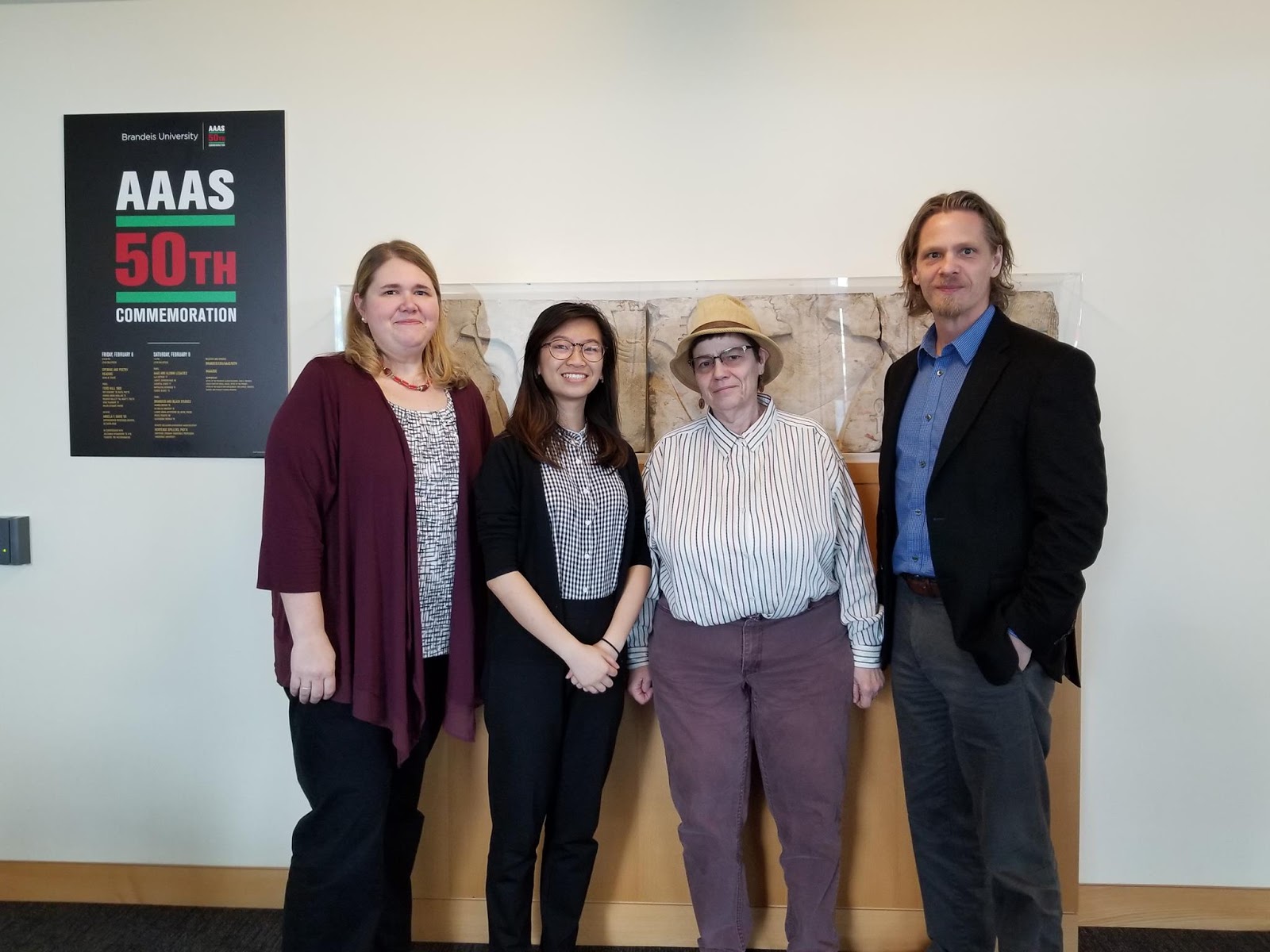 Additionally, this academic year has seen many of our students awarded a number of honors and prizes!
The Esther Goldman Prize for Excellence in Classical Art, Archaeology, and Ancient History to Helen Wong
The Esther Goldman Prize for Excellence in Classical Languages and Literatures to Madeleine Cahn
The David S. Wiesen Memorial Prize to Emily Dana
Graduate School of Arts and Science Outstanding Teaching Fellow Award to Matthew Previto
Departmental Award for Teaching Excellence to Matthew Previto and Brittany Joyce
Ancient Greek and Roman Studies Summer Fellowships to Alexa Rose, Cory Palmer, Elizabeth Randolph, Jennifer Marks, Justin Soares, Katherine Riggs, Kathleen Dailey, Matthew Previto, Michael Hall, Michael Lundberg, Michelle Heeman
Research Grant from the Crown Center for Middle Eastern Studies to Michelle Heeman
Outstanding Graduate Leadership Award from the Graduate Student Association to Alexa Rose
The department has also continued its engagement with the Eta Sigma Phi Honor Society:
Congratulations to Yair Koas for your induction into the Eta Sigma Phi Honor Society
---
Throughout this past year, we've been fortunate to both host and attend a number of events, speakers, and conferences as a department: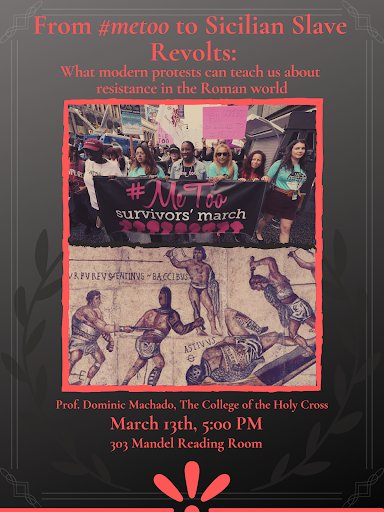 AGRS Graduate Student Conference: "Natural Not Yet Understood: The Supernatural from Antiquity to the Medieval Period"
New England Ancient History Colloquium
Dominic Machado, "From #metoo to the Sicilian Slave Revolts: What modern protests can teach us about resistance in the Roman World"
Joe Goodkin, "The Odyssey in Song: A Folk Opera"
Hannah Čulík-Baird, "Loss and Recovery of Knowledge at Rome"
---
Faculty Updates:
Note from Joel P. Christensen, Chair,
Greeting Friends,
The Department of Classical Studies has seen another exciting year come and go. I think that my colleagues' achievements speak for themselves and the lists of graduates and their accomplishments show some indication of how busy the year has been. We are sad to say farewell to our graduates, but we also look forward to another great class of graduate students and undergraduate majors next year..
I wanted to highlight a couple aspects of what our students have been doing over the past few years. One really impressive thing is how many of our students are deeply engaged with interdisciplinary work. Our undergraduate honors students have written original theses on using new technology to study the late bronze age collapse (Helen Wong) and the interconnections in so-called 'wisdom literature' in Hebrew and Greek traditions (Emily Dana). On the graduate level, Evan McDuff completed a great thesis using modern laboratory techniques to test for the presence of pepper in ancient archaeological samples (and he wrote about it for the online journal Eidolon.)
I only mention a few students, but I should not overlook the opportunity to mention that interdisciplinarity was long central to the disciplines embedded in Classical Studies—part of what unites those of us who study the ancient world is the belief that we should use multiple methodologies to examine the past and make sense of it for the benefit of the modern world. All of our students use conventional approaches from classical history, archaeology and languages combined with the insights of modern anthropology, social, and literary theory and new digital technologies to pursue their own research.
Another recent example of this is the Department's partnership with Theater Arts in support of this year's production of Euripides' Bacchae. Dmitry Troyanovsky (Brandeis '98; Chair of Theater Arts) and I collaborated on the translation of the play with help from undergraduate Sofia Gransard ('20). Graduating senior Yair Koas was the dramaturge for the performance and did a historical study of performances of the play as part of his Senior Honor's thesis for Theater. The production was well-attended and well-received—it is likely just the beginning of renewed partnerships between Classical Studies and other departments.
With the help of our gift fund, we were able to distribute over $40,000.00 in support to students for summer activities this year and last. These funds have made a critical difference in our students' futures: they have taken language courses, participated in courses, and gained invaluable archaeological experience in the field. This year we worked in the Campus budget office to make sure that students received these funds up front as a grant instead of later on as reimbursements.
Our department has seen some changes in personnel this year too. Our longtime administrator, Heidi McCallister stepped away to focus entirely on her work with the Center for German and European Studies. We were fortune to welcome our new, full-time administrator, David DeVore, to the Department in January. David comes to us with an MA in Medieval Studies from Boston College and considerable experience with digital informatics. He is already making everyone else's job easier.
The past year has also seen intense preparation for the debut of the new Brandeis Core curriculum which debuts in Fall 2019. Classical Studies has revised part of its undergraduate curriculum to ensure our students have opportunities to fulfill the digital literacy, oral communication and writing intensive components through their major. In addition, Classical Studies has been central to the campus wide implementation. We have successfully proposed three new courses for the Difference and Justice in the World requirement; and I have chaired the committee organizing the most innovative part of the new Core, the Critical Conversations and revised First Year Experience. Please stay on the lookout for videos and coverage of these events next year.
As a department we have also been involved in discussions about the relationship between our discipline and racism and justice in the world. We worked together as faculty and students to create our own new statement on diversity, equity, and inclusion. And we hope to work together in the future to ensure that our department is a welcoming and inclusive space.
I have not been idle in my free time—I have kept up with a Classics-theme blog and twitter feed, featured this year in BrandeisNow and, to paraphrase Pliny, "published some things".  In the coming year, I look forward to working with new students and welcoming old colleagues back to campus. Not only is Professor Ann Koloski-Ostrow returning from her well-deserved sabbatical, but her husband Steven Ostrow will be teaching intermediate Latin for us in the Fall and Professor Emeritus, former Chair, and my own Greek teacher Leonard Muellner will be teaching Greek.
I wanted to close by thanking everyone who has made donations to support our work in the department and to say that they have been transformational for our undergraduates, graduates, and what our Department can offer the community. But, whether you've donated or not, I am also deeply grateful for your continued interest and support. If you have any questions, suggestions, concerns or just want to get in touch, please don't hesitate to email me or give me a call.
Associate Professor and Chair
Department of Classical Studies
Co-Director Graduate Program in Ancient Greek and Roman Studies
Mandel Center for the Humanities, MS 092
Brandeis University, P.O. Box 9110
415 South Street
Waltham, MA 02453-9110 USA
FAX: 781-736-2184
joel@brandeis.edu
Website
sententiaeantiquae.com
@sentantiq
Note from Professor Ann Olga Koloski-Ostrow, Kevy and Hortense Kaiserman Endowed Chair in the Humanities
I have had a productive, energetic, travel-filled, and definitely refreshing sabbatical year in Italy, after chairing the Department of Classical Studies for fifteen years.  Perhaps the main reason I could enjoy myself so thoroughly here was knowing that our department was in the more than capable hands of our new chair, Professor Joel P. Christensen.  I am very grateful to him and to my other colleagues in Classical Studies, especially our new academic administrator, David DeVore, for taking such good care of our students and of each other. Of course, I missed everyone at Brandeis, but I had so much to do in Italy, the time has just flown by. Thank to everyone who made my time away possible.
During 2018-19 I was Associate Visiting Scholar at the American Academy in Rome, primarily working on three book projects:
 Making Sense of Pompeii and Herculaneum: Daily Life and the Sensorium of the Ancient Roman City (sole author). Under contract with Cambridge University Press, New York and Cambridge, England.
 Sixty-Six Toilets in the Ancient City of Rome: Sanitary, Urbanistic, and Social Agency, co-authored and edited with Gemma C. M. Jansen and Richard L. J. Neudecker. Under contract with BABESCH, part of Brill Press, in Leuven, Belgium.
 The Bloomsbury Cultural History of Technology, Volume I, Pre-History through Antiquity (2.5 MBP-600AD), contributor and co-editor with Rabun M. Taylor. Under contract with Bloomsbury Press, London, UK, with publication set for 2021.
I have made significant progress on all three.
As a result of the paperback publication in Nov. 2018 of my book, The Archaeology of Sanitation in Roman Italy: Toilets, Sewers, and Water Systems (originally published in April 2015 in hardcover, University of North Carolina Press):  http://uncpress.unc.edu/books/T-5298.html), I was invited to give a long radio interview to the BBC on Nov. 9, 2018, for their show, The Forum, a segment called "Lifting the Lid on the History of Toilets":
https://www.bbc.co.uk/sounds/play/w3cswpsx
I have also completed some smaller projects as well:
"'ita pestilens est odore taeterrimo': Reading Roman Sanitation from the Sources," in Classical Outlook 93.2 (Jan. 2019) 53-61.
"CARPE Dirt, Disease, and Detritus:  Roman Sanitation and its Value System," (original keynote address given on June 8, 2017, at the International Conference and Workshop at Göethe-Universtität in Frankfurt am Main, Germany, organized by the Department of Anthropology and Archaeology for a Research Training Group focusing on "Value and Equivalence," now to be published as a chapter in the conference proceedings by Sidetone Academic Press, Netherlands, forthcoming 2019.
"Probing Questions about the Metal Instruments in the Brandeis CLARC: Use, Reuse, and Roman Medical Practice," co-written with Elizabeth Allen '14, for either the Journal of Roman Archaeology (John Humphrey, editor) or the Journal of Archaeological Science (R. Torrence and Th. Rehren, editors), forthcoming 2019.
Review of Stefanie Hoss (ed.) Latrinae:  Roman Toilets in the Northwestern Provinces of the Roman Empire (Archaeopress Roman Archaeology, 2018) in JRA, forthcoming fall 2019.
I also gave a number of talks during the past year, so that I could share my research on the senses and on other topics with various diverse audiences:
On May 24, 2018 "Sensing the Ancient Roman City," Invited to be the Christina Elliott Sorum Guest Professor in Classics at Union College in Schenectady, New York.
On October 18, 2018, "Roman Life in the Shadow of Vesuvius: Pompeii and Herculaneum," invited speaker on Brandeis Alumni College tour of Amalfi Coast, Hotel Raito, Vieti sul Mare.
On October 20, 2018, "More Thank Meets the Eye: Cyclops, Odysseus, and the Roman Elite," invited speaker on Brandeis Alumni College tour of Amalfi Coast, Hotel Raito, Vieti sul Mare.
On November 21, 2018, "The Eye of the Beholder: Tiberius and Roman Elite Diners meet Odysseus and the Cyclops, the Host Who Eats his Guests". Invited guest scholar speaker at the Intercollegiate Center for Classical Studies, Rome, Italy.
On February 6, 2019, "The Sensorium of the Roman Urban Landscape: Sights, Sounds, Smells, Tastes, and Touch". Invited guest scholar speaker at the Intercollegiate Center for Classical Studies, Rome, Italy.
On February 15, 2019, Walk and Talk for the American Academy in Rome-- on the Pyramid of Cestius, the Protestant Cemetery in Rome, Santa Maria del Priorato, the monastery church of the Knights of Malta, and various churches and points of interest on the Aventine Hill, including fragments of the Servian Wall.
On April 11, 2019, "Raising a Stench in the Roman City and Establishing an Archaeology of the Senses," Archaeological Institute of America, Rome Society, held at the Rome campus of Temple University.
For the first time in my life, I led a Brandeis Alumni tour (October 16-26, 2018), which was centered at the Hotel Raito, Vieti sul Mare, on the Amalfi Coast of Italy.  We made visits to (and I gave on-site lectures at) Paestum, Pompeii, Herculaneum, Naples Archaeology Museum, among many other places. The experience was truly wonderful, especially for the opportunity to connect with so many people who love Brandeis as much as I do.
With my husband, Steven E. Ostrow (who will be teaching Latin 30, Intermediate Latin, at Brandeis in fall 2019), we did a fair amount of traveling during the sabbatical year as well—usually connected to one of my projects—the Bay of Naples, Orvieto, the southern regions of Italy called Puglia and Basilicata, Greece (Athens and Santorini), and Spain (areas near Barcelona).  
I shall become the new Head of the Division of the Humanities in July 2019.  I am very excited for the new challenges ahead of me, and I look forward to seeing everyone at Brandeis again soon.  
Note from Caitlin Gillespie
What a year! After joining the Brandeis Classical Studies community last fall, I have been busy getting to know the department and the university. As the new Latinist on the team, I taught the beginning Latin sequence over two semesters, in addition to courses on Roman Satire and Race and Ethnicity in the Ancient World. The latter course has been approved to fulfill the Diversity and Justice in the World requirement in the new Core curriculum, and will be offered again soon.
The Latin students are strong, and it has been a joyful experience to see them grow in confidence and language skills over the course of the year. I have also had the pleasure of being an advisor and reader on several theses at the undergraduate and graduate levels, and am continually impressed at the range and breadth of research projects undertaken by our students. I look forward to hearing about the future endeavors of our graduates as they enter into various graduate programs, teaching, and museum work.
My own work on women and power in the Roman Empire led me to a conference in Denmark in December and has resulted in a forthcoming article on women and wonder in Cassius Dio's Roman History; another article on Agrippina the Elder's connection to memory and imperial cult in Tacitus' Annals will appear in the journal Classical World soon. My engagement with the broader world of Classics continues, and I am helping to plan a conference on Feminism and Classics that will be hosted at Wake Forest University next May. I want to close by thanking everyone for their support and for welcoming me so warmly to the department. I will be on maternity leave in the fall, but look forward to seeing everyone again next spring!
Note from Alexandra Ratzlaff
My second year at Brandeis has been an exciting one! My courses in the Fall semester included the Art and Archaeology of Ancient Rome and a new comparative culture course, the Archaeology of Greece, Egypt, and the Levant in the Bronze Age. In Ancient Rome we had a wonderful survey of the art and archaeology covering the foundation until the fall of the city of Rome. In the Bronze Age course students analyzed the development of several contemporary civilizations, comparing their material culture and connectivity with each other as the impetus for their rise in complexity. Both classes visited the MFA for fieldtrips to explore the rich examples of artifacts from Ancient Rome and the Bronze Age Mediterranean. It was such a beneficial experience to see the artifacts in person that we had discussed at length in class. Students took selfies with their favorite artifacts and wrote short artifact-analysis papers.
Beyond the classroom I have been busy finishing publications for papers I presented at two international conferences, from the Late Roman Pottery conference in Sicily and the Mithras conference in Romania. Both publications are now in print and I look forward to sharing them. A chapter titled ""The Effects of Empire on Daily Life in the Provincial East (37 BCE – 313 CE)" was also just published in the Cambridge Social Archaeology of the Eastern Mediterranean: Israel, Palestine, and Jordan.
In September I was fortunate enough, through the support of the Department of Classical Studies, to organize a research team in residence at the Autodesk Technology Center at the Boston Seaport. Our team "Ancient Insights/Modern Innovation (AiMi) includes Ian Roy and Tim Herbert of the Brandeis Department of Research Technology and Innovation, Erin Brantmayer (18' MA, Classical Studies) and Helen Wong (19' BA, Classical Studies). Our current project has been to engineer and fabricate a 'Single Camera Artifact Photogrammetry Platform' (SCAPP Cam) that will be tested in the field this summer at Tel Kabri and then used to photograph artifacts in CLARC next year.
In just a few short weeks I will be departing for excavation at Tel Kabri, Israel with 6 Brandeis students and 3 alumni. I am confident it will be a very productive and exciting summer!