About the Hiatt Career Center
The professional world is an ever-evolving landscape, impacted by forces including demographics, innovation, technology and globalization. Therefore, choosing a "career" is not about finding one job or making one decision. It is about developing skills and strategies to successfully pursue career opportunities that are inclusive of changing interests, unexpected events and new ventures or options.

The Hiatt Career Center at Brandeis invites undergraduate students and alumni to collaborate with us to develop career skills and strategies that develop and harness your adaptability, creativity, entrepreneurship, and resiliency to be successful in an ever-changing professional world.
Our Team
The Hiatt team is a vibrant collection of professionals dedicated to the students and alumni with whom we partner.
Our nationally recognized staff is committed to working with undergraduate students and alumni inclusive of all identities, backgrounds and interests. Our 14 professional staff members have unique backgrounds and career trajectories of their own, with diverse training, education, and experience in areas ranging from career development, consulting, counseling, education, law, marketing, multicultural affairs, outplacement services and psychology.
Similarly, our paraprofessional student staff brings a diverse set of talents to bear in their work at Hiatt. Hiatt Advisors, interns, and front desk associates make invaluable contributions to our work by welcoming guests, designing marketing campaigns, advising students on LinkedIn profiles, resumes and cover letters, reviewing incoming internship and job opportunities, and more.
Our Mission & Vision
Our vision is that all Brandeisians know who they are, what they want, and how to get there. As a center, we strive to be accessible to all, cutting-edge, friendly and fun, professional and thoughtful.

We do our part by helping undergraduate students and alumni develop the skills to transform their unique backgrounds, liberal arts education and experiential learning into meaningful professional futures and relationships.
Hiatt, like the individuals we serve, is successful because we cultivate a diverse network of partners to assist us in our work, which includes alumni, employers, faculty and staff, parents and families, professional consortia, community organizations and the greater Brandeis community.
Recognizing the dynamic nature of this work, Hiatt has embraced the Chaos Theory of Careers (CTC), which emphasizes and teaches flexible planning and decision-making, and addresses the uncertainty a fluid employment sector generates. CTC's focus on the individual, holding them at the center of the process, best incorporates today's complexity and change. The result is a holistic, individual-centered framework that better equips students and alumni to be successful members of today's and tomorrow's workforce.
Our Impact
Within six months of graduation, nearly 98% of Brandeis graduates are employed, in graduate school, or engaged in other meaningful activities year after year.
50,000+ jobs and internships were posted last year in Handshake.
Hiatt awards more than $200,000 annually in funding for students pursuing unpaid internships.
Annually, Hiatt engages over 60% or more of each class year through appointments, events, workshops, and fairs.
Our Namesake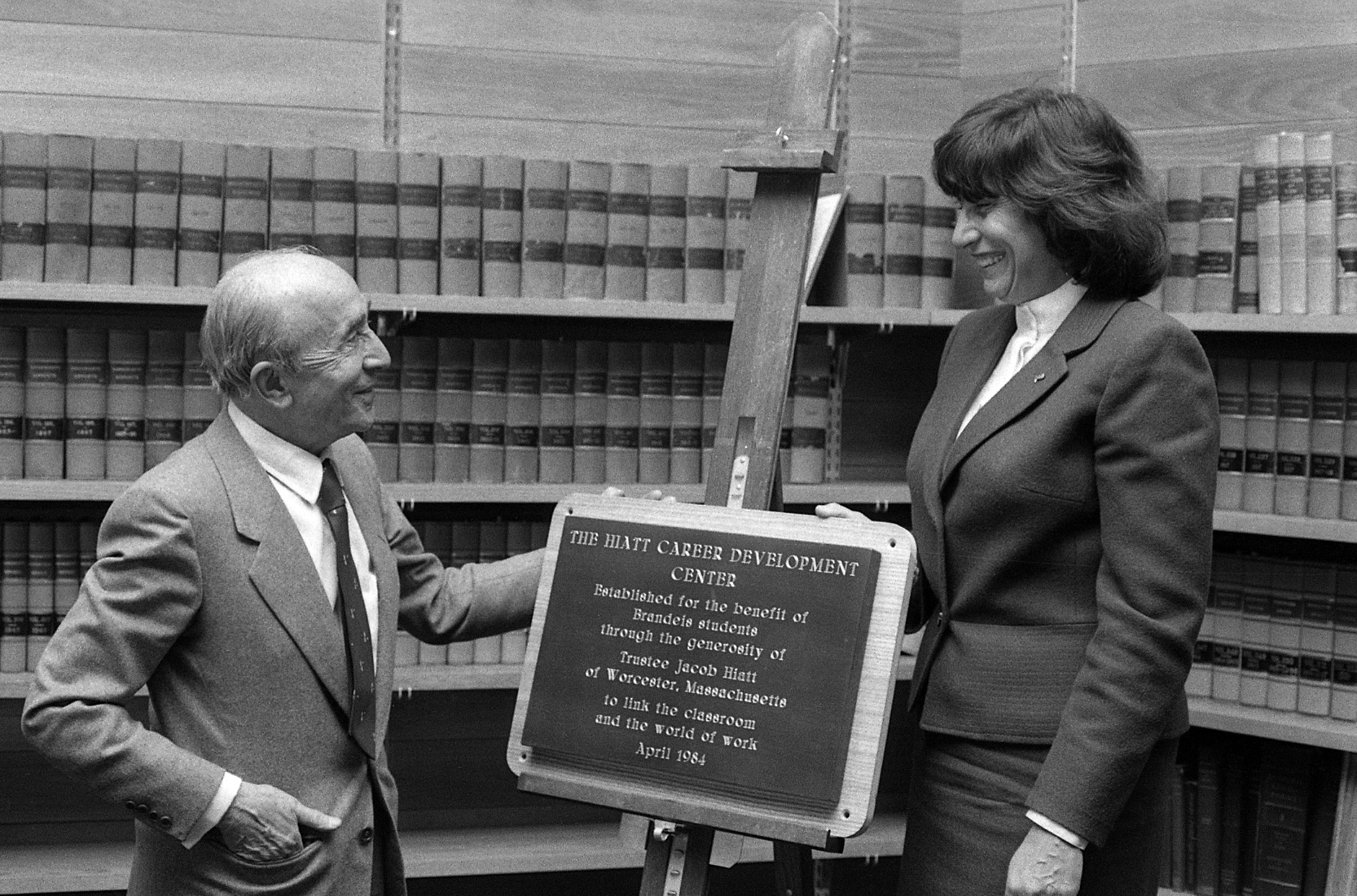 In 1984 Jacob Hiatt, a Worcester businessman and member of the Brandeis Board of Trustees, endowed the Hiatt Career Development Center at Brandeis, offering students skilled professional assistance to enable them to find ways to relate their liberal arts education to future career plans.
Jacob Hiatt emigrated to the United States from Lithuania in 1935 and began working at the E.F. Dodge Paper Box company in Leominster, MA, where he later became the president and treasurer. Mr. Hiatt supported a number of educational and cultural institutions in the area along with his daughter, Myra, and son-in-law, Robert Kraft, owner of the New England Patriots.
National Recognition
Hiatt staff members are nationally recognized as innovators in the field of career services, and frequently lead conversations on career center engagement and career development. Recent recognition and professional engagement include: