Global Currents Concert Series
Each semester, our Global Currents Concert Series features musicians of international stature representing a multiplicity of cultures. In the intimate setting of the Slosberg Recital Hall, each concert invites the audience to experience the history, cultural memories, indeed, the heart and soul of a people through the autobiographical narrative of music.
2021-2022 Performances
October 22, 2021
As the culmination of their weeklong residency, BOOMscat is partnering with filmmaker Ayanna Long to create an unforgettable concert video experience. The film will feature an intimate live performance, as well as an exploration of the band's "peace and body roll" ethos through interviews with band members Asha and Patience. This film is a celebration of BOOMscat, sensuality, and the music of Washington, DC.
March 12, 2022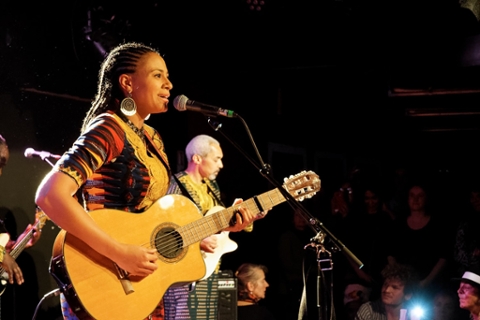 8 p.m. | Somerville Theatre, 55 Davis Square, Somerville MA
Presented by Global Arts Live (Tickets: $35, Reserved Seating). Use code BRANDEIS20 at checkout for 20% off!
Born into a griot family from The Gambia that includes her legendary cousin, Toumani Diabaté, Sona Jobarteh is the first woman within the tradition to become a professional virtuoso on the kora, a West African stringed instrument. Effortlessly blending different musical styles, Jobarteh and her electric Afropop band play songs about cultural identity, gender, education, love, and respect.