Patrick Brown, MA'12, PhD'19
Learning Russian While Learning About Himself
Patrick Brown, a newly minted PhD in history, did not grow up speaking a foreign language. But his wish to pursue his deep interest in Russian history made him realize that to fully immerse himself in this topic, he would have to master the language of the country.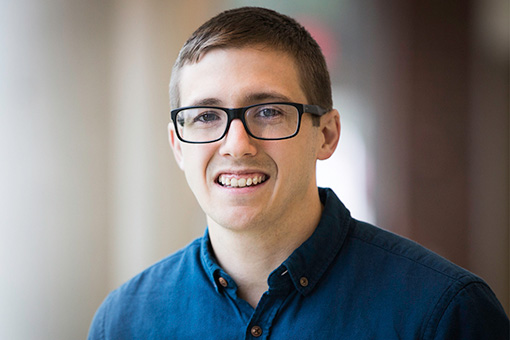 The university where Brown did his undergraduate studies did not offer a Russian language program, so he started to study the language on his own, using flashcards to memorize vocabulary words and "following around and sort of stalking" the professors who might be able to help him. This improvised learning approach did not allow him to advance significantly because he lacked the practice, necessary for the acquisition of vocabulary, pronunciation and grammar, including notoriously difficult case endings for nouns and adjectives.
To fill the gaps and develop his functional ability in Russian, Brown attended the Kathryn Davis School of Russian at Middlebury College, a highly intensive immersion program where students take a pledge not to speak English. He then bolstered his proficiency level by studying Russian at Brandeis while simultaneously doing his graduate course work in the History department.
Moreover, Brown spent a year as a Fulbright scholar in Moscow and Nizhny Novgorod (a major city on the Volga river), researching the history of Russia's working class in the Russian state archives. This experience helped him strengthen and solidify the language skills that he now uses daily when reading materials and archival documents for his dissertation. All in all, Brown has been studying Russian for a decade.
As an experienced language learner, Brown says that the educational environment in a world language classroom is distinct from other academic settings because of its collaborative nature.
"You're forced to work in groups because language is about speaking and conveying ideas to others" and in this sense, "mimics the workforce more generally," he said.
Unlike academic scholars, a group in which he includes himself, who spend much time alone conducting research, writing, and not speaking to anyone, the language classroom models a real-job environment that requires people to depend on, wait for, and work collaboratively with others everyday. It is one of the reasons why Brown believes that universities across the country should stop eliminating language programs.
"More than other humanities disciplines, language already has that innate ability to prepare people for the real world," he said.
The study of Russian has not only boosted Brown's professional competence and linguistic skills, but it has also taught him about himself. He has had the opportunity to reflect on how he learns, studies and what kinds of material he masters more easily (writing, test taking, memorizing rules) versus what he finds more demanding (comprehending spoken speech, especially marked by diverse accents, and speaking).
He says that challenges in language learning "can make you question your confidence, particularly if you're in another country and struggle with speaking, but it can also improve your confidence as you get better." Brown, who describes himself as naturally shy, has found that building his confidence in the language helped me boost his personal confidence in general.
Reflecting on his experiences, Brown notes that he came from a fairly small southern city and never thought that he would enter graduate school, let alone live and work in Russia. His advice to students: "Learn as many languages as you possibly can; it is a useful skill that can open doors for you that you never could imagine would be opened."
This interview was conducted in 2018-19 by Diana Filar, PhD'21.