Teresa Fong '15
Getting in the Zone
Before embarking on her Japanese language journey, Teresa Fong was not a person comfortable with taking risks. However, studying another language has taught her to seize the opportunities that come with leaving her comfort zone.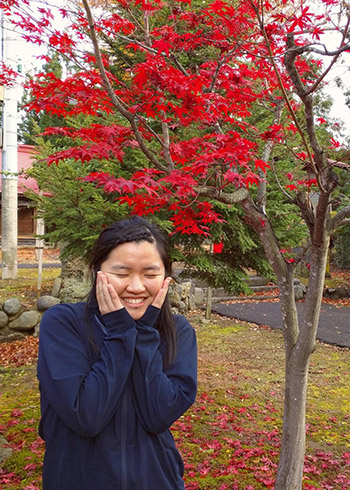 Teresa Fong soaks up the foliage in Japan's Aomori prefecture.
Born in Fiji, raised in the United States, and graduated from Brandeis in 2015 as an HSSP and East Asian studies double major, Fong has been teaching English in Tokyo through the Japan Exchange and Teaching Program. Since that time, she grew to be more culturally aware and flexible. She learned to adapt in every situation, such as that shocking episode when she learned that renting in Japan involves not only a security deposit, but also "key money," which is essentially a monetary gift to the landlord.
"All the soft skills of how to get through life from something as small as cooking to something as big as renting," she says, she "learned in Japanese."
The weekend prior to our interview, she went skiing in Nagano prefecture. She had made a map of all 47 Japanese prefectures that she colors in each time she visits a new one — her goal is to visit them all before she leaves. One way she tries to accomplish this is by taking free "monitor tours" that are meant as a sort of test run and feedback system for tourist sites before the 2020 Tokyo Olympics. Through this program, Fong has been on a variety of excursions, sometimes up to a weekend long, assessing winery tours, old Japanese village visits, apple farming and homestays with Japanese farmers.
The sense of adventure that comes with learning another language has helped Fong connect with the Japanese people who she says are quite conservative, something that surprised her when she first lived in the country during her study abroad program in 2014. "They have a different understanding of what is polite and what is very rude," which filters down into the actual language itself, she said.
There are multiple levels of politeness that a person has to use when speaking. Fong, however, prefers using more informal language during her conversations because she wants to signal with her words and gestures that she is not "physically building a wall with the words." She admits that this approach usually confirms her American background to everybody, but she remains committed to this plan because her growing groups of friends confirm that it's working.
Even before her study abroad and eventual move to Japan, learning Japanese taught Fong to challenge herself. In her first semester at Brandeis, she struggled to get up in time to attend her class that was scheduled for 8 a.m. every day. It was her Japanese professor who gave the timely support, and after a one-on-one conversation during office hours, Fong was newly motivated to get to class.
She says this is the kind of encouragement students can expect from the language faculty and fellow classmates, who become like family because you meet with them and talk with them every day in and out of class. At the time, Fong was also studying chemistry, but found it difficult to keep up with both since a lot of self-study was required outside the Japanese classroom. Eventually she dropped chemistry "because it didn't spark joy!"
The advice Fong would like to pass on to other students looking to study a language is to just go for it. The opportunities it brings and the sense of belonging you get are only a small part of the lengthy list of benefits. The encouraging community and the opportunities the language has opened up for her are the reasons why she has been in Japan for such a long time.
"My mother says I should probably come back soon, and I always say, 'Yes, but just one more year!' " she said.
This interview was conducted in 2018-19 by Diana Filar, PhD'21.