Malka Forman '17
Spanish for Medical School, Spanish for Life
Malka Forman, '17, a second-year student at Tufts University Medical School, claims she learned more in one semester of Spanish at Brandeis than she did in all of high school.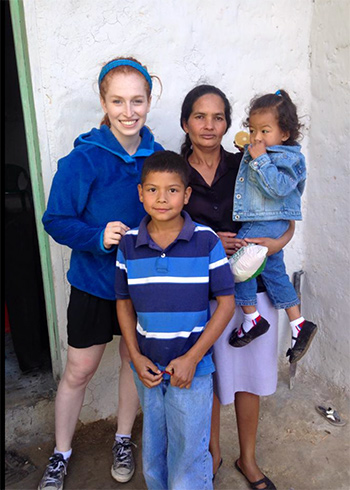 Malka Forman, left, with a Honduran family.
She ended up taking three semesters of Spanish courses, including a special course on medical Spanish, and she studied abroad in Peru for a semester during her junior year.
Aside from the boost Spanish gives her as she tries to memorize Latin names for anatomical parts as a medical student, Forman still uses Spanish a couple times a month as part of her community work with Entre Mujeres. This program, a part of La Alianza Hispana, a community center that serves all age groups, organizes two seminars each month on different topics of relevance for senior women and for young mothers. Around Valentine's Day, when we spoke, Forman and her colleagues led a nutrition seminar and a Zumba class for young mothers, part of a series of seminars on exercise, diet and cardiovascular health.
Even before leaving Brandeis, Forman was already merging her medical ambitions with her love of Spanish. Immediately after the Medical Spanish course, she went on a service trip to Honduras through Global Brigades, a nonprofit that organizes public health mission trips with a focus on the local and sustainable. Her group helped build latrines and install concrete floors in the homes of a rural community. The locals had invested in their work because the microfinance mission (also from Brandeis) had visited in advance and set up a bank for the different families to fund these projects.
Further, while studying abroad in Peru, in addition to learning the indigenous language Quechua, Forman spoke Spanish in the classroom as well as to her host family. She wrote a final research paper on cervical cancer in Indigenous women and the disparities in the Peruvian health care system between Indigenous and non-Indigenous people, having conducted her interviews in Spanish.
The most important aspect of this research for Forman was the empathy involved. For the female interviewee discussing their cancer, a personal and difficult topic, "seeing that this foreign, white person had made the effort to learn the language they speak to communicate with them and actually listen to their concerns created a better trust between me and the women," Forman said.
While enrolled in the Spanish program at Brandeis, Forman honed her linguistic skills and made long-lasting personal connections. The department's welcoming atmosphere and impact on her undergraduate experience influenced Forman's personal statement for medical school, where she wrote about her time in Peru and her linguistic ability.
Even if students don't specifically see themselves serving a Spanish-speaking population within the medical profession — as Malka does — her advice is to engage with a foreign language any way because learning another language "just makes you a well-rounded person, in addition to being a well-rounded med school applicant."
"It's something that everyone should do, especially in the ego-, English-centric U.S., whereas everywhere else it's expected you know two or more languages," she said. "It seems like a basic requirement to have college graduates know another language."
Her language skills come in particularly handy, she said, when she is assisting an attending physician who doesn't speak Spanish and may have trouble communicating with a Spanish-speaking patient. "No one should get rid of the language requirement!" she said emphatically.
This interview was conducted in 2018-19 by Diana Filar, PhD'21.