Maddie Herrup '22
"It's a Humanity Thing"
Maddie Herrup has a lot of plans. During her first year as a Brandeis student, the Pittsburgh native continued her studies in Hebrew, took up Arabic and made plans to return to Mandarin, a language she previously studied for four years in high school.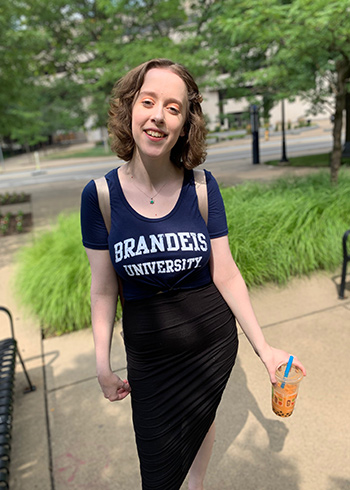 Maddie Herrup believes learning a new language can change one's worldview.

On top of that, she hopes to study Hindi, one of India's 700-plus languages, the sheer number of which Herrup finds fascinating, because she would like to study abroad in India during her junior year. Currently an undeclared major, she can envision herself double majoring in anthropology and Health: Science, Society and Policy.
Her interest in world languages and language-oriented ambitions may come as a surprise to many, given her self-admitted lack of family background in language. Although she went to a Jewish day school, her passion for Hebrew (and other languages) comes from within.
Herrup did not grow up with Judaism in her life — it was self-integrated. Of particular interest to Herrup are ancient religious texts, which propelled her to learn more about her own religion and its connection to language, and vice versa.
She prays in Hebrew, an application of the language she finds interesting because she doesn't always understand what she's saying. Sometimes she has to look up the English translation, figure out the concept, compare it with modern Hebrew and make the connections; she calls this practice "a labor of love."
Herrup also explores other religions and languages to enhance her own spirituality and identity. She firmly believes that if you are interested in religion, you should learn about other religions to safeguard yourself against your own insular bubble. And Herrup practices what she preaches; she recently began exploring the role of Arabic in the Quran, and she hopes to dive into Hindi and Hinduism soon. For now, she downloaded a PDF of the Quran with side-by-side English and Arabic, which she peruses searching for familiar words from class.
Aside from the religious connection, Herrup is also interested in languages as a tool for breaking down political and cultural barriers. She became interested in Arabic because "many Israelis who speak Hebrew also speak Arabic, and because Israel is part of the Middle East, where a large percentage of the population speaks Arabic." Herrup said her interest in Arabic is borne of a desire to speak to people from other parts of the world, a task that requires barrier breaking.
"I want to learn any language with the goal of personal growth and understanding of other people and cultures. It's about communication and sharing — it's a humanity thing," she said. "And languages allow you to see humanity differently."
Learning Arabic helped Herrup see the world and the Middle East outside of Israel, and learning both Hebrew and Arabic allowed her "to see the different sides of the Middle Eastern conflict better and also to see that the Middle East is so much more than just Israel/Palestine. It completely changed the way I view the world."
Herrup believes that learning a language is not simply about communicating with another person, but about changing who you are as an individual and how you view others. "When you learn other languages, you learn other people's perspectives and then again about yourself."
Herrup's passion for learning languages does not blind her to the fact that some people view it as a chore or something to check off the list. However, she considers this, at least in part, a personal preference, which can be altered by changing the attitude. In her view, language is "actually an easier discipline to connect to something that you are passionate about."
Her advice to students: "Find how it can be applicable to what you are interested in. Even if you're science heavy, think about how language can connect to science and math. I connect it to religion and to my love of books, and I continue learning language for those connections, and you have to figure out yours."
This interview was conducted in 2018-19 by Diana Filar, PhD'21.