Jade Lara '17
A Language-Learning Bias
Before graduating with a major in French and Francophone studies — before even beginning college — Jade Lara was bilingual. As a child growing up in Costa Rica, where she still lives today, she spoke fluent Spanish.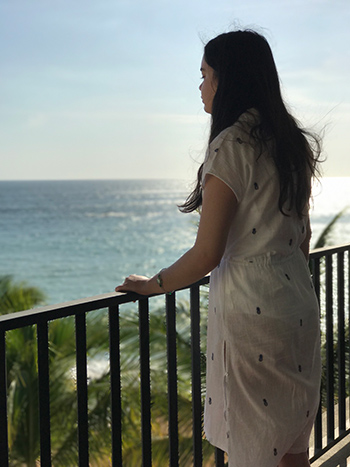 Jade Lara in her native Costa Rica
So why would Lara pursue another language rather than simply test out of the Brandeis language requirement? "Because I would have missed so much!" she says with a smile.
Even now, in Costa Rica, she continues her pursuit of mastering languages. She has enrolled in an Italian conversation course at the Dante Alighieri School for Language, where she has started an internship as an assistant teacher, which she views as the next step on her path toward her lifelong goal of becoming an educator.
Being a part of the language-learning classroom has helped sharpen Lara's determination to reach this objective. She knew that whatever she decided to major in, it would involve working with people.
In the language-learning classrooms at Brandeis, she was able to develop "very human relationships with professors" who were overwhelmingly understanding and conscious of her struggles with anxiety and her occasional need for more time to complete assignments. The Department of French and Francophone Studies, and the study of foreign languages more generally, made her feel most welcome and at home.
Lara struggles to describe the experience: "It's not something I can necessarily explain logically; it's just sort of a feeling, like I was surrounded by positivity, and in turn, I was confident and did well.""
She admits that her choice to focus on French did not emerge out of practicality; she simply loved it and was lucky enough to be surrounded by people who supported her, and who encouraged her to do what was "interesting and fun" and think about its practical applications in the future.
Lara approaches her passion from two angles. On a personal level, she loves people, and she finds it enriching to connect with others and learn about their culture. From a more general perspective, she sees language as a tool to ease divisions among people around the world.
Many people, including herself, tend to be afraid of new experiences that they do not know or understand. Globalization only exacerbates this fear, but language can intercede in the sense that once you are able to consider overcoming the barrier of the unknown, it becomes easier to see others as human beings instead of as abstract ideas.
Lara's understanding of the power of language informs her sense of wonder about the world: you never know when you might connect with another human being. For instance, when traveling with her family a few years ago, she met a cab driver in Frankfurt, Germany, and found out that he was originally from Morocco. Suddenly, they were speaking French in Germany and getting to know each other in one of the driver's native languages. Even though she knew logically that many people in Europe spoke more than one language, she was still pleasantly surprised to be speaking the language she loves when she had not expected it.
Lara admits to having a "language-learning bias," but says there are tons of other ways to make languages relevant and exciting for each person. One of her favorite things to do at Brandeis was to relate ideas and facts between her courses.
"Something in Class A makes me think of something else in Class B. We're not learning things just to learn them; we have to find some way to apply them to our lives and usually there is a way to do that.""
For Lara, language is one of the best ways to do just that!
This interview was conducted in 2018-19 by Diana Filar, PhD'21.