Minnie Norgaisse '19
'Language Is My Superpower'
Several factors contributed to Minnie Norgaisse's interest in Korean, Chinese and Japanese. Her origin story started one Thanksgiving in high school when her family had dinner with the mother of her sister's fiance, a Korean woman.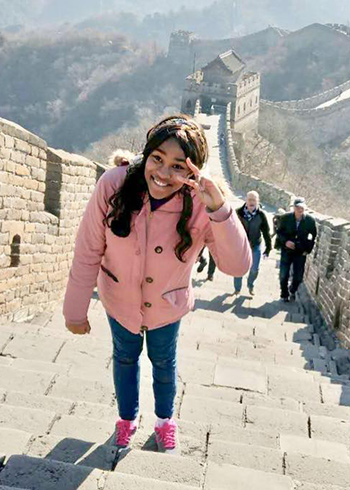 Minnie Norgaisse walks the steps of the Great Wall of China.
Upon learning that Norgaisse was interested in languages, the woman asked if Norgaisse had tried Korean and boasted that the Korean alphabet was special because one could learn it in an hour. Operating under the assumption that this was impossible since Asian languages are notoriously difficult, Norgaisse rose to the challenge and her host taught her the alphabet after their turkey supper. She later studied Korean at Brandeis.
Her interest in Chinese was inspired by the 2008 Beijing Olympics, which Norgaisse watched on television as a child, an experience she calls "fundamental" to her study of Chinese at Brandeis.
Norgaisse, who graduated with a bachelor's degree in East Asian studies and a minor in international global studies, says that studying Chinese at Brandeis was one of the smartest decisions she ever made. First of all, the shining reputation of the program is true: Norgaisse picked up the language pretty quickly because of the program's emphasis on conversational skills.
In addition, she was able to go abroad on a Boren Scholarship, which encourages the study of languages that are critical to U.S. interests and national security and which typically are not taught in secondary school (e.g., Chinese, Korean, Japanese, Russian and Arabic). Now, the Chinese language professors are like her family since she has taken several courses with almost all of them. They continue to give great advice and inform Norgaisse about opportunities and scholarships.
During her year abroad in Beijing and Taipei, Norgaisse studied in an intensive Chinese language program, where students gave a language pledge to only speak Chinese. She both "loved and slightly hated" the program — loved because her language skills improved astronomically; slightly hated because the language pledge stilted the nature of some of her conversations.
In Taiwan, Norgaisse saw first-hand how the same language can be used differently in two places. While China uses simplified Chinese characters, Taiwan uses traditional characters, which do not always cross over.
This elicited a "culture shock of not being able to read anything, but Norgaisse views this now as a learning experience. If (and when) she returns, she wants to learn more about traditional Chinese writing.
"No one has ever said, 'Gosh darn it! I wish I didn't speak that extra language!'" she exclaimed.
In Norgaisse's opinion, language is not just a tool to ease traveling or a shiny new thing to add to your résumé; it is an avenue to get to know people who are not like you. Learning other languages, Norgaisse said, has given more insight into and more empathy for people who attend school or apply for jobs in the U.S.
Norgaisse views her knowledge of other languages as a superpower, a toolkit that has shown her the world is not black and white.
"People are quick to classify things as good or bad, when in reality there are nuances to everything," she said, including the assumption that someone who looks like her won't speak Chinese, Korean or Japanese. "I can whip these languages out when no one is expecting it!"
This interview was conducted in 2018-19 by Diana Filar, PhD'21.