Ian Rhee '20
Language Is the Best Medicine for Success
Like many ambitious junior high students, Ian Rhee enrolled in seventh-grade Latin class to improve his chances for success on the SAT college admissions exam.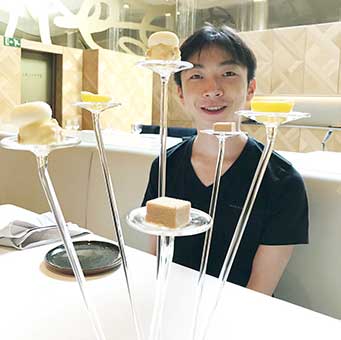 Ian Rhee sizes up his dessert options.
But it was Rhee's admiration for the structure of the language that not only convinced him to pursue his Latin studies throughout high school, but also to add ancient Greek to his repertoire, in 10th grade.
After noticing the grammatical and alphabetical similarities between classical and Slavic languages, Rhee has studied Russian every semester since coming to Brandeis. He has especially enjoyed the process of learning a new language:
"It's a gratifying experience when I can look at something in a foreign language and be able to read it, or at least a part of it," he said. One of his proudest moments has been reading Homer's ancient Greek epic poem "The Iliad" in it original language: "Even though it was kind of slow, I was still reading it."
Most recently, Rhee has begun to study Korean, a choice influenced by his family's cultural background. He grew up listening to his parents speak Korean, and even though he understood a bit, he never learned to read and speak the language as a youngster. While he sees few structural similarities between Korean and the other languages he has studied, his learning process has focused on the linguistic organization of Korean because this approach has brought him success in the past.
In addition to feeding his interest in the structural conventions of language, his studies have helped him form friendships and maintain strong bonds with fellow language-learners, despite the distance that now separates them while they attend different colleges. Moreover, Rhee said, his efforts to become proficient in several languages have introduced him to new ways of thinking and the possibility of multiple perspectives on a given topic, which he has linked directly to his own increased awareness of diversity in the world.
His knowledge of languages has helped him to appreciate the variety of cultures found in the United States. The melody and cacophony of multiple languages and cultures are the music of what it means to be American.
As a student majoring in chemistry, Rhee has recognized the apparent disparities between the teaching and learning of sciences and languages. To his mind, the most significant difference is in the way students gain proficiency in these subjects. When you begin to study chemistry, you at least understand the words that the textbook is written in — usually, your native language. However, Rhee sees mastering a language as requiring a bit more preliminary groundwork — familiarity with structure and grammar — before reading comprehension and true understanding when studying a foreign language.
But just as he perceived links between Latin, Greek and Russian, he has found connections between his interest in languages and his desire to enter the medical profession. Although his knowledge of classical languages may well help him in future anatomy courses, Rhee has especially appreciated the methodical process for examining and understanding the world that his studies of both science and language have taught him.
This interview was conducted in 2018-19 by Diana Filar, PhD'21.