Jessica Steindler '16
Climbing to the Top in French
Jessica Steindler's best day ever took place two summers ago, when she went on a climbing trip to the Verdon Gorge in the Provence area of France with her boyfriend.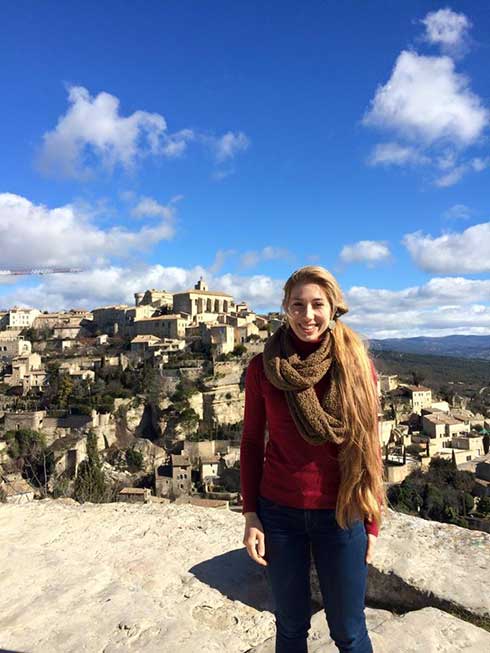 Jess Steinder visits Gordes in southeastern France during her study abroad in 2015.
Having completed a multipitch climb earlier in the day, they drove back into town to ask the locals for recommendations. A shop owner advised to visit the lake where the Verdon river ends and the lavender fields.
On the way to the gorge, they saw white limestone cliffs and stopped in a tiny town called Moustiers-Sainte-Marie where they explored a 14th-century church, Chapelle Notre Dame de Beauvoir whose original name from the 9th century translates into English as "Our Lady Between the Rocks" (Notre-Dame d'Entre-Roches"). So Jessica and her boyfriend really had to hike up between the cliffs to visit. Finally, they got back in the car and drove up one final long hill, with the ultimate reward. As far as the eye could see, lavender fields on the left and sunflowers on the right.
But this trip was not Jessica's first experience with French or with climbing, two passions she has been weaving together since long before graduating Brandeis in 2016 as a French/Francophone studies and psychology double major. Jessica's parents were also French majors in college and French was actually her first language. Over the course of her childhood, the language took a back seat, but when she picked it back up in high school, she loved it, eventually leading her to enroll in French courses at Brandeis to expand her reading and writing skills.
While studying abroad in college, Jessica ventured outside of the student community and found friendship with rock-climbing Parisians who brought her bouldering at Fontainebleau and taught her essential French rock climbing vocabulary. As rock climbing grows in popularity, Jessica says she sees the infiltration of French lingo into English in the U.S. where some people now call boulders "blocs" in the French style and encourage each other with "Allez!"
After graduation, Jessica continued to connect French to climbing. For two years, she worked at Central Rock, a climbing gym where she ran youth climbing programs. Every so often, French people would come in to the gym with their children. Jessica's ability to facilitate social interactions between the French and American kids helped them feel understood and eased them into their new surroundings.
Now, Jessica is back at Brandeis in a post-baccalaureate program. She will spend two years in pre-med classes before applying to medical school. Funnily enough, pre-med was her original track at Brandeis seven years ago, a pursuit that she reflects was not right for her at that time. Even though some people might say Jessica "pushed her life back" by not sticking to the original plan, she cannot emphasize enough that she "would do it all over the same exact way because it's so important to not just go in one direction in life." Instead of following one path, she was able to pursue something she was prepared for and passionate about and invested in.
She says that if she had taken only science courses when she was an undergraduate, she would be an entirely different person. In language classes, "you learn an awareness of other people, and an awareness of a culture different from your own. When you learn one language, you then have an appreciation for how different other cultures can be. Language functions as a vehicle for a bunch of other experiences and lifelong learning." For Jessica specifically, learning French at Brandeis has allowed her not only to travel, but also to build confidence and overcome the discomfort that is associated with learning and practicing a language. It has led her to connect with people who are not like herself based solely on one commonality — language.
Jessica adds that if you're going to be working with humans (which she says with a laugh, since most of us do), it's really important to have that awareness of other people and a confidence to pursue those connections. And language is what allows the development of that awareness. To sum up her feelings about language, Jessica tells me that "as you grow up and meet different people and travel to different places, you have family all over, you build homes everywhere." She asks, "How lucky are you to have that?!"
This interview was conducted in 2018-19 by Diana Filar, PhD'21.