Color Coding Your Writing
A Tool for Student Self-Assessment
Students learn in different ways, but many students respond well to visual ways to assess their writing. These visual tricks can make learning more tangible for students.
One visual tool is to have students color code their writing.
This can be a useful tool when looking at something like topic sentences. Good topic sentences are often characterized by three elements:
 Introduce the focus of the paragraph
Tell the reader how the paragraph relates to the thesis or part of the thesis
Include necessary transition language

Is the new paragraph about the same topic? A different topic?
Guide the reader from idea to idea – make it easy for them
 Color coding these elements can help students see what they are doing at the start of each paragraph.
 Step 1: Students should have already written a draft (or most of a draft).
Step 2: Show students an example of a color-coded outline of topic sentences (see below for two examples).
Step 2: Have students use this same color coding to assess their own drafts.
Step 4: Take time to make notes on needed changes that will strengthen the writing 
This exercise can be done IN CLASS or AT HOME. It can also be done ALONE or IN PAIRS/GROUPS, with students swapping their papers and color coding each other's papers.
Color-coded examples: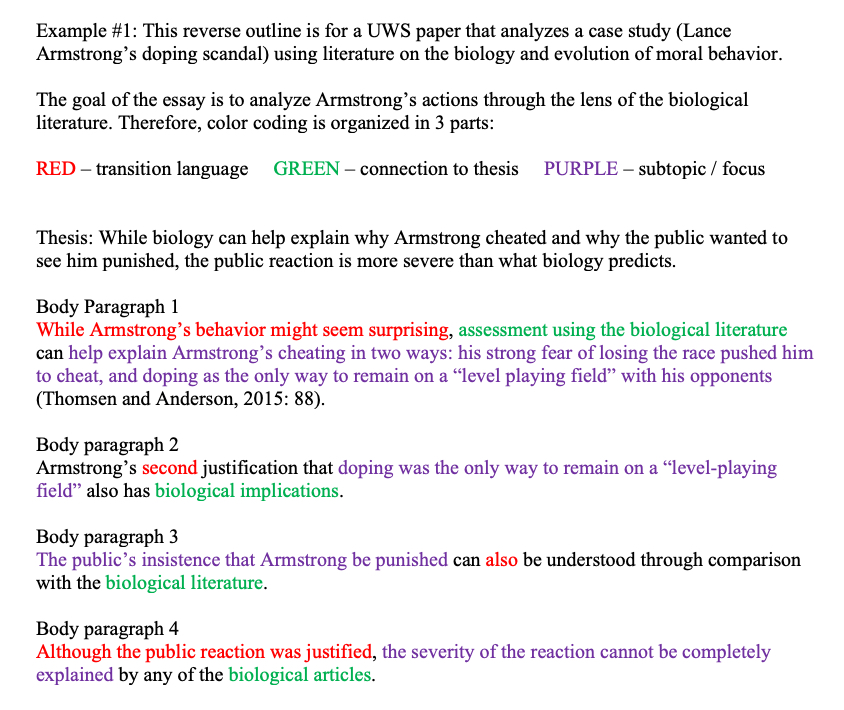 ---