Samuels Scholars Program

Program
Apply Now to join this year's cohort!
The Samuels Scholars Program is an innovative yearlong cohort experience that offers first- and second-year undergraduate students the opportunity to learn about and explore the many exciting pathways for community engagement offered at Brandeis University and beyond.
During the fall semester, Samuels Scholars will experience community engagement through group activities and educational opportunities. In the spring, Scholars will work collaboratively on the COMPACT Oral History Project. This project will offer you the opportunity to work in pairs and interview leaders from a community organization of your choice to learn more about our partners' missions, activities and collaborations with Brandeis. These oral histories will contribute to the COMPACT Story Lab and be featured in a digital map hosted on COMPACT's website. 
One goal of the Samuels Scholars Program is to remove barriers for students interested in community engagement and increase diversity, equity and inclusion in related programs across the university. We know that community engagement can be less accessible to students who need to work to support themselves and/or their families. Therefore, eligible students who are selected to be Samuels Scholars will receive a $1,500 award.
We invite applications from any first- and second-year students at Brandeis with an interest in community engagement. First-generation, low-income and underrepresented students will be prioritized. Applications for the Academic Year 2023-24 are due Sept. 22, 2023. 
Structure
Samuels Scholars will attend weekly activities. These will include a welcome dinner, panels of representatives of community engaged programs at Brandeis, at least one group volunteer activity, and cohort sessions where you will have the space to reflect, grow and envision your futures. As well, in the spring, Scholars will learn about oral history and digital humanities research. Throughout the year, COMPACT's associate director Megan Ross and our Samuels Scholars peer mentor Liz Sandoval will offer personalized 1-1 mentoring sessions.
Contact
Please send any questions about the program and application process to COMPACT's associate director  Megan Ross.
2022-2023 Cohort Members
Lígia Azevedo, Tasha Epstein, Aviva Gornick, Hannah Henris, Mazzi Ingram, Chloe Kim, Isabel Lin, Emma Lindner, Harrison Lucas, Mar Manolioudaki, Nikhat Meman, Riley Miner, Liz Sandoval, and Emma Weston.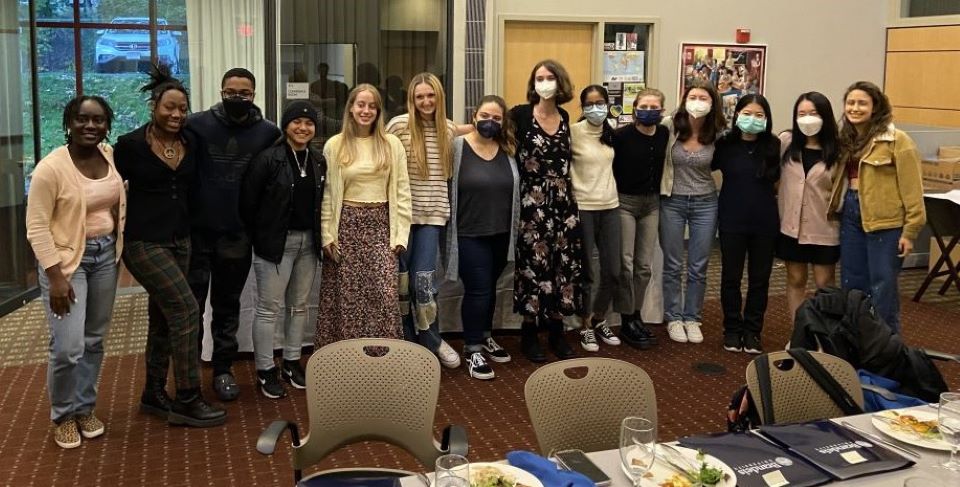 Testimonials
"I have benefited so much from being a Samuels Scholar as I learned so much about myself and how I want to engage with the community, built both peer and faculty connections, felt apart of an academic community that I shared common passions with my freshman year, and had so many opportunities to volunteer, engage, and impact my community which was one of my main goals when going to college."
"I have become more well-rounded and mindful to what is happening in the community. My leadership, communication and planning skills have greatly improved as well and I was able to form friendships with others who are just as community oriented as myself."
"Being a Samuels Scholar taught me that I can indeed have an impact in any field I decide to pursue and it's possible to use what my interests as tools for social change in my community. Additionally, I now know what resources to look for and how to continue my community engagement journey at Brandeis and beyond."
"It's provided me with a lot of connections and support and has been a huge motivator in keeping me engaged in my project. I've also loved that I now have a new group of friends and people I can always talk to even after this program."
"I feel that being a part of the Samuels Scholars program has allowed me to further develop my interpersonal skills. I have grown more confident in not only connecting with my peers but also faculty mentors who inspire me and alumni connections who have come to visit... I am so grateful to have spent the last year cultivating such valuable connections with members of the Brandeis community and beyond, and hope to continue fostering those relationships in my next two years at Brandeis."