ProjectConnect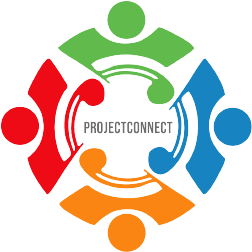 Social connection is an important dimension of wellness. ProjectConnect is a peer-facilitated program that helps students meet and get to know students outside of their social group, and build stronger community on campus.
Students meet in groups of 4-6 over the course of six 1-hour sessions and engage in a series of thought-provoking questions and fun activities, ending with a fun group gathering.
98% of previous participants said they would recommend ProjectConnect to a friend.
95% said they would like to participate again themselves!
Fall 2021
Be a ProjectConnect Facilitator!
We are currently recruiting ProjectConnect facilitators to lead groups during the fall 2021 semester.
ProjectConnect facilitators co-lead groups of 5-7 students that meet weekly for 6 weeks.
At each group meeting, the facilitators lead the group through a simple curriculum of discussion questions and activities designed to build closeness over time.
Weekly meetings are 1 hour and can be in-person or virtual.
This is a volunteer opportunity. All in all, we estimate that ProjectConnect facilitators will commit to approximately 15 hours spread out over 6-8 weeks (including training).
Facilitator training will be scheduled at the beginning of the fall semester, and groups will begin the week after training. 

Sign up to become a ProjectConnect facilitator
ProjectConnect is co-sponsored by the Office of Health and Wellness Promotion, Orientation, and Graduate Student Affairs.