Grant For The Study Of Race, Ethnicity & Migration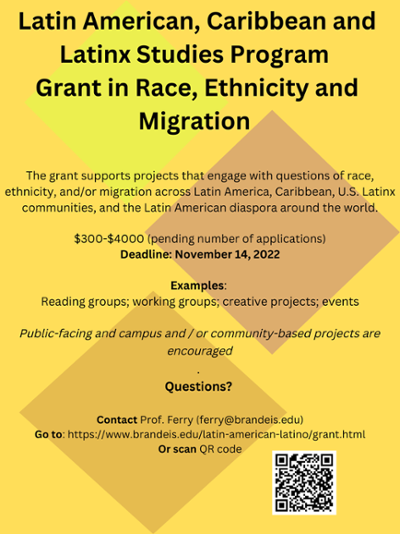 "The 2022-2023 cycle for this grant is finished. Please check back in fall 2023 for the 2023-2024 call for proposals."
New LACLS Grant for the Study of Race, Ethnicity, and Migration
This new grant supports projects and initiatives that demonstrate a substantial engagement with questions of race, ethnicity, and/or immigration across Latin America, Caribbean, U.S. Latinx communities, and the Latin American diaspora around the world. Projects focused on race, ethnicity, and/or migration of a comparative and transcultural nature, connecting Latin America and the Caribbean to other regions of the world, are also welcome. In its pilot year, grants of $300-4000 (pending number of applications) will be awarded in three separate categories: 
A student- or faculty-led reading group or working group in either the social sciences or humanities with a demonstrable primary focus on the histories, experiences, and/or artistic production  of BIPOC communities in Latin America, the Caribbean, and/or U.S. Latinx culture.   
A curriculum innovation project through which a member of the Brandeis faculty—within and beyond LACLS—will seek to either a) redesign an existing course or b) design a new course to foreground the histories, experiences, and/or artistic productions of BIPOC communities in Latin America, the Caribbean, and/or U.S. Latinx culture.
An event series (i.e. a lecture series; a film festival) hosted by a student organization on campus directly related  to the areas of interest listed above. 
A collaborative creative arts project (e.g. a mural; a short film) carried out by a group of students and directly related to the areas of interest listed above.
This grant is not intended to replace funding for research and travel through the Jane's grant, or LACLS's support for student programming, for which monetary support is ongoing during the academic year. Rather, this new grant is for special projects focused on the aforementioned questions that may require additional funding or other forms of support. 
Also, funding from this grant supplements current and continuous efforts from the faculty to center Blackness, indigeneity and other axes of marginalization/minoritization in our courses and programming. 
If you have an idea with the thematic areas of the grant but takes a form different than these three categories, please be in touch with us. We would love to work with you to support your idea.
 Deadline for applications for 2022-2023: November 14th, 2022. Proposals will be evaluated by a panel of LACLS faculty and alumni. Grant recipients will be asked to share their results by a report or presentation.  This grant application may be submitted via this form. 
Please contact Mangok Bol(mbol@brandeis.edu) or Elizabeth Ferry (ferry@brandeis.edu) with any questions.