News and Events
Upcoming Events
Past Events
Past Events
LALS Annual get together
April 27, 2018
LACLS Film Night
March 3, 2023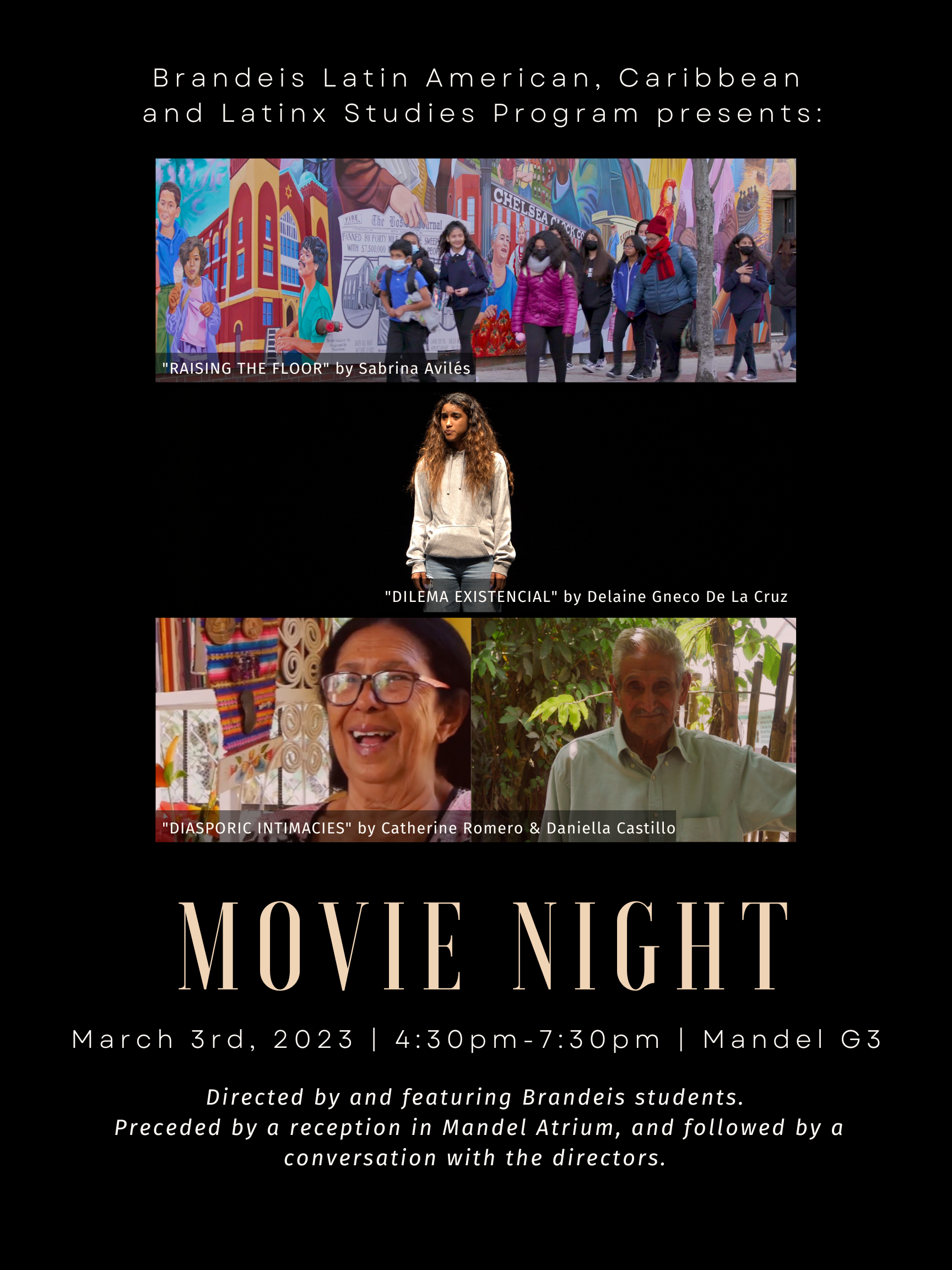 En el séptimo día
April 20, 2018
Film screening of "En el séptimo día" (On the Seventh Day) to promote the September 2018 Boston Latino International Film Festival at Brandeis.
Clínica de Los Migrante
March 27, 2018
Screening of "Clínica de Los Migrantes," a medical drama about a year in the life of Puentes, one of the only health clinics in the U.S. involved in the politically controversial practice of providing health care to undocumented immigrants. By law, illegal immigrants cannot obtain health insurance and receive no regular medical treatment. At Puentes, a team of volunteers led by Dr. Steve Larson attend to an ever-growing population of housekeepers, prep cooks and construction workers. Many come to Puentes after being turned away at other hospitals. Full of unforgettable patient-doctor interactions and human portraits, "Clinica de Migrantes" tells the story of America's true untouchable class and of the heroic few who reach out to help them.
Max Sedita, Janes' Travel and Research Grant
March 16, 2018
Kiss of a Spider Woman
March 12, 2018
Exclusive screening of a 35mm copy of a classic film, "Kiss of a Spider Woman," the story of political imprisonment during a military dictatorship in a Latin American country. But it is also a story about the emergence of queer identities and the power of film and storytelling.
Jessica Priestley, Jane's Travel Grant
March 9, 2018
BARS Anthropology Friday Seminar
February 9, 2018
"Touched by Music: Enchantment and Aspiration in Venezuela," presented by Dr. Yana Stainova, Dartmouth University.
Panela de Barro
February 2, 2018
Lunch field trip to Panela de Barro (Brazilian per kilo and churrascaría) co-sponsored by IBS Latin American and Brazilian Initiative.
Dolores
January 25, 2018
Screening of the movie "Dolores," co-sponsored and hosted by Sin Frontiers, Heller School. Documentary followed by discussion.
BARS Anthropology Friday Seminar
January 19, 2018
BARS Anthropology Friday Seminar, "Violence Unresolved: Argentina and the Problem of the Perpetrator," presented by Professor Ram Natarajan, University of Arkansas.