Class of 1973
I continue to lead a double life: mortgage banker by day, jazzman by night. My latest musical triumph was the world premiere of a cello concerto I wrote. My son Evan, who just graduated from Carnegie Mellon with a BFA in music, asked me to write a piece for him to play, so over the past two years I wrote a 20-minute concerto. On April 30, Evan premiered my Concerto for Cello and Orchestra with a 20-piece chamber orchestra under the direction of Carnegie Mellon music director Daniel Nesta Curtis. It was an amazing performance, and I hope to post it on YouTube.
Alice Freund is part of the latest class of Woodrow Wilson New Jersey Teaching Fellows. Alice, who has served as a program manager at Mount Sinai School of Medicine, will receive $30,000 to complete a specially designed cutting-edge master's degree program at Montclair State University. In return, she committed to teach for three years in New Jersey schools that most need strong STEM (science, technology, engineering and math) teachers. Marshall Herskovitz is re-teaming with "The Last Samurai" star Tom Cruise and partner Ed Zwick to produce a sequel to the 2012 hit "Jack Reacher." Marshall is in talks to write the script with Zwick. The film will be based on Lee Child's novel "Never Go Back," an installment in the Reacher series. Don Lessem, or "Dino Don" as he is known in some circles, masterminded the Franklin Institute's exhibition "Genghis Khan: Bring the Legend to Life." In addition to collecting artifacts and designing exhibitions for museums, Don advised on the movie "Jurassic Park," bankrolled an archaeological dig that unearthed two of the world's largest dinosaurs, and competed on "Jeopardy!" Bernice Rogowitz was awarded an honorary membership in the Society for Imaging Science and Technology for her outstanding leadership in teaching and research, and for building a multidisciplinary community of scientists and technologists as chair of the Human Vision and Electronic Imaging Conference. After a decade as international legal director at Human Rights First, Gabor Rona is a professor at Cardozo School of Law, teaching human-rights law and law of armed conflict. He also serves as director of the Law and Armed Conflict Project at the Cardozo Law Institute in Holocaust and Human Rights. He writes, "Still living in Park Slope with its excellent selection of decaf lattes. Future as a professional tennis player is doubtful, but still have not given up on becoming a lounge-lizard pianist."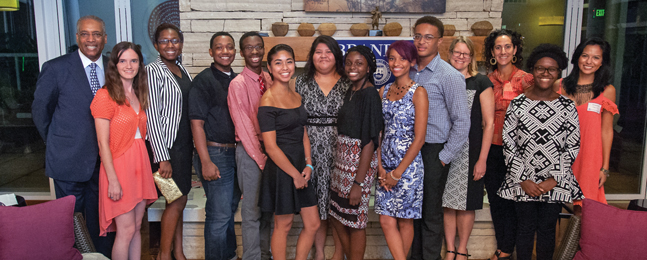 SOUTHERN HOSPITALITY: Trustee Curtis Tearte '73 and his wife, Jylla, hosted a New Student Send-Off for incoming students. Guests included members of the Atlanta Posse, alumni and parents. Kim Godsoe, associate provost for academic affairs, also attended.
Submit a Class Note