Class of 2005
As always, it's great to hear all the wonderful things going on in your lives. Matt and I welcomed our daughter, Nina Libby, on Nov. 21, 2014. She's already excited to be a member of the Brandeis Class of 2037. I have started making and selling babies' and girls' headbands. I call them Nomalina Designs and have set up a Facebook page to sell them. We had a wonderful time at Reunion in June. It was great seeing so many people and visiting campus again. One housekeeping note: If you're not getting my emails requesting Class Notes submissions, email me at judith@brandeis.alumni.edu, and I'll make sure to get your updated contact info so we can stay in touch with you.
Alison Chernin and her family moved to Raleigh, N.C., to live on the campus of Saint Mary's School, an all-girls boarding and day school. She is an instructor of English as well as a residential faculty member. Jaime Melissa Cooper co-founded HirePerfect, a recruitment agency. In June, she published "Freelance Nation: Work When You Want, Where You Want," a book that explores the world of freelancing and shows readers the road map to escaping corporate life and building a business around their specific goals and skill sets. Ashley Firestone and Brett Friedman '04 had their second child, Leo Andrew, on June 29. Laura Goldin married Kenneth Ames on March 29 in Washington, D.C. Several Brandeisians were in attendance, including Hanna Berenblit, Maya Goldin-Perschbacher '04, Lindsey Weiner Miller '04, Lindsay Pfeffer, Jessica Santillo and Nina Schwartz. The couple resides in D.C. Sophie Innerfield and Nick Balkin welcomed a baby daughter, Elena Jane, on Feb. 3. Waverley Knobs Entertainment, the video and digital-media company owned by Tatiana Ivan, hosted the first Boston Short Film Gala at the Belmont Studio Cinema on Aug. 1. She writes, "We had a fabulous turnout with local Boston filmmakers and both local and national sponsors. We are now in postproduction for a music video, 'Stand Up: A Confederacy of Faith,' for a song written by Boston singer-songwriter Elizabeth Addison." The song and music video will be sold to raise funds for the families of the victims of the Charleston, S.C., shooting. For more information, email Tatiana at tatiana@waverleyknobs.com. Paul Kandel welcomed his third son, Aviad, on April 16. Julie (Goldman) and Jonathan Krystal had their first child, Zachary Harrison, on Feb. 19. They couldn't make it to the Reunion because of a scheduling conflict with a cousin's bar mitzvah. Daniel Ludevig founded MOVE Leadership, which facilitates deep conversations for organizations and systems using a cutting-edge embodiment and creativity approach to address transformational change around culture, communication and strategy. He works with international and local organizations, including banks, power companies, leading product companies, nonprofits, police departments and leadership groups. Aviva (Androphy) Marlin and her husband, Evan, had their second child, Yael Golda, on Feb. 6. Aviva started a position as a clinical neuropsychologist at a Columbus, Ohio, hospital. Samantha Brinn Merel and her husband, David, had a son, William Charles, on June 30. Nam Phan is doing an anesthesiology residency at St. Barnabas Hospital in the Bronx. Rabbi Scott Shafrin and his wife, Rabbi Jessica Shafrin, welcomed their first child, Amitai Moshe, on June 10. Scott is the rabbi-in-residence at the Epstein School in Atlanta. Rose Sobel and her partners on the University of Houston's GeoThermH2O team won $10,000 in scholarship funding in the Texas Energy Innovation Challenge. They designed a plan to harness geothermal energy from decommissioned wells to reduce the cost of water treatment. Rose is a doctoral candidate in environmental engineering.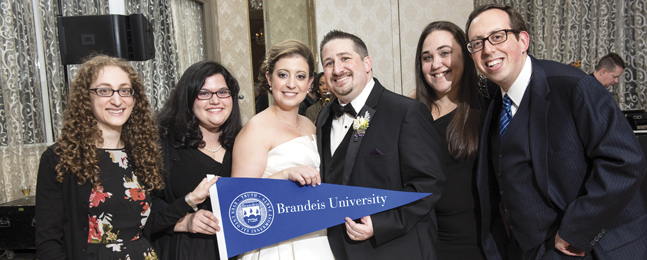 FROM THIS DAY FORWARD: Sarah Kaplan '05 married Jason Springer on Nov. 15, 2014, in Voorhees, N.J. Attendees included Mattea LeWitt '06, Adi Shmuel '08, Sarah, Jason, Meredith Freedman '05 and Daniel Schleifstein '05.
Submit a Class Note