Class of 2015
Kyle Brenner, Hannah Cain, Carley Cooke, Nikki Cote, Joe Graffy, Adam Mandel and Tyler Savonen were honored at Friends of Brandeis Athletics' annual Charlie's Breakfast for their academic and athletic achievements as student-athletes. Sarah Brodsky, Ian Carroll, Kelsey Segaloff, Danny Steinberg and Nicole Wittels spent the summer after graduation working at Disney World in Orlando, Fla. You can read about their adventures on Twitter at @DeisDoesDisney. Priyasha Chadha is a session assistant at Memorial Sloan Kettering Cancer Center in New York. She works as a patient navigator, acting as a liaison between cancer patients and the clinical team, and also manages patient flow in outpatient care. She is preparing to apply to medical school. In her scarce free time, she enjoys being outdoors, helping her dad with his restaurant business and volunteering at a local animal-rescue shelter. Terrell Gilkey was featured in a story in the St. Louis Post-Dispatch, his hometown newspaper, in which he described his journey to Brandeis and challenging upbringing. Terrell works as a facilitator at New Jersey's Princeton-Blairstown Center, which offers educational programs to students from backgrounds similar to his own. Genevieve Oliveira, who moved to California after graduation, is loving life. While working in high tech, she discovered a new interest in programming, and has been teaching herself a little every day while soaking up as much vitamin D as humanly possible. She would love to connect with any alumni in the Bay Area. In July, Leila May Pascual and Max Bern­stein became siblings. No, their parents did not get married — Leila and Max moved into a beautiful Somerville, Mass., apartment with Rosanne Libretti '14 and Julia Dougherty, and began working at the McGovern Institute for Brain Research at MIT. Working in two different labs, they have switched roles. Max, who previously did behavioral neuroscience research in the Katz Lab, is now working in Yingxi Lin's molecular and cellular neuroscience lab, and Leila, who previously did molecular biology research, is studying behavioral neuroscience in Gloria Choi's lab. When they are not in their respective labs (which is sadly infrequent), Leila and Max frequent the bars and Gracie's Ice Cream in Union Square. Michael Pizziferri is director of operations and global-education programs at WorldBoston, an international affairs nonprofit. He got his start with an internship in the office of state Rep. Tackey Chan '95, of Quincy, Mass., arranged through the Hiatt Career Center. During the internship, he says, he learned the importance of developing relationships. Giselle Silberman and Avi Cohen moved to Brighton, Mass., and love their new neighborhood. Giselle works as a volunteer and youth recruiter at Big Brothers Big Sisters of Massachusetts Bay. Avi is a mental-health counselor at an eating-disorders clinic. Former soccer star Michael Soboff signed a professional contract to play for Hakoah Maccabi Amidar Ramat Gan Football Club in Israel's Liga Alef South Division. In two seasons of playing forward and midfield at Brandeis after transferring from Rutgers, he helped the Judges to a 35-8-2 record and scored 13 goals. Lara Tavares is pursuing a master's in higher-education administration at Boston College's Lynch School of Education. She also accepted a prestigious graduate assistantship with the BC College Bound Program, an organization that supports and encourages Boston public high-school students to pursue higher education. Liz Zharovsky is an associate researcher at Mount Sinai School of Medicine, in New York City. She works in a neuroepigenetics lab on an NIH-funded project that hopes to change the way we understand mental health. She is also in the process of applying to medical school. In her free time, she runs her website, theelizabethian.com; does freelance writing; tries new food around NYC; and hits up comedy shows.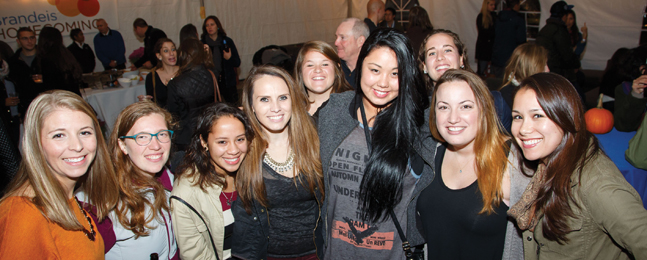 GOOD TO BE HOME: Dozens of Brandeis alumni and their families returned to campus for the second annual 0-year Reunion, part of the three-day Homecoming festivities. See more photos.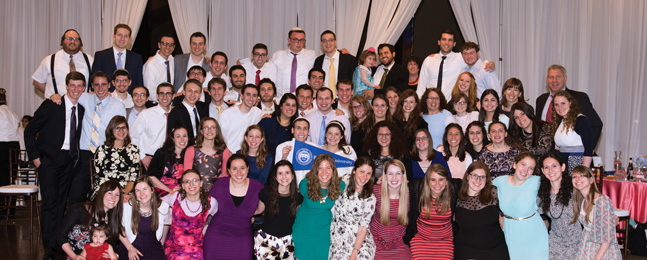 WITH THIS RING: Sarah Jaffe '15 married Daniel Kasdan '13 on June 14 in Cleveland, surrounded by Brandeis alumni, students and members of the Hillel staff.
Submit a Class Note