Class of 2012
I am in my second year at Fordham Law School. During the summer, I worked for Judge Gerald Lebovits in New York City Civil Court.
Jacob Agi married Rebecca Abrams in the spring, graduated from the University of Southern California's Gould School of Law, and began working at Simpson Thacher & Bartlett in Los Angeles. Jesse Appell is a comedian in China, where he writes a blog for the Hong Kong-based South China Morning Post and has a Mandarin-language Chinese Web series called "The Great LOL of China." He also landed a gig as a Far East economics correspondent for the "PBS NewsHour." During a visit to the McCallie School in Tennessee to tell students about his adventures, he spoke to a Chattanooga Times Free Press reporter who wrote a story about him. "In the daytime, I work as my own agent, having meetings, trying to book shows, and whatever else needs to be done," Jesse told the reporter. "I also write new jokes and rehearse with performance partners. At night, I have rehearsals or shows pretty much every night of the week." Leah Bartels is pursuing an MFA in screenwriting at NYU's Tisch School of the Arts. Josh Basseches completed the first year of his doctoral program in sociology at Northwestern and spent the summer back in Boston collecting data for his second-year paper, which will focus on state-level environmental politics, using Massachusetts as a case study. Tyler Belanga, Tamar Brown and Philip Lu '11 have joined forces to increase college access for low-income students. The trio recently founded a nonprofit organization that coaches NYC seniors throughout the college-application process. Anna Gardner graduated from Thomas Jefferson University with an MS in occupational therapy. Miriam Glicksberg is in her second year at the Vanderbilt University School of Medicine, where she is pursuing a clinical doctorate in audiology. Jordi Goodman graduated from Boston University School of Law and joined Sunstein Kann in Boston as a patent attorney. Allie Joseph is a third-grade teacher at Brooke Charter School in Roslindale, Mass. She is pursuing an MS in education at Bank Street College of Education, in New York City. Liya Kahan and Ross Goldstein '11 were married on March 22 in New York City. The event was a Brandeis mini-reunion: A total of 11 Brandeisians were in the wedding party. Meda Kisivuli and Henok Mehari welcomed a baby, Abel. Rebecca Klein married Zachary Rubenstein '11 on Aug. 16 at the Four Seasons Hotel in Boston. Rebecca is the education news editor at The Huffington Post in New York, and Zachary is a finance associate at Citigroup in New York. Siddhi Krishna, MA'14, is a second-year PhD student in pure mathematics at Boston College, where she studies topology. In her limited free time, she searches for an ice-cream flavor better than Richardson's black raspberry. Erica Lubitz works for Box.com in San Francisco. She gives a shoutout to Brandeis for its use of Box, although she can't take full credit for the deployment. In other news, she adopted a dog, Timmy. Emily Mandel passed her licensing exam and is now a board-certified behavior analyst with a specialization in autism-spectrum disorders. She is currently a lead therapist at a nonprofit, where she supervises direct-care clinicians in the Boston and Metrowest regions. Ari Pipe-Mazo and Sami Grosser are engaged and living in New York City. Louis Polisson and Gabriella Feingold '14 celebrated their one-year wedding anniversary on May 25. Louis spent his second year of rabbinical school at the Jewish Theological Seminary studying in Jerusalem. Hilary Sager relocated to Chicago, where she works in development at Northwestern. She completed the Chicago Marathon in October. Hilary looks forward to connecting with other Brandeis alums in the area. Rachel Salston is in her third year at the Ziegler School of Rabbinic Studies, in Jerusalem. She is fulfilling her dream of living in the same neighborhood as the characters in "Srugim." Jay Wong lives in Bangkok and would welcome Brandeis visitors.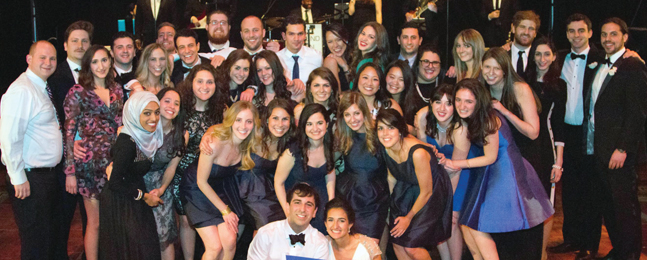 STRAIGHT FROM THE HEART: Dozens of Brandeisians helped Liya Kahan '12 celebrate her marriage to Ross Goldstein on March 22 at Gotham Hall, in New York City.
Submit a Class Note