Class of 2010
I graduated from my master's degree program at Carnegie Mellon and moved out to San Francisco to start a new job as an interaction designer. I'm looking forward to meeting up with other Brandeis alums in the Bay Area.
After receiving an MA in experiential Jewish education from the Davidson Graduate School of Education at the Jewish Theological Seminary, Debra Fricano began working as director of programming and engagement at the Hunter College Hillel. Miriam Ganem-Rosen, MA'11, and Cory Julie '07 were engaged in November 2014 and were to be married this fall in Washington, D.C. They are thankful to Amanda Hecker for the introduction. Arielle Kaplan and David Warshaw were engaged on June 18 at Belvedere Castle in Central Park. Tegan Kehoe graduated from Tufts with an MA in history and museum studies. She is the exhibitions and education specialist at Massachusetts General Hospital's Paul S. Russell Museum of Medical History and Innovation. Etta King and Ryan Heisler, who were engaged in February, were scheduled to tie the knot in October. After five wonderful years in Boston, they are moving to Ann Arbor, Mich., to work in environmental education and agriculture. Give them a call if you're in the Mitten State. Simona Lang, who completed a fellowship at the Connecticut Department of Public Health, is now working as a field epidemiologist at the Massachusetts Department of Health. Faith Leener graduated from an MPA/MA program at NYU and co-founded Base Hillel — the inaugural project of Hillel International's Office of Innovation — with Avram Mlotek '09. Faith is director of strategic development at Base, which launched in NYC this fall. Ted Levin earned his doctorate in linguistics from MIT and joined the University of Maryland's Department of Linguistics as a postdoctoral research fellow. After receiving his doctorate in economics from Michigan State, Daniel Litwok became a senior analyst at Abt Associates in Bethesda, Md. He and Carly Schmand '11 are engaged and will be married in 2016 in Bethesda. Ariel Marks graduated from Temple Medical School in May. He and his wife, Judith Simons Marks, relocated to Boston so he could begin his residency in neurology at Boston Medical Center. Arun Narayanan graduated from the University of Southern California with an MFA in film and television production. The Independent Filmmaker Project named him one of its Emerging Storytellers of 2015 for his feature-length screenplay "Some Kind of Miracle." Linnea Sage stars in the new comedy Web series "WildCats." She plays an outspoken high-school cheerleader coming to terms with her sexuality and her feminism. Jessica Stearns married David Guerette '08 on June 6 at her grandparents' New Hampshire farm. Jessica is a conditionally licensed clinical social worker at a therapeutic school, and David is a junior Web developer at a mobile marketing company. They live in Portland, Maine. Miriam von Guggenberg graduated from a three-year master's program in holistic counseling psychology at John F. Kennedy University. She is providing psychotherapy in schools and in private practice as she works toward a marriage and family therapist license. Joyce Wang received her master's in public health in epidemiology and biostatistics, and now works as an analyst on aging research and policy at RTI International, a nonprofit research institute. Elisette Weiss and Jacob Bockelmann '09 were married on Aug. 28 in Sebastopol, Calif. They met in 2008 at the copy machine in the Shapiro Campus Center's Student Union office.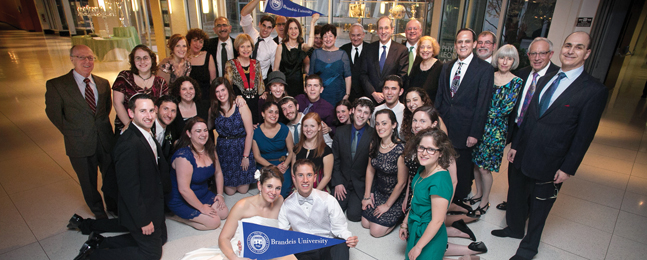 A STERLING PAIR: Marnina Cowan married Seth Coburn, both '10, in Pikesville, Md., before dozens of Brandeisians, including Seth's parents, David '73 and Phyllis '75, P'04, P'07, P'10, and brothers Avi '04 and Brian '07.
FOREVER YOURS: Daniel Harris '10 (right) married Daniel Turner on May 24 in Setauket, N.Y. Alumni in attendance included Eric Engelstein '10, Asya Bashina '12 and Lauren Papiernik '10.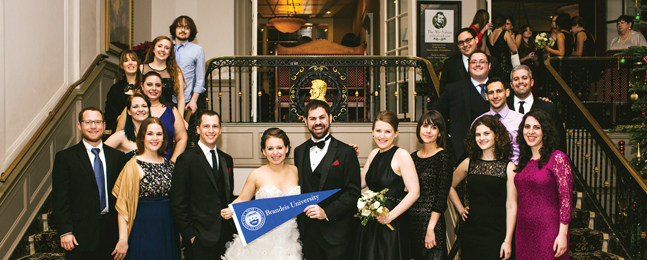 WEDDING IN READING: When Meghan McHale '10 married Chris Dangremond on Dec. 13, 2014, in Reading, Pa., a happy group of Brandeis alumni were there to join the celebration.
Submit a Class Note