Class of 2004
My husband and I welcomed our son Ethan in January!
Dorianna Andrade, who works in the Office of the General Counsel at the U.S. Department of Commerce, was one of 14 Brandeis alumni sworn in to the U.S. Supreme Court bar in June. Chief Justice John Roberts and Justice Ruth Bader Ginsburg, H'96, offered their greetings to the group. Adam Batkin, MA'05, and Jessica Greenberg Batkin '05 welcomed their second daughter, Gila Bracha, in January. Shifra is excited to be a big sister. Jess is enjoying her leave from veterinary practice, and Adam is working close to home at AQR Capital Management. The family lives in Stamford, Conn. After nearly four years as senior editor of WomansDay.com at Hearst, Meredith Bodgas is now executive editor at Bauer Xcel, overseeing FirstforWomen.com, WomansWorldMag.com, Recipes-Plus.com and SimpleGrace.com. She lives in Bellmore, Long Island, with her husband, Paul, and 1-year-old son, Jeremy. Lynne Gauthier had fraternal twin girls in April. Robin Harpak is associate director of development and alumni relations at Emory University's Laney Graduate School. She married Dotan Harpak in 2009 and has a 3-year-old daughter. Miriam Hurwitz and her husband, Jonathan Berk, had a second son, Asher Emet, in April. His older brother is Asa Benjamin. Susan and Marc Kolpon and big sister Rebecca welcomed a beautiful baby boy, Michael Hillel, into the family in May in Pennsylvania. He is following his big sister in doing tummy time on the family's Brandeis blanket. John Searles plays drums and percussion for the Mighty Silverbacks, a Massachusetts-based band. The group plays honky tonk, classic rock and original music at dance parties, festivals and park concerts, mixing original songs with a classic-rock repertoire featuring harmony singing. Rachel Silverman and Josh Bob '01 welcomed a baby girl, Anna Miriam Bob, to their family in November 2014. Rachel writes, "She's a smiley, happy, giggly kid with lots of hair." Russell Stutsky married Kristie Emard in October 2014. They both attended Quinnipiac University School of Law. Russell is an attorney with the Law Offices of Attorney Warren Hess III. The couple lives in Naugatuck, Conn. Robert Tanenbaum and his wife, Phyllicia, had a baby boy, Jacoby Harper (Yaakov Hirsch), on Jan. 6. The Tanenbaums live in Chevy Chase, Md., where Robert litigates real-estate and business disputes for Womble Carlyle Sandridge & Rice.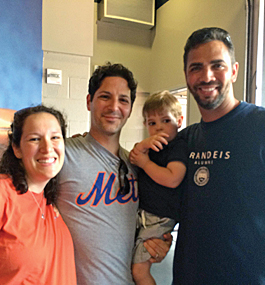 DIAMOND DREAMS: Ashley '05 and Brett Friedman '04 — and their son, Marshall — met Nelson Figueroa '98 (right), former New York Mets pitcher and now a broadcaster for the team, during an Alumni Club of New York City outing at Citi Field. More than 75 alumni watched the Mets edge the Miami Marlins, 4-3.
Submit a Class Note