Class of 2013
Class Correspondent
Ellyn Getz, Robyn Spector and Amanda Winn
Ell works out of New York City as the senior manager of development, fundraising and events at the Center for Information and Study on Clinical Research Participation. She also chairs the Brandeis Alumni Association's NYC Performing Arts Network, performs in theatrical productions and sings with her samba/jazz group around New York. She is training to run a half-marathon. Robyn works in product development and management at Cablevision, and continues to do multimedia consulting and production on the side. She was a finalist in National Geographic's 2015 Street Photography contest; finished writing and illustrating her own children's book series about her rescue dog, Katie Mae; and is collaborating on a cookbook with her family. For more info, visit www.robynspector.com. Amanda is continuing her diabetes research at NewYork-Presbyterian Hospital. In her spare time, she enjoys exploring NYC with fellow Brandeis alums.
David Fisch writes, "A lot has happened since my last Brandeis update, and I'm sure you're all waiting with bated breath for this one. Well, here it is. Big news! I saw 'Furious 7,' and, boy, was that a good movie! Also, I broke the 2K Facebook-friends barrier. I always told people that the Facebook-friends glass ceiling didn't exist, and, let me tell you, it no longer does because I broke right through that. I left my job at CollegeHumor and moved to Israel to work at PlayBuzz (I wish it were the company that it sounds like, but, alas, we can't win them all). I'm not giving up on my campaign to be the Class of 2013 correspondent, so let's get #DavidFischForClassof2013Correspondent trending." David French works at Dell as a UX designer. Delande Justinvil, coordinator in Brandeis' Department of African and Afro-American Studies, received a Mortimer Hays-Brandeis Traveling Fellowship for 2015-16 to study ancient funerary artifacts from Israel's Tel Kabri site. The award provides support to students in the visual and fine arts — including art history, conservation, studio art and photography — for travel and living expenses outside the United States. Daniel Kasdan married Sarah Jaffe '15 at a wedding filled with Brandeisians in Cleveland. Daniel is in rabbinical school and is pursuing a master's in medieval history at Yeshiva University, in New York. Sarah graduated from Brandeis cum laude in May with a BA in psychology. Since returning from her Fulbright experience of teaching in Thailand, Jessye Kass has been working as a medical case manager for HIV-positive persons in the Boston area. As she connects disempowered, marginalized communities to resources and manages their care, Jessye is certainly building on the social-justice background she obtained at Brandeis. Roz Levi made aliyah to Israel and started working at the American Jewish Joint Distribution Committee. Emily Bunker Peterson is annual-fund manager at the Gathering Place in Denver, a daytime drop-in center for people experiencing poverty or homelessness. She writes, "I really love the job and continue to enjoy being back in Colorado — even now, as backpacking season comes to a close and ski season will be upon us." Denny Poliferno graduated from Quinnipiac's pathologists' assistant program with a master's degree in health science. Within a month, he passed his certification exam and began a job as a pathologists' assistant at Brigham and Women's Hospital, in Boston. Zane Relethford is in grad school at the University of New Hampshire after spending two years teaching high-school chemistry in Lawrence, Mass. He is studying organometallic chemistry for use in energy and environmental applications. He is engaged to Kristina Birthisel. Muki Schlomka wrote that he planned to marry Trish Gracia on Oct. 25 in Phoenix. Ingrid Schulte completed her two-year service with the Peace Corps in Swaziland, Africa, where she worked with leaders of a rural community on a variety of health-education projects, including those related to HIV/AIDS, hygiene and sanitation, youth empowerment, and English literacy. She has relocated to Berlin, Germany, where she is pursuing a master's degree in public policy at the Hertie School of Governance. Fiona (Lockyer) Scott is the trademark assistant at international law firm K&L Gates in Seattle, where she lives with her husband and two cats. In her free time, she enjoys hiking around the Pacific Northwest and volunteering with the United Way. Avi Snyder and Michelle Sinnreich, who met in their first-year University Writing Seminar, were married on Aug. 23. Jessie Stettin runs a private investment firm in Dallas. He founded the firm with his brother, JD, and two good friends. Jessie volunteers at the Stewpot Homeless Shelter. Paul Sukijthamapan spent the past year implementing a tuberculosis program in Timor-Leste with Project Plus One and Bairo Pite Clinic. He now attends Harvard Medical School. When Hanna Switlekowski graduated with a master's degree in public administration from Northeastern University, she received the Keough Fellowship from the American Society of Public Administrators. The town of Sharon (Mass.) recently appointed her to serve on its finance committee; she's the youngest member of the panel.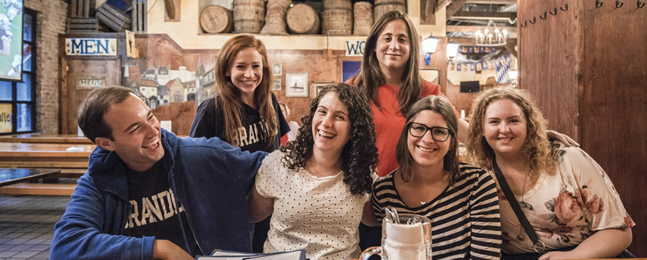 A BITE OF THE BIG APPLE: Manhattan Sideways founder Betsy Bober Polivy '79 led alumni on a discovery of Midtown's hidden gems. Attendees met business owners; sampled foods, cocktails and beers; and shopped at boutiques. Bold alums Reed Zukerman and Rachel Nelson, both '13, served as chairs for the event, organized by the Alumni Club of New York City. Front row, from left: Reed, Rebecca Bachman, Rebecca Pollack and Katrina Osborne, all '13. Back row: Rachel and Amanda Dryer '13.
Submit a Class Note