Class of 1989
My daughter Sydney and I had an amazing trip to Italy this summer. We spent a long time in Tuscany vacationing with Sara Cormeny '92. As I was in the airport preparing to leave, Micki Barnett Jacobs messaged me that she was also heading to Italy. We were unable to sync our schedules, but how cool would that have been? In other news, Brandeis roommate Sara Joseph and I had dinner together when she was touring colleges with her daughter. (I'm working on getting her to move to D.C., so we can be roommates again.) Other than that, I'm going on auditions and working through its being Syd's senior year in high school. Gulp. As always, my "bed and breakfast" is open to anyone wanting to visit.
Sebastian Darcyl heads Glo Creative, a marketing/advertising agency based in Miami. He looks forward to welcoming anyone visiting South Florida. Sarah Fallowes-Kaplan, P'19, is thrilled that her daughter Micaela '19 is a student at Brandeis this fall. Not to be outdone by his twin sister, Zachary is at Tufts. Sander Florman is director of the Recanati/Miller Transplantation Institute at Mount Sinai Medical Center in New York. In March, he spoke at the University of Louisville's Kentucky to the World lecture series, which showcases individuals with strong Kentucky connections who are well-known in their fields. Sander joined Mount Sinai in 2009 after serving as Tulane University Hospital's director of liver transplantation. Melissa Hafter took a cross-country trip and saw Alex Skovronek, Aaron Greenberg '88, Steve Simensky '88 and Rob Cheifetz '88. Melissa is writing a book about working with kids with learning differences after finding inspiration while on vacation. Melissa also saw Steve Goldin '88 on that trip. She says life would be so much less fulfilling without her 'Deis friends. Steve Lessnick recently moved from Salt Lake City to Columbus, Ohio, to become director of the Center for Childhood Cancer and Blood Disorders at the Research Institute at Nationwide Children's Hospital. He is looking forward to helping the center develop new ways to treat cancer in children. Dan Levin writes, "My personal and professional lives are surprisingly stable lately. Academics don't make much money, but we have lots of perks. My summer included three great international-travel opportunities: a two-week trip to Israel, leading a group of University of Maryland students to study the Ethiopian Jewish immigrant experience, particularly as it relates to the educational system; a two-week trip to southwest China, to give talks and classes in science education, collaborate with colleagues and work with science teachers; and a vacation trip to Iceland with my wife, Gemma, and son Noah, 14." Mark Saloman was promoted to partner in the Berkeley Heights, N.J., office of FordHarrison, where he litigates and counsels clients on the meaning, drafting and enforceability of various types of post-employment restraints such as noncompete agreements, nonsolicitation provisions, confidentiality agreements and other restrictive covenants. Fran Genn Saperstein exhibits her fiber art at and is a board member of On the Edge Gallery, in Scottsdale, Ariz. See her artwork at www.fransaperstein.com. Fran and Peter Richman have enjoyed coffee together a couple of times. Rob Sharenow was named executive vice president and general manager of A&E, which he now runs in addition to Lifetime, A&E's sibling network. In his new role, Rob oversees all content creation, brand development, and marketing at A&E and Lifetime. He joined Lifetime in 2011 as executive VP of programming. Since then, the network has expanded its scripted programming. Alicia (Litwin) Stillman and Jennifer Sessler met up twice in one month this summer while Alicia and her family were in Greensboro, N.C., for the American Hebrew Academy's summer program. Alicia, a cantor, and her husband, Philip, a unit head, were on the program's faculty. Jennifer lives in nearby Chapel Hill. Since meeting in acting class at Brandeis almost 30 years ago, Alicia and Jennifer have kept in close touch, participating in each other's weddings and arranging visits whenever they can.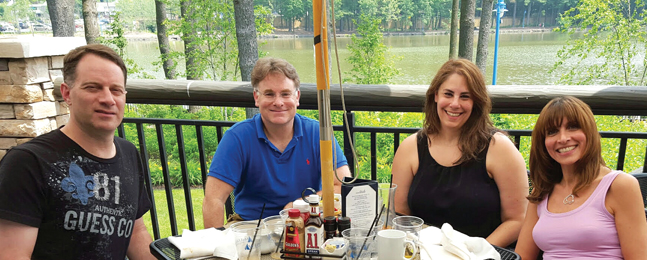 FRIENDS, INDEED: Peter Richman, Phil Shaw, Michelle Fiddler and Michelle (Davis) Cohen, all '89, met for lunch in New Jersey. Michelle C. bemoaned the college woes of her teenage sons, while Michelle F., Pete and Phil discussed the toilet-training challenges their toddlers present. 
Submit a Class Note