Jewish Studies Colloquia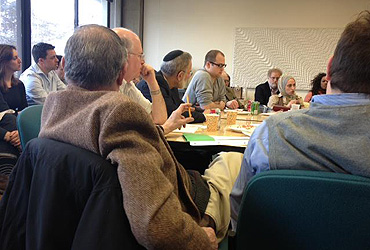 The Jewish Studies Colloquium, which has been meeting since 2001, provides a forum for graduate students and faculty from Brandeis University and other academic institutions around the world to discuss their current research and works-in-progress. The colloquium engages a wide range of topics in Jewish studies from history and thought to political and national identity.
MA and PhD candidates, college and university faculty, and independent scholars are welcome.
2020-2021 Schedule
Fall 2020
Until further notice, colloquia will not take place in person, but will stream live on Zoom.
Tuesday, September 22 – "From the Left and the Right: Campus Antisemitism and American Jewish Life," Marc Dollinger, San Francisco State University
Tuesday, October 27 – "God's Disability: Confronting the 'Euthanasia' Murders," Dagmar Herzog, the Graduate Center at CUNY 
Tuesday, November 17 – 

"Riddling Materiality: The Queen of Sheba, Solomon, and Riddles in Ninth-Century Tradition," Jillian Stinchcomb, Brandeis University 



Spring 2021
Tuesday, February 23 - "Jerusalem's Ancient Queens: Gender, Power, and Erasure," Sarit Kattan Gribetz, Fordham University

Tuesday, March 23 - "The Global Merchants: The World of the Sassoons," Joseph Sassoon, Georgetown University

Tuesday, April 20 - "'Sit and Study This Book with Your Family': Print Culture in 19th-Century North Africa," Noam Sienna, University of Minnesota.
Past Colloquia
Participating in the Colloquium
Presenters discuss a work-in-progress made available in advance. Following a brief overview (5-10 minutes), the presenter opens the floor to questions, critiques, suggestions, and general discussion. 
Papers, which are not to exceed 30 pages, will be made available online two weeks before each colloquium session.
Presenting at the Colloquium
To submit your works-in-progress for presentation at the Jewish Studies Colloquium, please contact Sylvia Fuks Fried or Eugene Sheppard.