Jewish Studies Colloquia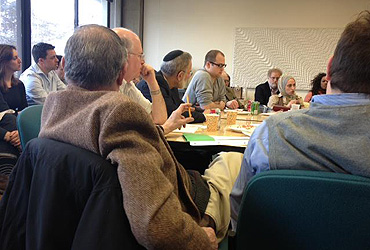 The Jewish Studies Colloquium, which has been meeting since 2001, provides a forum for graduate students and faculty from Brandeis University and other academic institutions around the world to discuss their current research and works-in-progress. The colloquium engages a wide range of topics in Jewish studies from history and thought to political and national identity.
MA and PhD candidates, college and university faculty, and independent scholars are welcome.
2022-2023 Schedule
Fall 2022
Colloquia are hosted in person in Lown 315 at Brandeis and stream live on Zoom. Registration is required for Zoom!
Tuesday, September 13 – Na'ama Rokem, University of Chicago — "Pedagogy, Language, and Labor Politics in Kafka's Hebrew Notebooks" 
Tuesday, October 25 – Michal Bar-Asher Siegal, Ben-Gurion University — "Ifra Hormiz: Talmudic Stories of the Persian Queen Mother and the Bavli's Redaction"
Tuesday, November 8 – Elisabeth Gallas, Leibniz Institute for Jewish History and Culture-Simon Dubnow — "A Jewish Bill of Indictment: The New York Black Book of 1946"
Spring 2023
Tuesday, January 24 – Joshua Picard, Princeton University 

— "The Precedents and Origin of Djerba's Or Torah Fund."

Tuesday, February 14 – Elias Sacks, Jewish Publication Society 

— "Do Citizens Need to be Philosophers? Nachman Krochmal's Diasporic Jewish Politics."

Tuesday, March 14 – Jordan Katz, University of Massachusetts, Amherst — "Registers of Belonging, Registers of Difference: Early Modern Jewish Midwives and their Records."
Tuesday, April 25 – Sven-Erik Rose, University of California, Davis

 — "Making and Unmaking Literature in Nazi Ghettos in Poland."
Past Colloquia
Participating in the Colloquium
Presenters discuss a work-in-progress made available in advance. Following a brief overview (5-10 minutes), the presenter opens the floor to questions, critiques, suggestions, and general discussion. 
Papers, which are not to exceed 30 pages, will be made available online two weeks before each colloquium session.
Presenting at the Colloquium
To submit your works-in-progress for presentation at the Jewish Studies Colloquium, please contact Sylvia Fuks Fried or Eugene Sheppard.