Jewish Studies Colloquia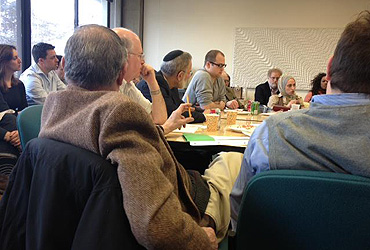 The Jewish Studies Colloquium, which has been meeting since 2001, provides a forum for graduate students and faculty from Brandeis University and other academic institutions around the world to discuss their current research and works-in-progress. The colloquium engages a wide range of topics in Jewish studies from history and thought to political and national identity.
MA and PhD candidates, college and university faculty, and independent scholars are welcome.
2023-2024 Schedule
Fall 2023
Colloquia are hosted in person in Lown 315 at Brandeis and stream live on Zoom. Registration is required for Zoom!
Tuesday, September 12 – Miriam Goldstein, the Hebrew University of Jerusalem — "The Bible in Baghdad: A Medieval Karaite Interprets Genesis" 
Tuesday, October 24 – Ildikó Barna, Eötvös Loránd University (ELTE), Budapest — "Interdisciplinary Exploration of Post-Holocaust History through Digital Tools: Opportunities and Limitations"
Tuesday, November 14 – Hadar Feldman Samet, Tel Aviv University — "Between the Public and the Communal: Depictions of Sabbatian Spaces in the Late Ottoman Era" 
Tuesday, December 5 – Paola Tartakoff, Rutgers University — "Mendicant Jewish Converts and Miracles Stories in the Medieval Pyrenees" (Available by request only)
Spring 2024
Tuesday, January 23 – Jonathan Crane, Emory University; Emily Filler, Washington and Lee University; Mira Wasserman, Reconstructionist Rabbinical College — "Introducing Modern Jewish Ethics, 1970-Present"
Tuesday, February 27 – Kirsten Collins, University of Chicago Divinity School 

— "That Other Fornication: Race and Judaism in Foucault's Concept of Critique"

Tuesday, March 12 – Eugene Sheppard, Brandeis University — "Towards a Philosophical Critique of Hegel and Antisemitism"
Tuesday, April 16 – Hasia Diner, New York University; Lois Dubin, Smith College

 — "Moveable Feasts: Jews and Food Across Time and Space"
Past Colloquia
Participating in the Colloquium
Presenters discuss a work-in-progress made available in advance. Following a brief overview (5-10 minutes), the presenter opens the floor to questions, critiques, suggestions, and general discussion. 
Papers, which are not to exceed 30 pages, will be made available online two weeks before each colloquium session.
Presenting at the Colloquium
To submit your works-in-progress for presentation at the Jewish Studies Colloquium, please contact Sylvia Fuks Fried or Eugene Sheppard.