Jewish Studies Colloquia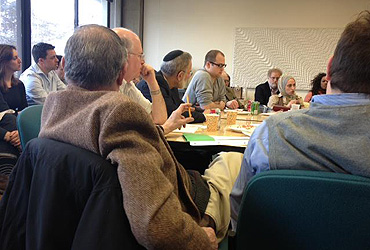 The Jewish Studies Colloquium, which has been meeting since 2001, provides a forum for graduate students and faculty from Brandeis University and other academic institutions around the world to discuss their current research and works-in-progress. The colloquium engages a wide range of topics in Jewish studies from history and thought to political and national identity.
MA and PhD candidates, college and university faculty, and independent scholars are welcome.
2021-2022 Schedule
Fall 2021
Until further notice, colloquia will not take place in person, but will stream live on Zoom. Registration is required!
Tuesday, September 14 – David Koffman, York University — "Métis, Jews, and the Politics of Counting Difference in Canada" (video)
Tuesday, October 12 – Devi Mays, University of Michigan — "Two Steps from the Abyss: An Ottoman Jewish Witness to War" (video)
Tuesday, November 16 – Martin Dean, Babyn Yar Holocaust Memorial Center — "Babyn Yar 80 Years Later: New Findings, Areas of Dispute, and Remaining Questions" (video)
Past Colloquia
Participating in the Colloquium
Presenters discuss a work-in-progress made available in advance. Following a brief overview (5-10 minutes), the presenter opens the floor to questions, critiques, suggestions, and general discussion. 
Papers, which are not to exceed 30 pages, will be made available online two weeks before each colloquium session.
Presenting at the Colloquium
To submit your works-in-progress for presentation at the Jewish Studies Colloquium, please contact Sylvia Fuks Fried or Eugene Sheppard.