Toward Nationalism's End
An Intellectual Biography of Hans Kohn
Adi Gordon
2017
6 1/8 x 9 1/4"
---
Jewish Legal Theories
Writings on State, Religion, and Morality
Leora Batnitzky, ed.; Yonatan Brafman, ed.
2017
296 pp. 6 x 9"
---
Gershom Scholem
From Berlin to Jerusalem and Back
Noam Zadoff
2017
344 pp. 15 illus. 6 1/8 x 9 1/4"
Forthcoming
Toward Nationalism's End
An Intellectual Biography of Hans Kohn
Adi Gordon
Analyzes the intellectual evolution of Hans Kohn, pioneer of nationalism studies, revealing the centrality of the idea of the nation to the ideological struggles of the twentieth century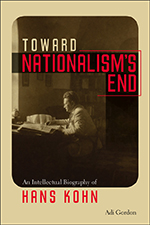 This intellectual biography of Hans Kohn (1891–1971) looks at theories of nationalism in the twentieth century as articulated through the life and work of its leading scholar and activist. Hans Kohn was born in late nineteenth-century Prague, but his peripatetic life took him from the Revolutionary-era Soviet Union to interwar-era Palestine under the British Empire to the United States during the Cold War. Bearing witness to dramatic reconfigurations of national and political identities, he spearheaded an intellectual revolution that fundamentally challenged assumptions about the "naturalness" and the immutability of nationalism.
Reconstructing Kohn's long and fascinating career, Gordon uncovers the multiple political and intellectual trends that intersected with and shaped his theories of nationalism. Throughout his life, Kohn was not simply a theorist but also a participant in multiple and often conflicting movements: Zionism and anti-Zionism, pacifism, liberalism, and military interventionism. His evolving theories thus drew from and reflected fierce debates about the nature of internationalism, imperialism, liberalism, collective security, and especially the Jewish Question.
Kohn's scholarship was not an abstraction but a product of his lived experience as a Habsburg Jew, an erstwhile cultural Zionist, and an American Cold Warrior. As a product of the times, his concepts of nationalism reflected the changing world around him and evolved radically over his lifetime. His intellectual biography thus offers a panorama of the dynamic intellectual cornerstones of the twentieth century.
ADI GORDON is an assistant professor of history at Amherst College. He is the author of In Palestine: In a Foreign Land and the editor of Brith Shalom and Bi-National Zionism: "The Arab Question" as a Jewish Question, both published by Hebrew University Magnes Press.
This book can be purchased directly through the University Press of New England.
---
Jewish Legal Theories
Writings on State, Religion, and Morality
Leora Batnitzky, ed.; Yonatan Brafman, ed.
Anthology of writings about Jewish law in the modern world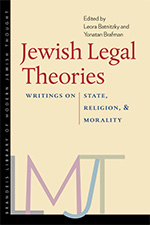 Contemporary arguments about Jewish law uniquely reflect both the story of Jewish modernity and a crucial premise of modern conceptions of law generally: the claim of autonomy for the intellectual subject and practical sphere of the law. Yet for all the interest in and importance of Jewish legal theory, there is no single volume that addresses it simultaneously in its historical and conceptual contexts, as well as in the context of modern legal theory more broadly defined.
Jewish Legal Theories collects representative modern Jewish writings on law and provides short commentaries and annotations on these writings that situate them within Jewish thought and history, as well as within modern legal theory. The topics addressed by these documents include Jewish legal theory from the modern nation state to its adumbration in the forms of Orthodox, Conservative, and Reform Judaism in the German-Jewish context; the development of Jewish legal philosophy in Eastern Europe beginning in the eighteenth century; Ultra-Orthodox views of Jewish law premised on the rejection of the modern nation-state; the role of Jewish law in Israel; and contemporary feminist legal theory.
LEORA BATNITZKY is Ronald O. Perelman Professor of Jewish Studies, professor of religion, and chair of the Department of Religion at Princeton University. She is the author of Leo Strauss and Emmanuel Levinas: Philosophy and the Politics of Revelation and How Judaism Became a Religion: An Introduction to Modern Jewish Thought. YONATAN BRAFMAN is assistant professor of Jewish thought and ethics, Jewish Theological Seminary of America.
This book can be purchased directly through the University Press of New England.
---
Gershom Scholem
From Berlin to Jerusalem and Back
Noam Zadoff
Noam Zadoff
A new intellectual portrait of a prominent twentieth-century philosopher
The German-born Gerhard (Gershom) Scholem (1897–1982), the preeminent scholar of Jewish mysticism, delved into the historical analysis of kabbalistic literature from late antiquity to the twentieth century. His writings traverse Jewish historiography, Zionism, the phenomenology of mystical religion, and the spiritual and political condition of contemporary Judaism and Jewish civilization. During his lifetime, he published over forty volumes and close to seven hundred articles and trained at least three generations of scholars of Jewish thought, many of whom still teach in Israel, Europe, and North America.
Scholem famously recounted rejecting his parents' assimilationist liberalism in favor of Zionism and immigrating to Palestine in 1923, where he became a central figure in the German Jewish immigrant community that dominated the nation's intellectual landscape in Mandate Palestine until the World War II. Despite Scholem's public renunciation of Germany for Israel, Zadoff explores how life and work of Scholem reflect ambivalence toward Zionism and his German origins.
Zadoff divides the book into three parts. He first examines how Scholem created new academic and social circles in Palestine, while at the same time continuing to publish in German and take part in Jewish cultural projects in his country of origin. Zadoff then turns to the reaction of Scholem to the Holocaust and its aftermath, which constituted a turning point in his life. The third part of the book deals with Scholem's gradual return to the German intellectual world after World War II.
Zadoff's erudite interpretations of Scholem's scholarship, embedded in its rich social and cultural contexts, show anew the remarkable contested worlds Scholem inhabited, resisted, and accommodated to—sometimes in ways that ran counter to his own self-portrait.
NOAM ZADOFF is an assistant professor of Jewish studies and history at Indiana University.
This book can be purchased directly through the University Press of New England.