2015-16 Events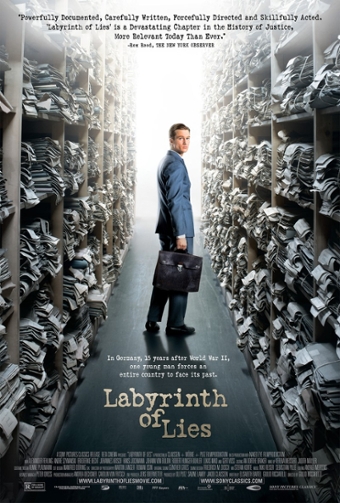 May 3, 2016
Director: Giulio Ricciarelli, 2014
One man's quest to break through the web of silences about the Holocaust in Germany in the 1960s. The film centers around the work of legendary Jewish-German jurist Fritz Bauer.
Read an interview with the filmmaker. 
A related documentary, "The People vs Fritz Bauer," was screened as part of Jewishfilm.2016 19th Annual Film Festival at the Museum of Fine Arts Boston.
CGES Series "Germany and its 1 Million Refugees. Conversations with Eye-Witnesses"
Part V: An Iranian Refugee and her German Teacher
Attendees had a Skype conversation with Lotte Pellens, who teaches refugees in the town of Bruehl outside Cologne, and one of her students, Narges, a women's rights activist from Iran who taught English before leaving Iran for Italy.
Having made her way to Germany illegally, Narges was deported back to Italy. She found her way back to Germany with the help of human traffickers. Subsequently, she spent months in a church sanctuary.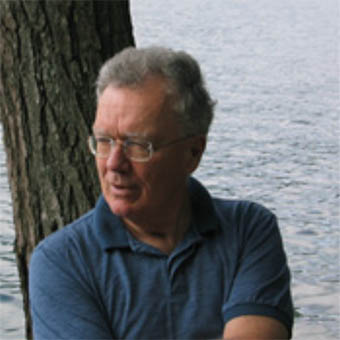 April 20, 2016
George Ross is presently ad personam Chaire Jean Monnet at the University of Montreal-McGill Center for Excellence on the European Union, Canada (an appointment granted by the European Union to honor distinguished international contributions to the understanding of European integration).
Ross served as chair of the European Union Studies Association (2003-2005), acting director of the Minda de Gunzburg Center for European Studies at Harvard University, executive director of the European Union Center at Harvard University, chair of the Council for European Studies (1990-1997), and director of the Center for German and European Studies at Brandeis (1998-2008).
CGES Series "Germany and its 1 Million Refugees: Conversations with Eye-Witnesses"
March 30, 2016
Part IV: Fled…Newly Arrived…Immigrated — Inside/Outside/Home
A Jewish-German Dialogue with poet Esther Dischereit about:
Nehmat, a 67-year-old journalist who stepped into a rubber dinghy in spite of being unable to swim

Gh., whose boyfriend was killed, and who studies biochemistry

Noni and Ch., who hand out tea to the waiting crowd

Rahel, who expanded her apartment

the neighbor who wished death upon Angela Merkel.
And about how they all united in the American Memorial Library in Berlin.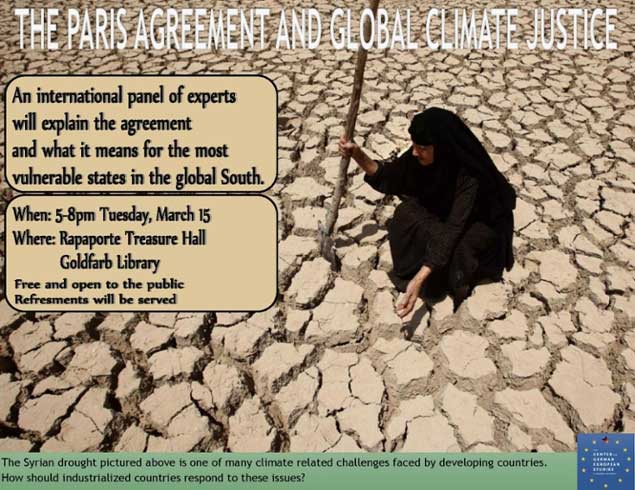 Panel Discussion: "The Paris Agreement and Global Climate Justice"
March 15, 2016
After decades of negotiations, 196 countries agreed in Paris in December of 2015 to work together to reduce carbon emissions and protect the planet from catastrophic global warming. The Paris Agreement opens a completely new chapter in global climate policy. For the first time, all countries acknowledged that climate change is their problem. This has profound implications not only for climate policy, but for South-North relations in general. The experts on this panel provided a political and legal overview of the agreement and its meaning for environmental protection and global justice.They focused on the most vulnerable states, their negotiation strategies and policy opportunities for improving their situation both in terms of the Paris Agreement and negotiations on the loss and damage dimension of climate governance.
Panelists
Hermann Ott, Senior Advisor, Global Sustainability and Welfare Strategies, Wuppertal Institute for Climate, Environment and Energy, Germany

Mihaela Papa, Lecturer in Sustainable International Development and Coexistence and Conflict, Heller School for Social Policy and Management, Brandeis University

Joseph K. Assan, Assistant Professor of Political Economy of Sustainable Development, Heller School for Social Policy and Management, Brandeis University

Moderator
"It's Complicated: Britain, the EU, and their Relationship Status" with Professor Siegfried Weichlein
March 9, 2016
Why is Brexit so popular with the British electorate lately? Why did Prime Minister David Cameron call for a referendum on the future of Britain in the EU? Who will probably win the referendum: proponents or opponents of Brexit? Can a Brexit be achieved at all, and is it a possible outcome given the millions of ties between Britain and the EU?
Siegfried Weichlein, Professor of Contemporary European History at the University of Fribourg, Switzerland, presented us with an overarching context and history of the British political sphere, shedding light on the origins of the coming referendum. Ultimately, the UK is bound to the European continent by thousands of agreements which can't be renegotiated overnight, and would have to be abided by regardless of EU membership if the UK wants access to the European market. Professor Weichlein argued that leaving the EU would give the UK less influence over policy decisions made in Brussels, and would thereby do more harm than good for the British political position.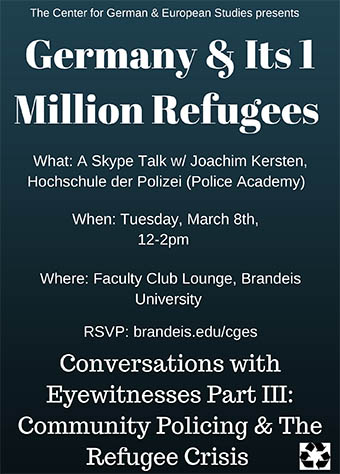 CGES Series: "Germany and Its 1 Million Refugees: Conversations with Eyewitnesses"
March 8, 2016
Part III: "Germany's Community Policing and the Refugee Crisis"
with Joachim Kersten, Senior Research Professor, Hochschule der Polizei (Police Academy), Muenster, Germany (via Skype)
About a year ago Professor Joachim Kersten and his team completed a multi-year study funded by the European Union comparing the relations between police and minority communities in various European countries both East and West. As an expert on German police training Kersten has focused especially on right-wing extremism and soccer hooligans. During this Skype talk he contextualized the attacks on women during New Year's Eve celebrations in Cologne and other cities, and the growing number of attacks on homes intended for asylum seekers.
CGES Series: "Germany and Its 1 Million Refugees: Conversations with Eyewitnesses"
February 29, 2016
Part II: "Arriving in Germany as a Syrian Refugee" with Ibrahim Shkhess, Computer Engineer, Augsburg, Germany
Those who attended photo journalist Jacobia Dahm's January talk got to know Ibrahim Shkhess as he made his way to Germany. Via Skype from Augsburg, Germany, Ibrahim spoke about his experience arriving in Germany:
about finding work, learning German, meeting Germans and missing spices;

about his hopes to find work as a computer engineer, and his dream of seeing peace come to his home country of Syria.
"Goethe in Song and Opera: A Master Set to Music"
February 10, 2016
Goethe's storied career left a legacy of poetry, drama and novels, and inspired countless artists and musicians to create their own seminal works. Artists from the Boston Lyrik Opera explored Goethe's work in song and opera with performances of a few of these classics, including selections from "Werther."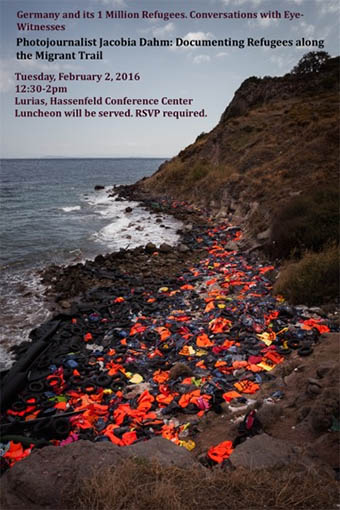 February 2, 2016
Part I: "A Conversation Photojournalist Jacobia Dahm: Documenting Refugees along the Migrant Trail"
Jacobia Dahm is a freelance photographer with a focus on portraiture and long-term documentary storytelling, currently based in New York and Berlin, Germany. She graduated from the Documentary Photography and Photojournalism program at the International Center of Photography (ICP) in 2014, and holds a master's degree in comparative and English literature. Her photography has appeared in The New York Times, VICE, Mother Jones, Rangefinder Magazine, Makeshift Magazine and elsewhere.
Dahm spent the summer of 2015 in Berlin helping refugees, interviewing and photographing them. In October, she went down to Turkey to travel with the refugees through Greece and the Balkans.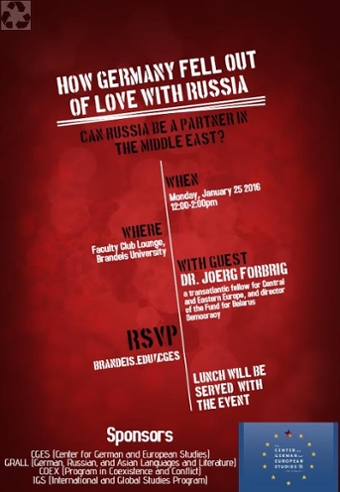 "How Germany Fell Out of Love with Russia" with Dr. Joerg Forbrig
January 25, 2016
In the wake of the terror attacks in Paris, Germany, the United States and France are seeking ways to confront the expanding threat of ISIS. Dealing with the root causes of conflict in Syria is one of the key elements in finding a solution. This will involve discussions with Russia.
Will Europe succeed in having a unified policy towards Russia? What role will Germany play in shaping this policy? What is the proper stance towards Russia in light of the situation in the Ukraine?
More than any other western country, Germany has spent the last quarter of a century working to build a special relationship with Russia. Fueled by a particular mix of historical legacies, people-to-people ties, economic interests and traditions of Ostpolitik, successive Berlin governments of all colors engaged with Moscow to build a partnership. Increasingly, however, German efforts grew disillusioned, and with the Russian aggression against Ukraine, they were finally frustrated. This spells the end of German-Russian particularity, and it may well pave the way for a more realistic, and perhaps truly European, policy towards a revisionist Russia.
Dr. Joerg Forbrig is a transatlantic fellow for Central and Eastern Europe, and director of the Fund for Belarus Democracy. Based in GMF's office in Berlin, he leads the organization's efforts to assist civil society in Belarus, while his analytical and policy work focuses on Europe's East broadly, including the new member countries of the European Union, and the EU's Eastern neighborhood. Prior to joining GMF in 2002, Forbrig worked as a Robert Bosch Foundation fellow at the Center for International Relations in Warsaw, Poland. He has been published widely on democracy, civil society, and Central and Eastern European affairs, including the books "Reclaiming Democracy" (2007), "Prospects for Democracy in Belarus" (2006), and "Revisiting Youth Political Participation" (2005). He is also a regular contributor to major international media.
Forbrig has studied political science, sociology and Eastern European affairs at universities in Germany, Poland and Hungary. He holds a doctorate in social and political sciences from the European University Institute in Florence and a master's in political science from Central European University in Budapest.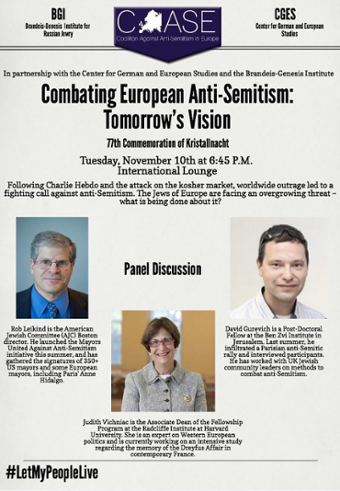 Panel Discussion: "Combating European Antisemitism: Tomorrow's Vision"
November 10, 2015
In commemoration of the 'Kristallnacht' Pogrom of 1938
Following the attack on Charlie Hebdo and the Jewish supermarket in Paris this spring, worldwide outrage led to a fighting call against antisemitism. As right-wing extremist movements and parties are attracting (often very young) supporters all over the continent, Jews of Europe are facing an ever-growing threat. What is being done about it?
Panelists
Rob Leikind, Director, American Jewish Committee Boston
Judith Vichniac, Associate Dean, Fellowship Program, Radcliffe Institute, Harvard University
David Gurevich, Post-Doctoral Fellow, Ben Zvi Institute, Jerusalem
Dramatic Reading of Savyon Liebrecht's "Strawberry Girl" with Nancy E. Carroll
November 5, 2015
Directed by Guy Ben-Aharon, Israeli Stage
A German woman and her son, Ludwig, live in Poland, where her husband works at a 'factory.' Their lives change after she meets a Jewish girl who grows strawberries as big as a man's fist. The play deals with the confrontation of blissful ignorance and a tragic personal intimacy.
"As a solo show, the play makes for a wonderful showcase for the smarts and talents of Nancy E.Carroll… 'The Strawberry Girl' marks the start of Israeli Stage's sixth outing with the work of Savyon Liebrecht, as well as the opening of its sixth season — a line-up that Guy Ben-Aharon is dedicating exclusively to female playwrights." Read more at ArtsFuse.org
"Nancy E.Carroll gives a vivid and evocative reading of this suggestive and moving play by the contemporary Israeli playwright, Savyon Liebrecht. Nuanced and expressive without being either distant or maudlin" … Read more at BostonArtsDiary.com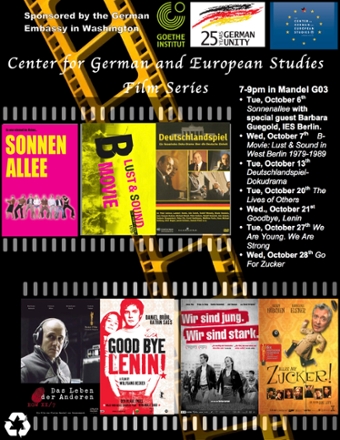 German Film Series, part of Campusweeks
CGES is proud to present a German film series in cooperation with the Goethe Institut Boston, and sponsored by the German Embassy in Washington, D.C. in commemoration of the 25th anniversary of German unification.
The series is presented in three parts: East and West Germany before, during and after unification.
Sonnenallee (1999; dir. Leander Haussmann; 101 min.) with special guest Barbara Guegold, IES Berlin.
B-Movie Lust & Sound in West Berlin 1979-1989" (2015, dir. Joerg A. Hoppe and Heiko Lange; 92 min.)
Deutschlandspiel (2000; dir. Hans-Christoph Blumenberg; 178 min.)
Das Leben der Anderen/ The Lives of Others (2006; dir. Florian Henckel von Donnersmarck; 137 min.)
Goodbye Lenin (2003; dir. Wolfgang Becker; 121 min.)
Wir sind jung. Wir sind stark/ We are Young.We are Strong. (2014; dir. Burhan Qurbani; 123 min.)
Alles auf Zucker/ Go for Zucker (2004; dir. Dani Levy, 95 min.)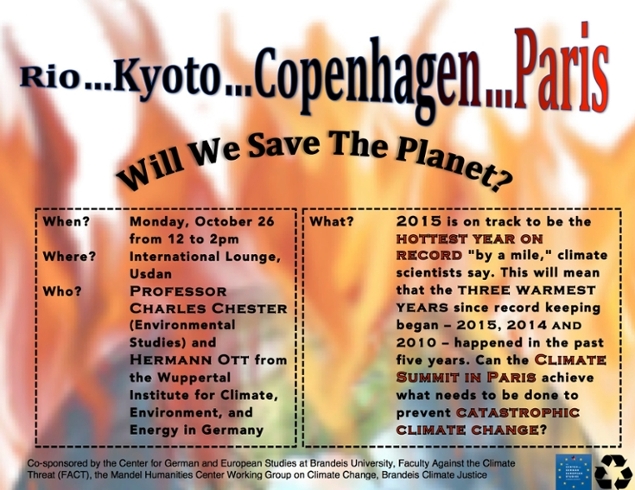 "Rio… Kyoto… Copenhagen… Paris: Will We Save The Planet?"
October 26, 2015
A discussion with Hermann Ott and Charles Chester about what we should and what we should not expect from the UN Climate Summit in Paris, November 29 to December 12, 2015.
2015 is on track to be the hottest year on record "by a mile," climate scientists say. It will mean that the three warmest years since record keeping began in 1880 — 2015, 2014 and 2010 — happened in the past five years, and nine of the ten warmest years have all occurred in the 21st century.
German government investments have helped to dramatically reduce prices for solar and wind technology, making them widely available, spurring a global renewable energy revolution. Germany, a country with neither much sunshine nor much wind, is 50% renewably powered today.
The Kyoto Protocol is about to expire, and from November 29 to December 12, UN delegations will be meeting in Paris to reach a new global agreement. Countries have made pledges in advance of the summit. Will they be sufficient? Will an agreement, if indeed one is reached, have the 'teeth' to achieve what needs to be done to prevent catastrophic climate change?
"Germany's Role in Europe Today" with German Ambassador Dr. Peter Wittig
October 29, 2015
In 2015, Germany experienced a roller coaster of media attention. Accused of inflexibility and lack of empathy vis-a-vis Greece in the Euro Crisis, Germany was praised for its diplomacy vis-a-vis Russia and Ukraine, and has lately experienced a wave of sympathy in the wake of its acceptance of hundreds of thousands of refugees from Syria.
This development shows clearly: Germany is in the spotlight and is — 25 Years After Unification — slowly emerging into a more active role in Europe and around the world. How do Germans view this development? How does the German government intend to navigate its new role going forward? How will it handle the challenge of integrating a large number of immigrants?
Panel Discussion: "Nov. 9, 1989 - Oct 3, 1990: Sind wir ein Volk? Are We One People?"
November 3, 2015
 The Debate about Germany's Future Between the Fall of the Berlin Wall and German Unification
Those who were born after German unification are often not aware that unification was not the only possible consequence of the fall of the Berlin wall. This panel hopes to shed light on the debate that ensued after the wall had fallen (and in some cases started even before).
Questions guiding us will be: What were the alternatives to unification? What were obstacles to unification? Who was for/against unification? Why?
The event is part of our Campusweeks activities sponsored by the German Embassy in Washington, D.C. : "25 Years German Unity."
Panelists
Joyce Mushaben, Professor of Political Science, University of Missouri-St.Louis

Sandra Ratzow, ARD/Das Erste bureau in Washington DC

Diana Erinna, German, Northeastern University.
Moderator
Antonie Eickelberg (ARD/Das Erste)
"Germany's Response to the Current European Migration Crisis" with Bruce Leimsidor
September 24, 2015
Just a few years ago, Germany's reputation as an open and tolerant society was seriously put into question by the publication of an overtly xenophobic tract by a leading German political figure, forcing Ms. Merkel's well publicized statement that the German model of a multicultural society had utterly failed. There followed reports of frequent right-wing demonstrations and even acts of violence against foreigners, which have increased during the present crisis. Nevertheless, official Germany's response to the current massive wave of immigrants in Europe from Africa, the Middle East and South Asia has been generous and way out of proportion to her population relative to the rest of the EU. Even taking into consideration Germany's prosperity, her practically unflinching acceptance of the lion's share of the responsibility for this culturally difficult migration seems to contradict the issues she was having in this regard just prior to the current influx, and continues to have.
How did official Germany accomplish this turnaround? To what extent was it voluntary? And what are the prospects for Germany to maintain this leadership position?
Bruce Leimsidor spoke to attendees about asylum law, the German intake process for refugees and more. Professor Leimsidor also spoke about what has been touted as Germany's generosity in taking in so many displaced people. He believes that accepting these people is the only practical thing that Germany could currently do.
Bruce Leimsidor currently teaches European asylum law at Ca' Foscari University, Venice. He has been concurrently counselor for asylum affairs in the Venice municipality's program for asylum seekers. Prior to his positions in Venice, he was a senior resettlement expert at UNHCR's central resource center in Nairobi, Kenya, covering east and central Africa. He has also served as director of the US State Department's Overseas Processing Entity (OPE) in Vienna, Austria, the central office covering US refugee admissions through Central Europe, and was the director of the Central European office of the Hebrew Immigrant Aid Society (HIAS). He has taught at the American University, Paris; Oberlin College; Occidental College; and Indiana University. He is a graduate of Swarthmore College and holds an advanced degree from Princeton University.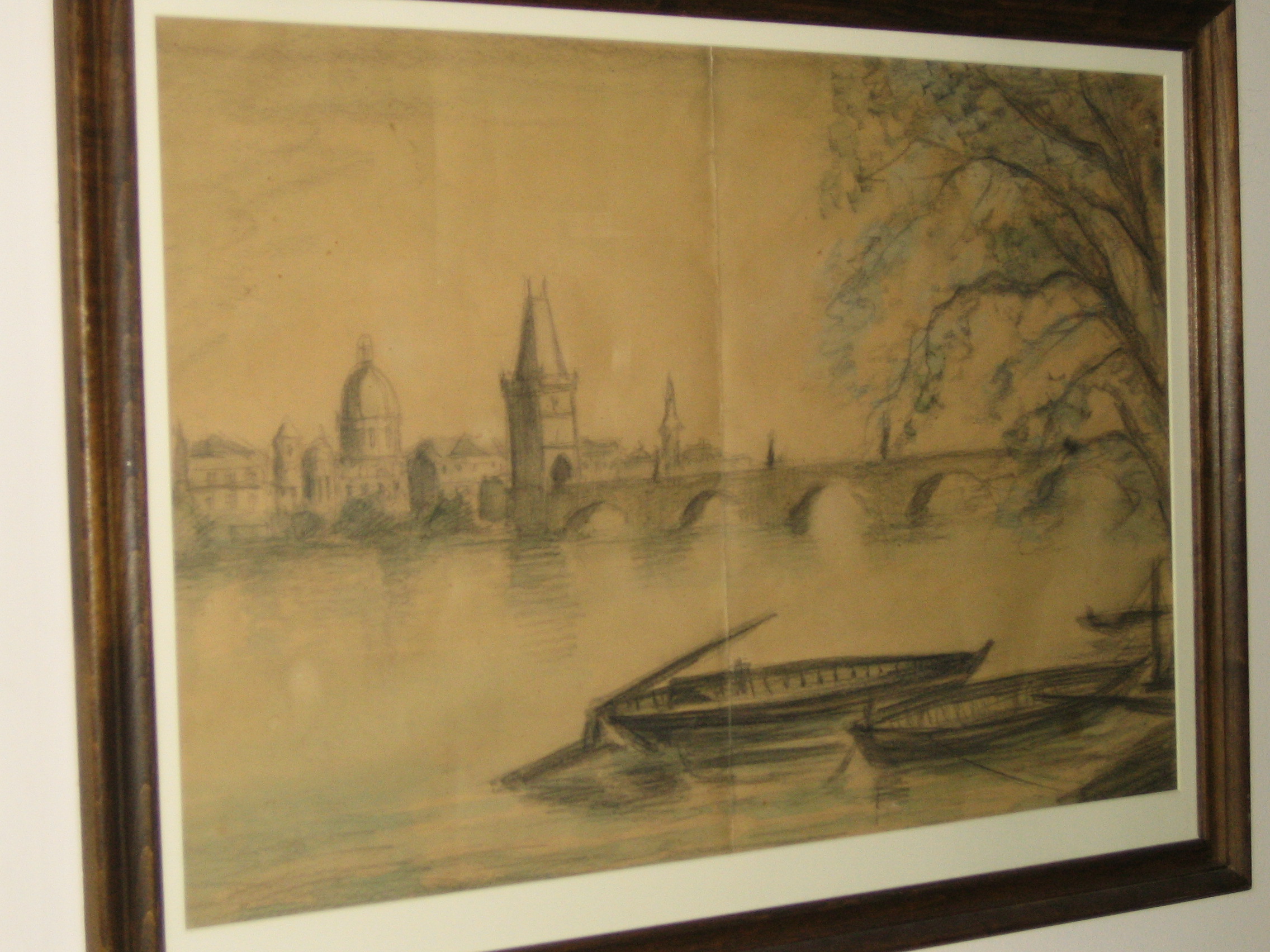 "Framing the Past: Terezin Art and Family Memory" with Rachel Gelfand
September 21, 2015
Rachel Gelfand is a PhD candidate in the Department of American Studies at the University of North Carolina at Chapel Hill. With a background in oral history and radio, she is interested in studying feminist and queer histories. Before returning to American studies at the doctoral level, she produced radio pieces, deejayed radio shows, and worked on projects of public memory and oral history. In memory studies, she is pursuing a project concerning a set of Holocaust drawings and intergenerational familial memory. She is originally from the greater Boston area and the granddaughter of Holocaust survivors.
"In The Shadow of the Holocaust: The Forgotten Survivors" with Peter Schrag
August 31, 2015
Journalist and scholar Peter Schrag is the co-author, with his father Otto Schrag (1902-1971) of "When Europe Was a Prison Camp: Father and Son Memoirs, 1940-1941," Indiana University Press, August 2015, which describes Otto Schrag's internment and escape from a French camp in the early years of World War II, and Peter's own escape with his mother from Nazi occupied Europe at roughly the same time.
Schrag describes his work: "It was hardly an unusual story — it was the story of half a continent, people on roadsides trying to repair their broken-down cars; people sitting on their luggage in railway stations waiting for trains that no longer ran; families in hay wains pulled by oxen, on foot carrying infants, on bicycles, the old, like my grandmother, the sick, the lame; people living with the terrible uncertainty, sometimes for years, of not knowing where their loved ones were, who to trust, which road not to take. It was not until a few years ago that my family persuaded me to look at my father's crumbling old manuscript and then to translate it and to return to my own story, partly for the sake of family history, but maybe more importantly, to add yet one more document to the history of those terrible years. It's a history that must not be forgotten, even as so many of us have tried so long to forget it."
About the author:
Peter Schrag, who served for 19 years as editorial page editor of the Sacramento Bee, is a lifelong journalist. From his retirement in 1996 until 2009 he also wrote a weekly column for the Bee. He continues to write occasional pieces for the Bee and other publications. A former executive editor of Saturday Review magazine, he is the author of articles and reviews in the Atlantic, Harper's, the Nation, the New Republic, the New York Times, the Los Angeles Times, the Washington Post, Playboy, the American Prospect and other publications. His book, "Paradise Lost: California's Experience, America's Future," published by the New Press in April 1998, was chosen as a New York Times Notable Book and issued as a paperback by the University of California Press in 1999. Among his other recent books are "Final Test: The Battle for Adequacy in America's Schools," which was published by the New Press in October 2003 and "California: America's High-Stakes Experiment, and Not Fit for our Society: Immigration and Nativism in America" both published by the University of California Press. Peter Schrag has taught at Amherst College where he also served as a college administrator, the University of Massachusetts, the Bread Loaf Writers Conference, and at the Graduate School of Journalism and the Graduate School of Public Policy at the University of California at Berkeley. He also served on the board of EdSource, a California school policy analysis organization, and on the advisory council of the Public Policy Institute of California. In 2012 he was a consultant to the Commission on Equity and Excellence of the U.S. Department of Education. From 1998 to 2013, he was also a visiting scholar at Berkeley's Institute of Governmental Studies.