Past Events
Spring 2023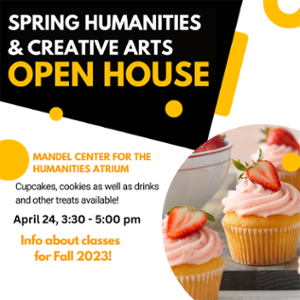 Humanities and Creative Arts Open House - Fall 2023 Courses
April 24, 2023
The Division of Humanities and Division of Creative Arts are hosting an 
open
house
 on 
Monday, April 24, from 3:30 - 5:00 pm
 in the Mandel Atrium. Feel free to stop by to learn about Fall 2023 classes, meet faculty, and talk about the Departments and Programs with UDRs. Cupcakes, coffee and tea, and other light refreshments and treats will be available. No registration necessary.
Fall 2022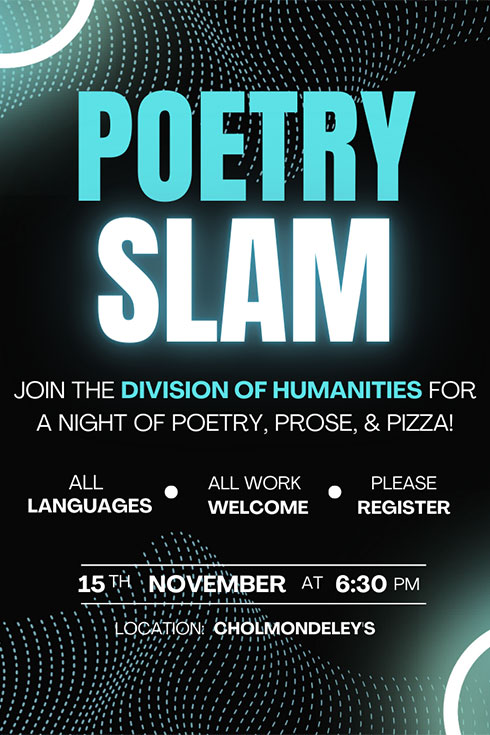 Poetry, Prose & Pizza — Poetry Slam!
November 15, 2022
Join the Division of Humanities for a poetry slam at Chum's. There will be drinks, pizza, and anyone is welcome to read a piece of work. If you would like to present, please fill out this form. All languages and all types of work are welcome. We look forward to see you all!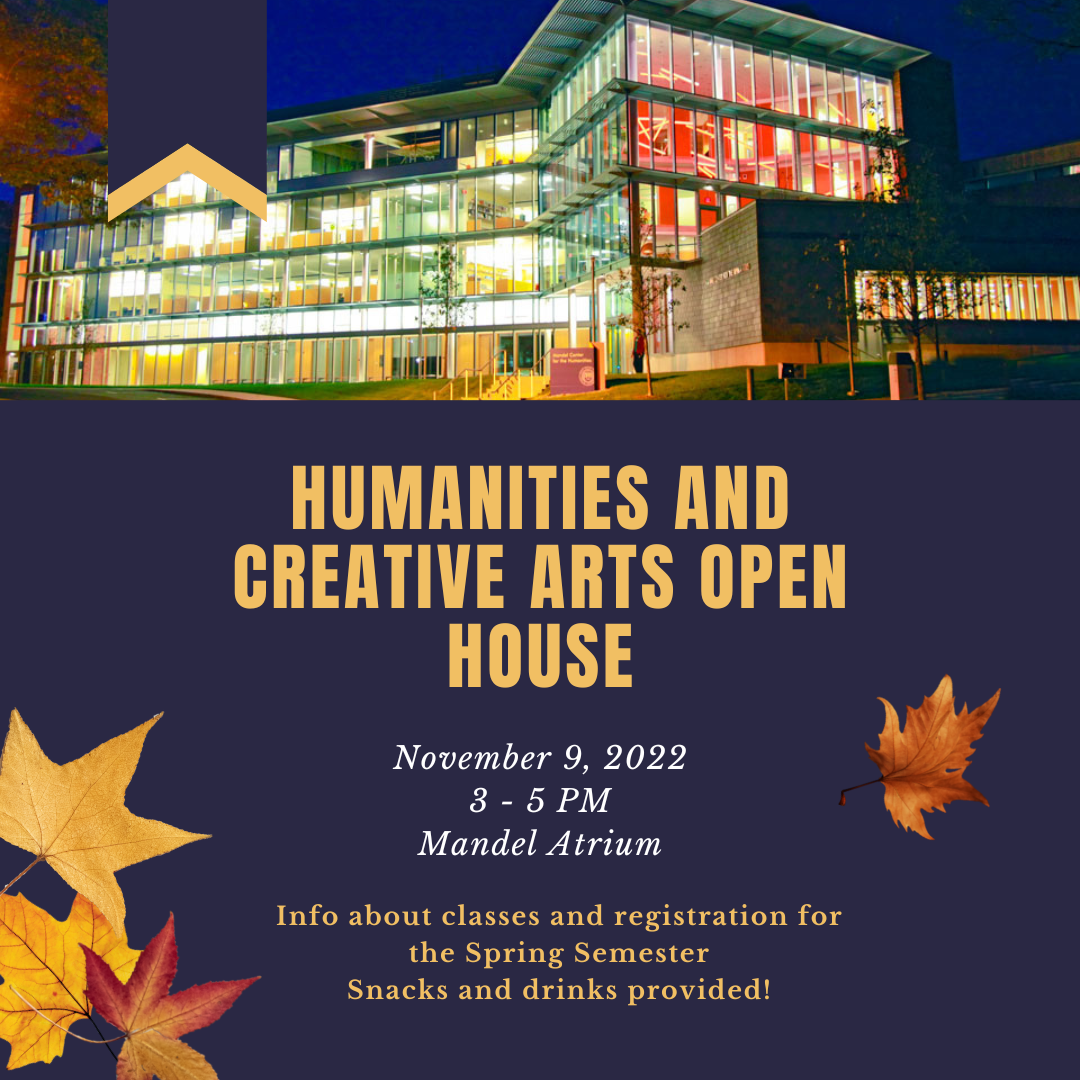 Humanities and Creative Arts Open House
November 9, 2022
The Division of Humanities and Division of Creative Arts are hosting a joint open house for Spring 2023. Each department and program will have their own space and UDRs and faculty will be present to answer questions and share information on upcoming classes. Swing by to learn more before registration opens for 2023! Fall-themed snacks and drinks will be provided.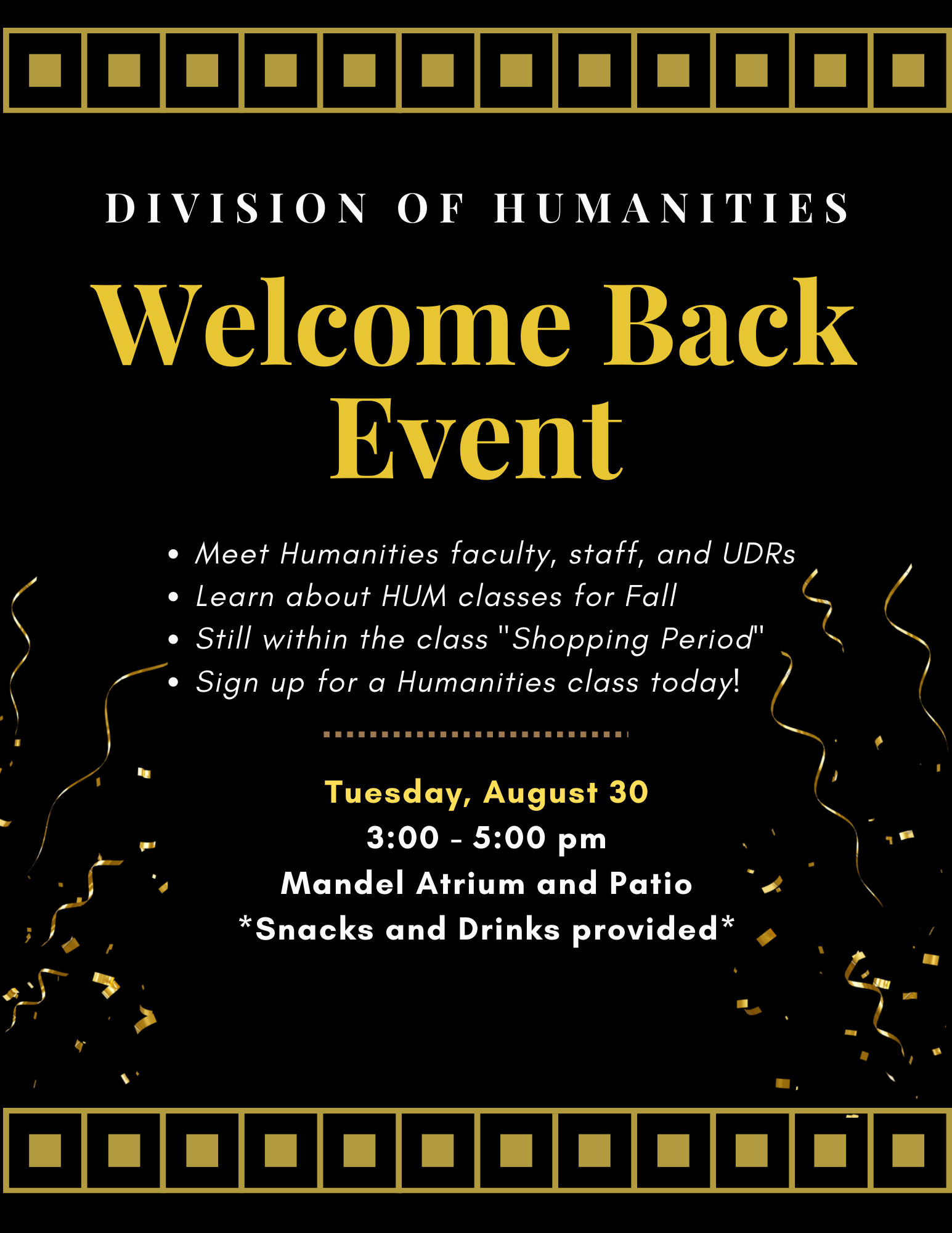 Division of Humanities Welcome Back Event
August 30, 2022
Meet Humanities faculty, staff and UDRs

Learn about HUM classes for Fall

Still within the class "Shopping Period"

Sign up for a Humanities class today!
Spring 2022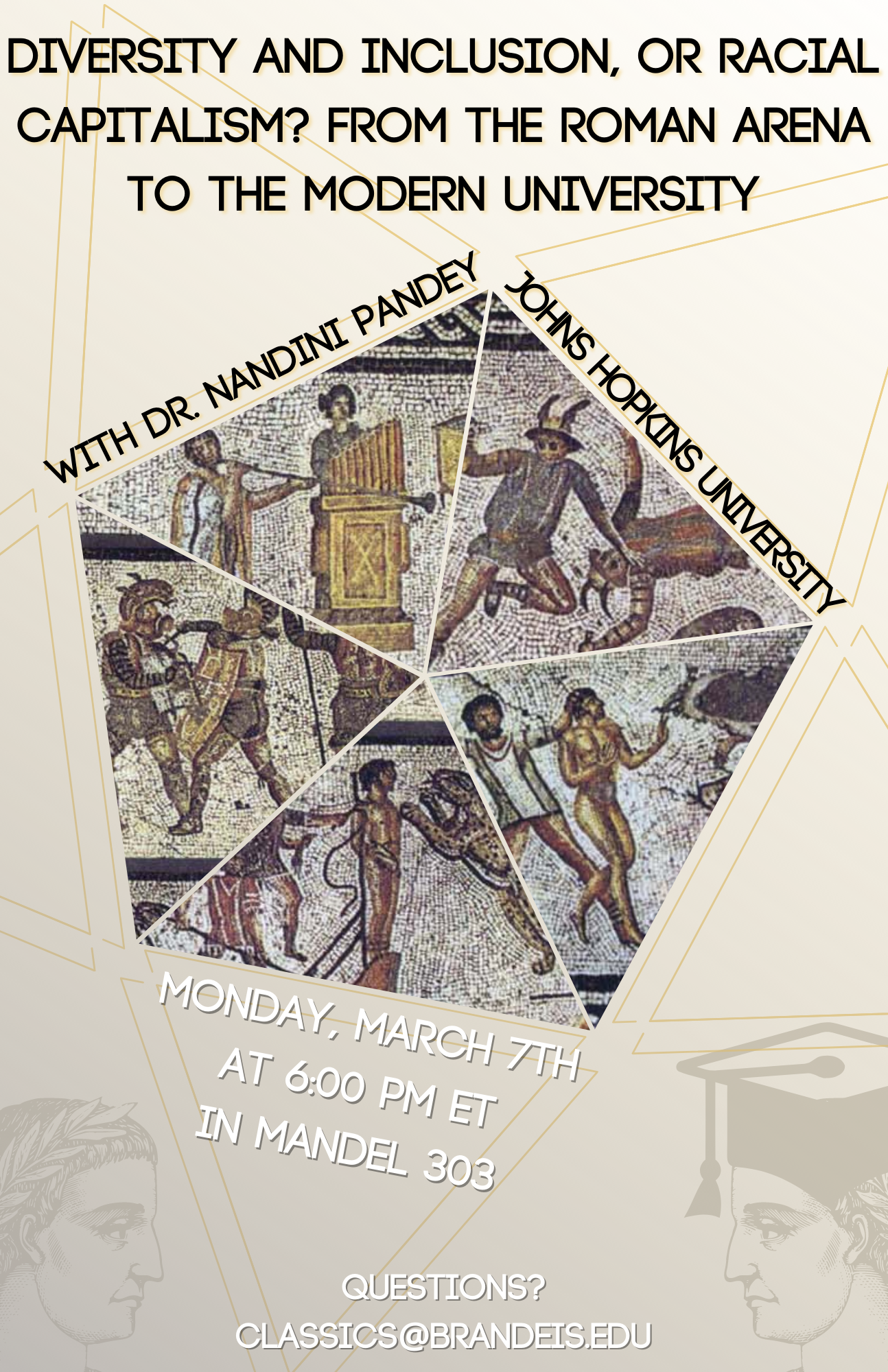 Talk: Diversity and Inclusion, or Racial Capitalism? From the Roman Arena to the Modern University with Dr. Nandini Pandey
March 7, 2022
Department of Philosophy Colloquium Series: A Talk by David Chalmers
March 11, 2022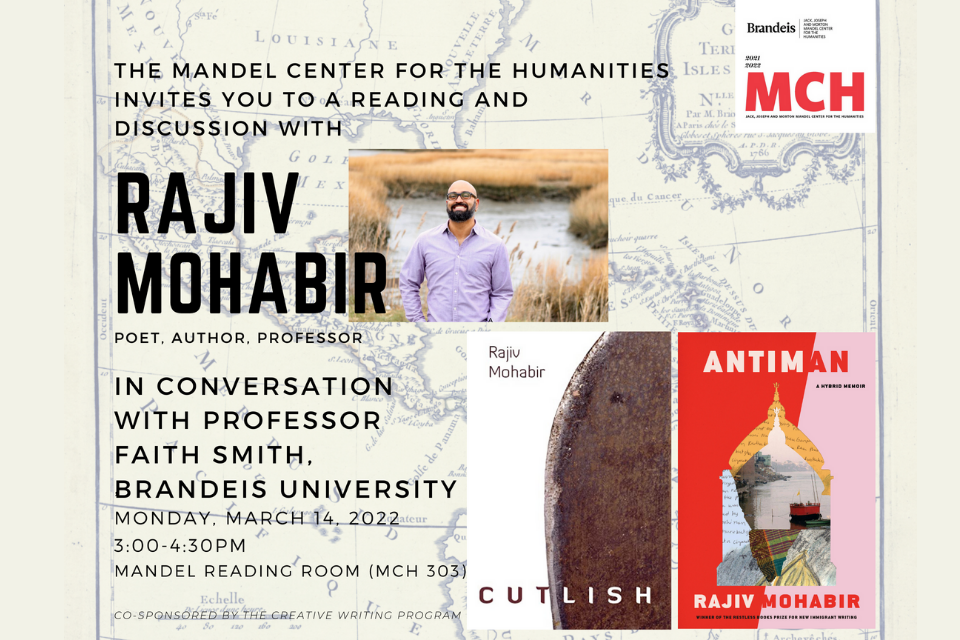 Rajiv Mohabir Poetry Reading and Conversation with Faith Smith
March 14, 2022
Speakers: Rajiv Mohabir and Faith Smith (AAAS and English)
Faculty Lunch Symposium with Dorothy Kim
March 17, 2022
12-1 p.m. March 17, Mandel Center for the Humanities Reading Room 303
"The Open Corpus Project and the Corpus Turn in Book History."
Speaker: Dorothy Kim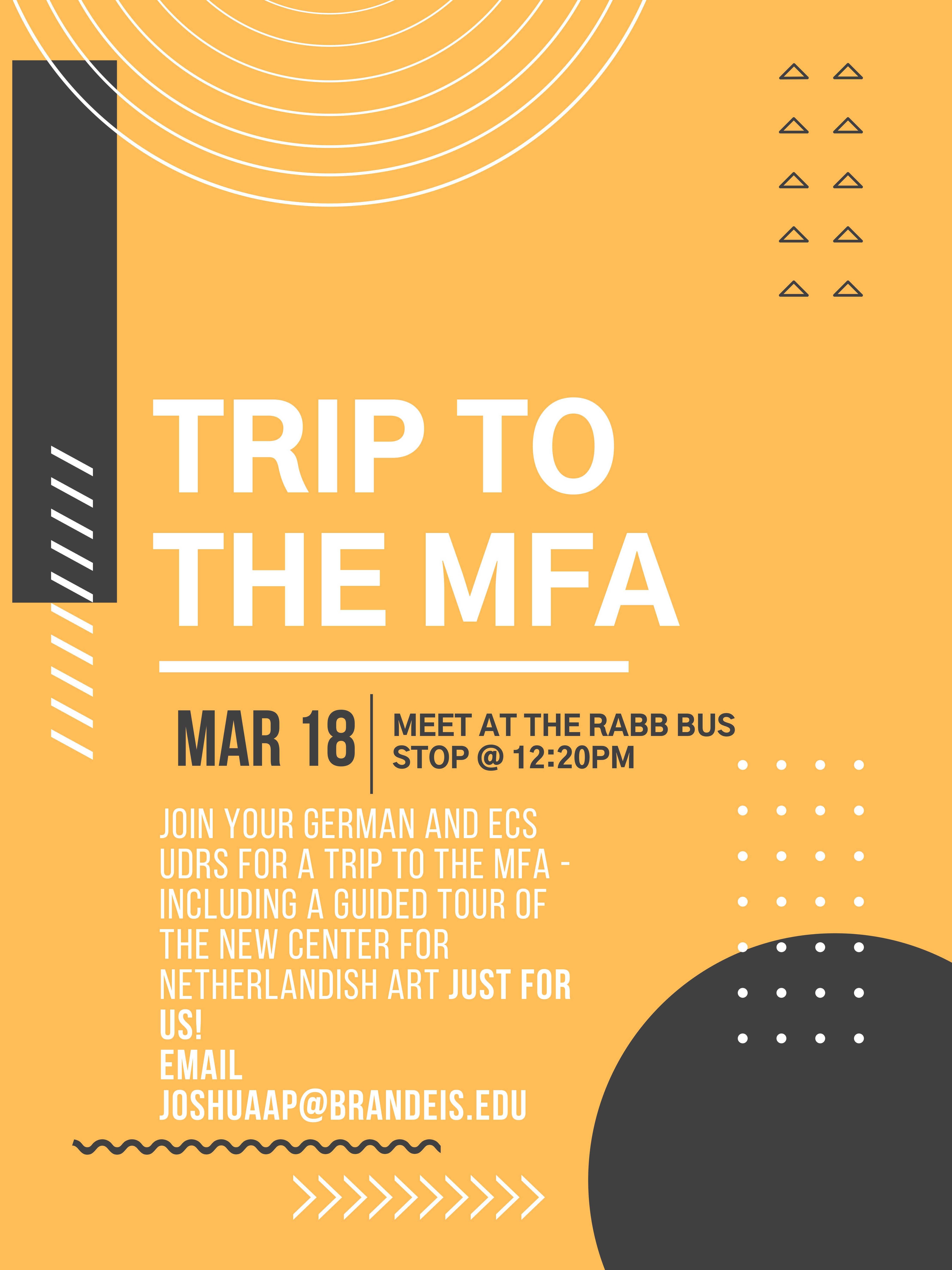 Trip to MFA
March 18, 2022
Hosted by the German Studies Program.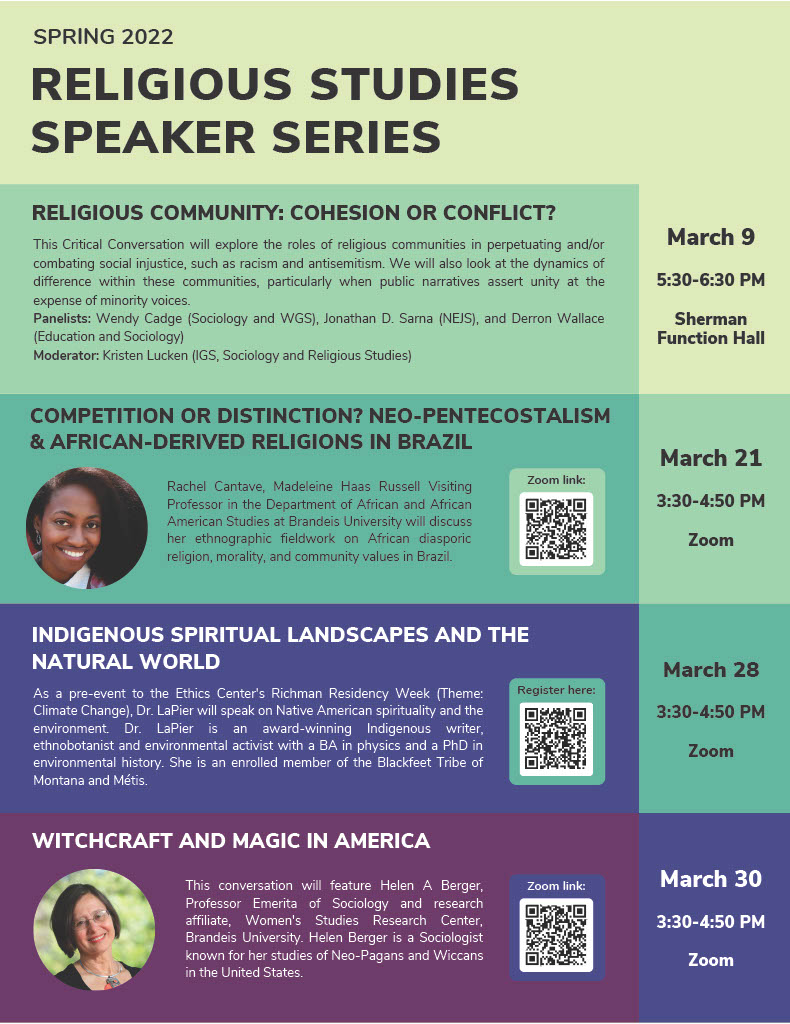 Talk: Competition or Distinction? Neo-Pentecostalism and African-derived Religions in Brazil
March 21, 2022
Speaker: Professor Rachel Cantave, Madeleine Haas Russell Visiting Professor in the Department of African and African American Studies at Brandeis University.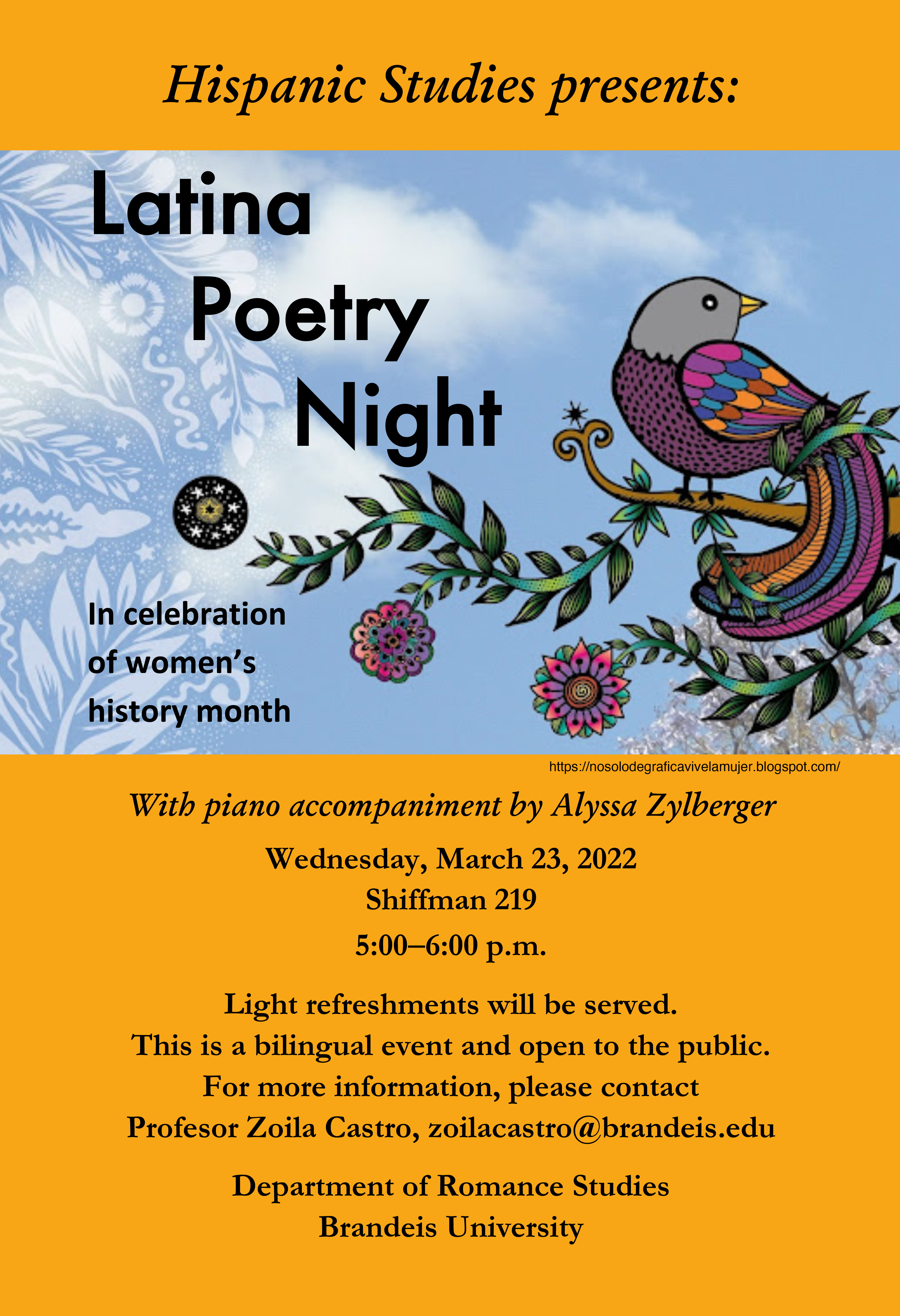 Latina Poetry Night
March 23, 2022
March 25, 2022
Hosted by the Department of English.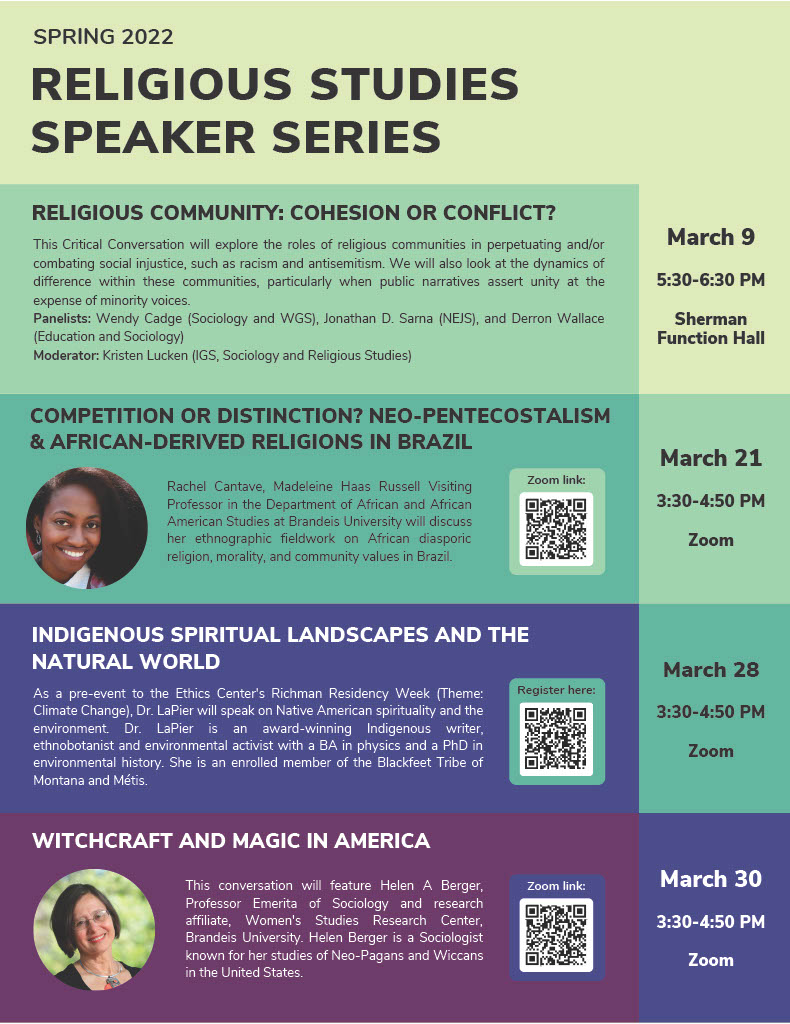 Talk: Indigenous Spiritual Landscapes and The Natural World by Rosalyn LaPier
March 28, 2022
Guest Speaker Vincent Brown in ANTH/HIST 143, Sugar: Cultivation, Circulation, Power
March 30, 2022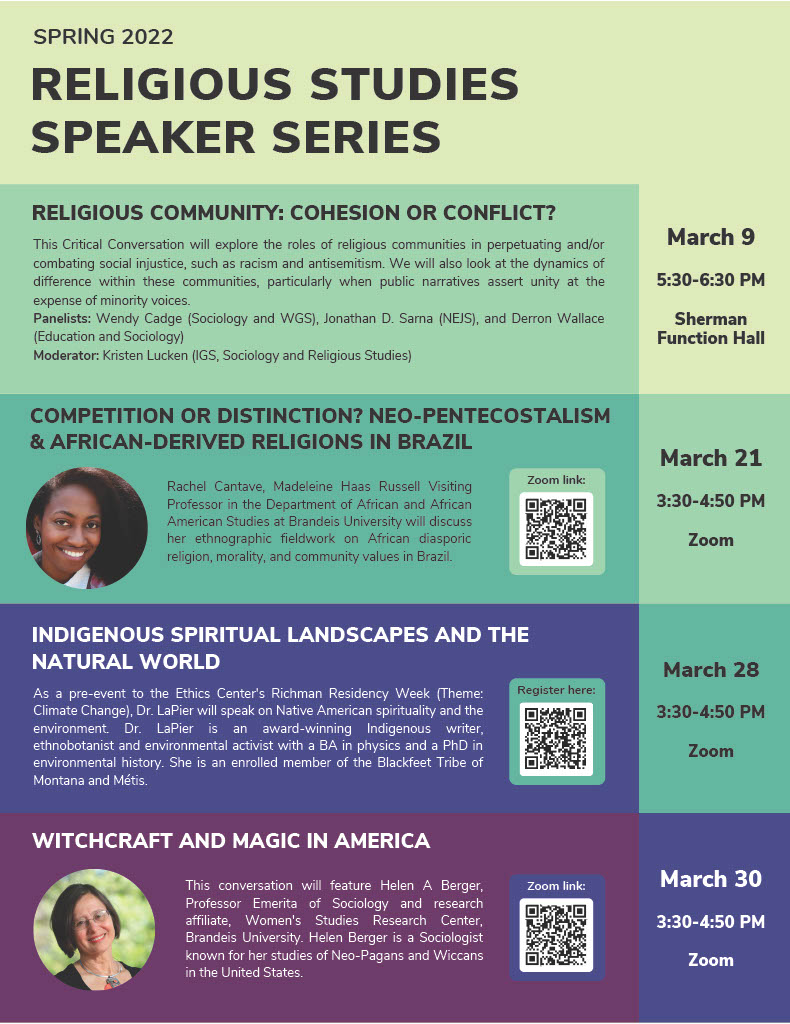 Talk: Witchcraft and Magic in America by Helen A. Berger
March 30, 2022
Department of Philosophy Colloquium Series: A Talk by Michaela McSweeney
April 1, 2022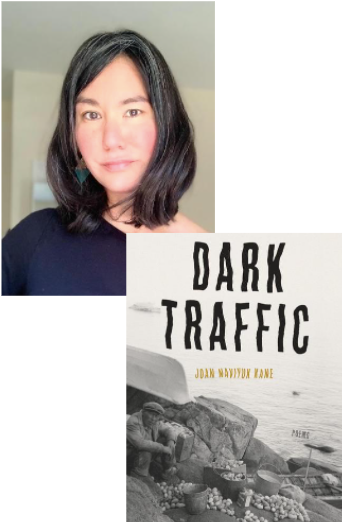 April 6, 2022
Poet Joan Naviyuk Kane is Inupiaq with family from Ugiuvak and Qawiaraq. The author of eight collections of poetry and prose, she is a lecturer in the department of studies in Race, Colonialism and Diaspora at Tufts, and teaches creative writing at Harvard, Tufts, and the Institute of American Indian Arts. She raises her sons in Cambridge, Massachusetts.

Kane will read from her work. PhD students Jenny Factor and Nai Kim will lead the discussion, during which attendees are encouraged to ask questions. This is part of the Brandeis Creative Writing Reading Series.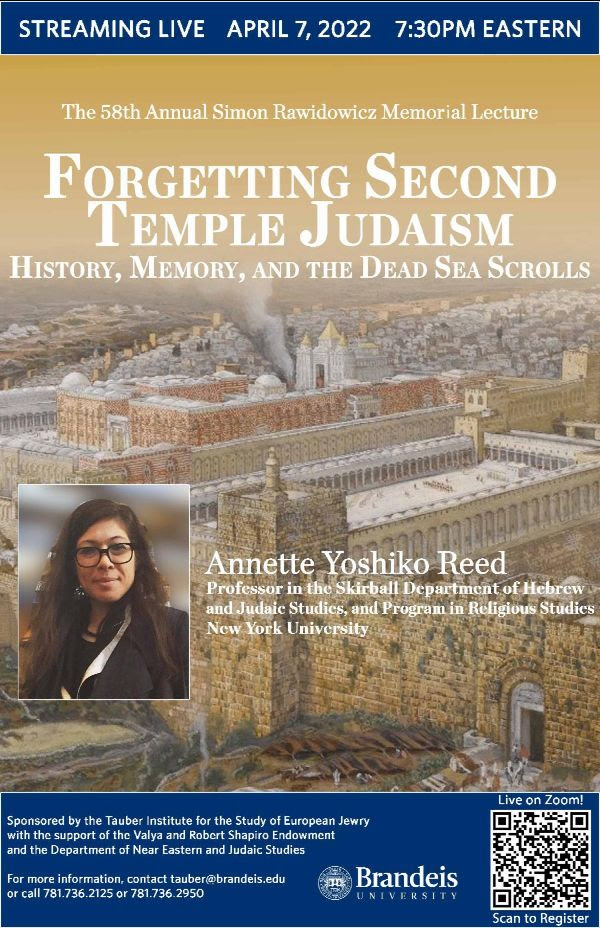 Lecture: Forgetting Second Temple Judaism, Annette Yoshiko Reed
April 7, 2022
Department of Philosophy Colloquium Series: A Talk by Victor Kumar
April 8, 2022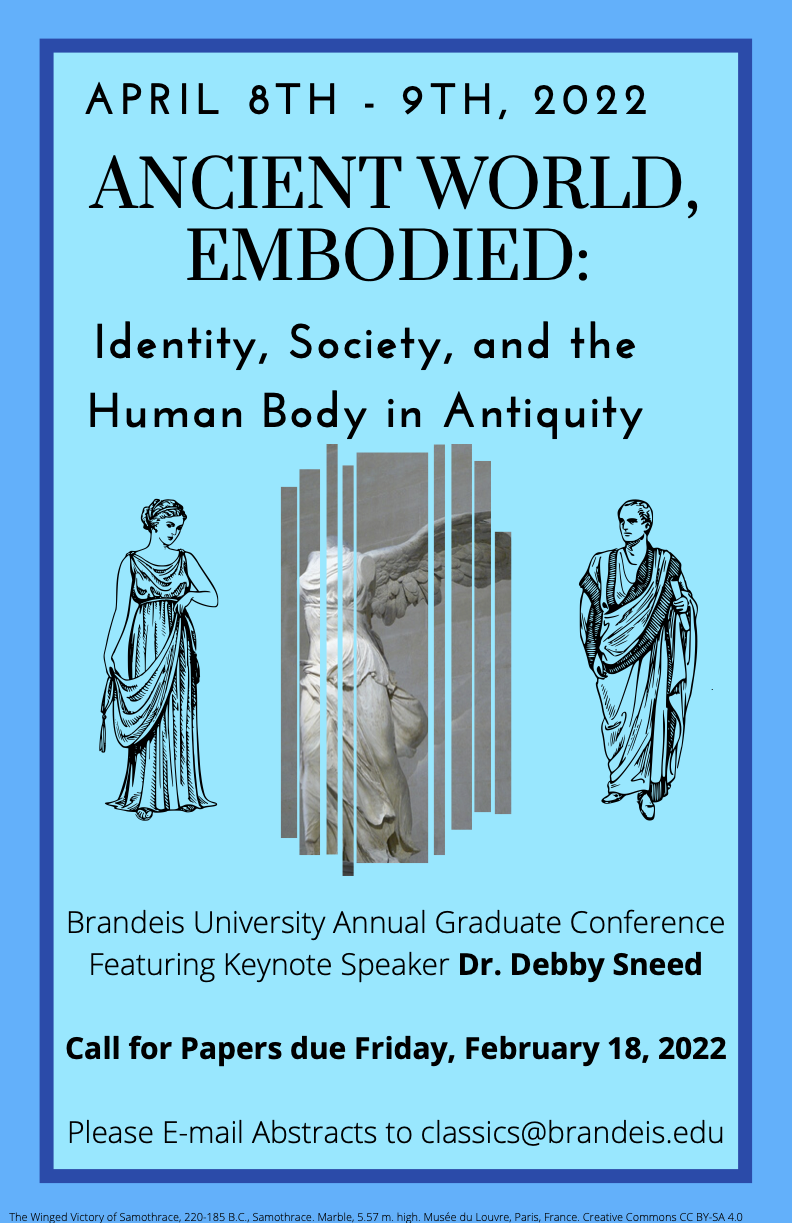 April 8, 2022
"This conference will provide a platform for the exploration of ideas related to the human body through the examination of textual, visual, and material evidence from the ancient world. The intention of this conference is to engage with the human body through a range of disciplines as it impacted societies in antiquity. " Hosted by the Department of Classical Studies.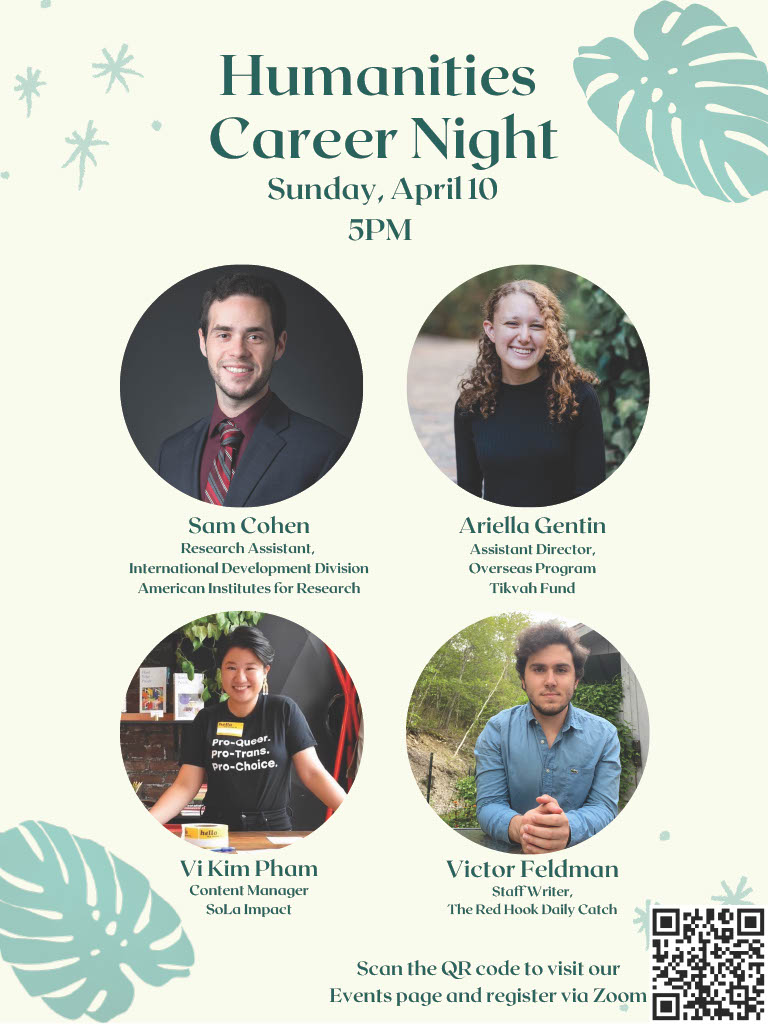 Humanities Career Night
April 10, 2022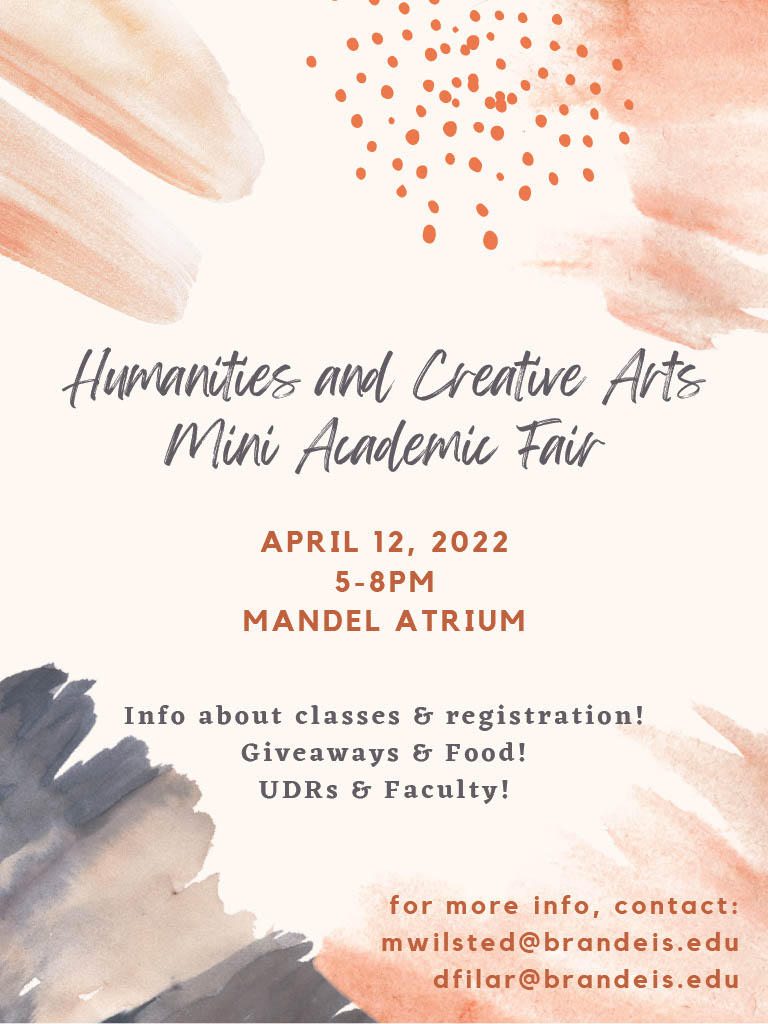 Humanities and Creative Arts Mini Academic Fair
April 12, 2022
Each department/program in the Humanities and Creative Arts will have its own table run by its UDRs and faculty with brochures, information about classes and fall registration, giveaways and food!
Film Screening & Panel Discussion: "Memories of the Eichmann Trial" (1979), directed by David Perlov
April 12, 2022
Panel discussion: Israeli Filmmaker Yael Perlov, Laura Jockusch, Sharon Pucker Rivo
Introduction by Professor Jonathan Sarna
Department of Philosophy Colloquium Series: A Talk by Erich Hatala Matthes
April 29, 2022
2020-21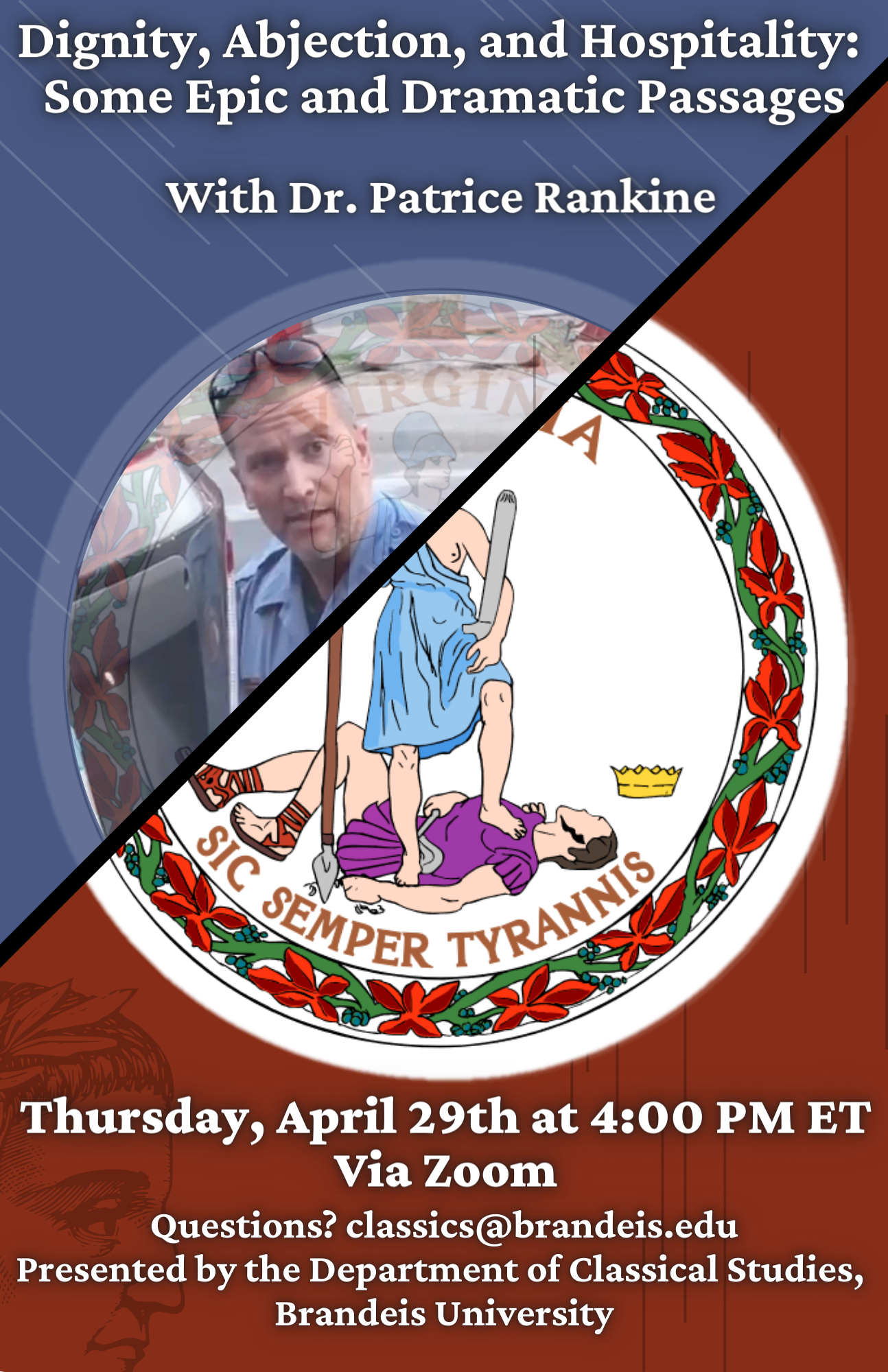 Dr. Patrice Rankine, "Dignity, Abjection, and Hospitality: Some Epic and Dramatic Passages"
Via Zoom on Thursday, April 29. Please reach out to classics@brandeis.edu or David DeVore with any questions about the event or on how to attend.
Grants and Research Funding for Scholars and Students
Curious about how to fund your research as a scholar? Confused about what grants are and how to get them? Not sure where to start looking for funding? Come join our panel discussion about grants and research funding for scholars and students
Hosted by the Department of Classical Studies, Dr. Alexandra Ratzlaff will be joined by Brandeis' own Judy Appel, Meredith Monaghan, and Lisa Zeidenberg for an open discussion about grants and funding for graduate and undergraduate students. The discussion will be held via Zoom.
Please reach out to David DeVore or classics@brandeis.edu with any questions about the event.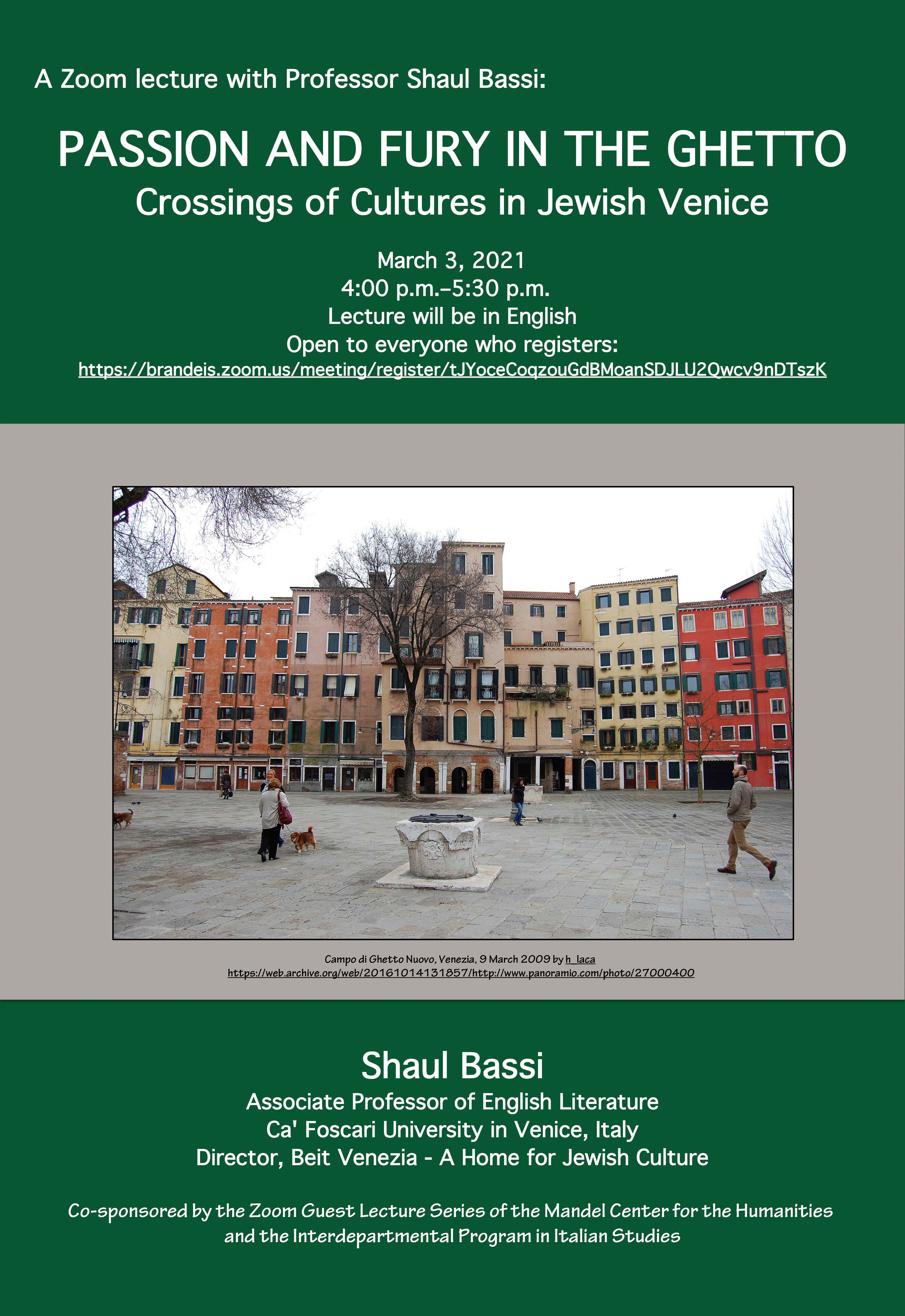 PASSION AND FURY IN THE GHETTO Crossings of Cultures in Jewish Venice
A Zoom lecture with Professor Shaul Bassi, Associate Professor of English Literature
Ca' Foscari University in Venice, Italy
Director, Beit Venezia — A Home for Jewish Culture
The lecture will be in English.
Co-sponsored by the Zoom Guest Lecture Series of the Mandel Center for the Humanities and the Interdepartmental Program in Italian Studies
SPEAKER SERIES
The Classics department is excited to continue our 2020-2021 Virtual Speaker Series this Spring! We are pleased to start the semester by welcoming Dr. Rebecca Kennedy, Denison University, for her talk "Athenian Immigration and Race."
THE BRANDEIS JUSTICE INITIATIVE INTRODUCTORY MEETING
September 17, 2020
The Brandeis Justice Initiative aims to facilitate engagement, learning, and reflection about liberal education for people impacted by, or vulnerable to, incarceration. The BJI is hard at work identifying ways that Brandeis folks can tutor, mentor, and teach in ways that make a meaningful and sustainable contribution to people within or in the shadow of the criminal justice system.
There are a variety of ways that all members of the Brandeis community can be involved, and are invited to attend an introductory event. We'll discuss who we are, what we do, and WHAT YOU CAN DO!
2019-20
Mega Language Lunch
November 19, 2019
The World Languages and Cultures Committee with generous support from the  Division of Humanities, the Provost and the Dean of Arts and Sciences, invited all members of the Brandeis Community (students, faculty, and staff) to experience and celebrate the linguistic diversity of Brandeis during the "I'm Global Week 2019."
The Mega Language Lunch featured individual language tables for speakers of the following languages - Arabic, Chinese, French, German, Hebrew, Italian, Japanese, Korean, Russian, and Spanish. No matter the level of proficiency, all were welcome! The only rule is NO ENGLISH! It was a great opportunity to celebrate and support language diversity at Brandeis.
THE WRITING BEHIND AN AWARD
October 29, 2019
A conversation with Edoardo Albinati.
Albinati is a novelist and screenwriter who lives in Rome. His novel "Svenimenti" won the 2004 Viareggio Literary Award, and "The Catholic School" won the Strega Prize in 2016. For the last 25 years, he has worked as a teacher in Rebibbia, the largest prison in Rome.
Presented by The Italian Studies Program at Brandeis University and the Consulate General of Italy, cosponsored by the Mandel Center for the Humanities.
2018-2019
Natural Not Yet Understood: The Supernatural from Antiquity to the Medieval Period
April 13, 2019
Keynote Speaker: Professor Debbie Felton, University of Massachusetts, Amherst
Humans have always been drawn to the idea of creatures and worlds that exist alongside or outside of our own. These extraordinary ideas can take many forms, from average people with usual abilities to worlds of the dead and fantastic beasts. But as Elbert Hubbard once said, "The supernatural is the natural not yet understood." Today, we have realized that many of the past's supernatural events were simply misunderstood natural phenomena."



Retirement Symposium for Bernadette Brooten
May 3, 2019
Honoring Professor Bernadette J. Brooten, Kraft-Hiatt Professor of Christian Studies and Founding Director of The Feminist Sexual Ethics Project at Brandeis.
Intertextuality and the Crisis of Form in the Deathbed Narratives of Masaoka Shiki
May 3, 2019
Speaker: Dr. Matthew Mewhinney.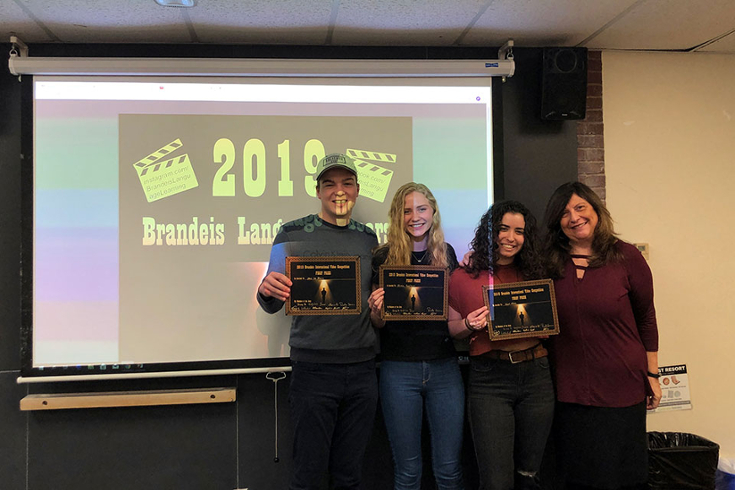 April 16, 2019
Presented by World Languages and Cultures Committee and Office of the Dean of Arts and Sciences.
Hollywood and the French Resistance: The Paramount Theater during the Nazi Occupation of Paris
April 16, 2019
Speaker: Ross Melnick
Co-sponsored by the International Global Studies Program, the Department of Romance Studies, and the American Studies Program at Brandeis University.
Publishing World Literature in the Age of Nationalism
April 15, 2019
Speaker: Meike G. Werner (Vanderbilt University)
Forgiveness: Eighth Annual Spring Mini-Conference
April 13, 2019
With Kathleen Moran, associate professor and chair of philosophy, Brandeis University; Jens Timmerman, professor of moral philosophy, University of St. Andrews, Scotland; Lucy Allais, professor of philosophy, University of the Witwatersand, Johannesburg, and the Henry Allison Chair of the History of Philosophy, UC San Diego; and Adrienne Martin, the Akshata Murty '02 and Rishi Sunak Associate Professor of Philosophy, Politics and Economics at Claremont McKenna College.
Latin American Jewish & Gender Studies
April 10, 2019
Words and Artifacts: Treasures of a Cuban-Jewish Exile
Speaker: Ruth Behar, Professor of Anthropology, University of Michigan
Sponsored by HBI Project on Latin American Jewish and Gender Studies, the Leonard Bernstein Festival of the Creative Arts, Brandeis Alumni Association, Brandeis International Business School, and Brandeis Latin American and Latino Studies Program.
Poetry Reading & Choreopoem Performance
April 8, 2019
Performers
Ashley-Rose, an award-winning Haitian-American educator, organizer, and poet from Boston

Melissa Alexia, a dance artist/educator, certified yoga teacher, and writer
Sponsored by Creativity, the Arts, and Social Transformation (CAST); co-sponsored by the Department of English.
Imperial Literature and Voices of Others: Ideological Visions of the Multiethnic Japanese Empire
April 5, 2019
Speaker: Mari Ishida
Sponsored by the East Asian Studies Program and Comparative Literature and Culture Program.
Equatorial Guinea, Literature, and Activisms in the Diaspora
March 27, 2019
A Talk by Juan Tomás Ávila Laurel.
Sponsored by the Ethics Center and co-sponsored by African and African American Studies Department, the English Department and Romance Studies Department.
Dror Keren, Actor, Playwright and Director
March 25, 2019
"What is Home?"
Sponsored by Center for German and European Studies (CGES), Schusterman Center for Israel Studies, Department of Theater Arts and the Hebrew Program.
The Eikonic Conception of Scientific Explanation
March 22, 2019
Speaker: Alisa N. Bokulich, professor of philosophy at Boston University.
Class Act III: Carnevale
March 20, 2019
Presented by the Italian Studies Program.
Udi Mokady, Chairman and CEO of CyberArc
March 18, 2019
Sponsored by the Hebrew Program.
From #metoo to the Sicilian Slave Revolts
March 13, 2019
Speaker: Prof. Dominic Machado, College of the Holy Cross.
Let's Dance! International Evening of Dance
March 10, 2019
deis IMPACT College - Critical Race Theory w/ Professor Patrick Sylvain
February 8, 2019
Jennifer Elise Foerster
February 6, 2019
Statistical Resentment
Speaker: David Enoch, the Rodney Blackman Chair in the Philosophy of Law, Hebrew University of Jerusalem.