Faith Smith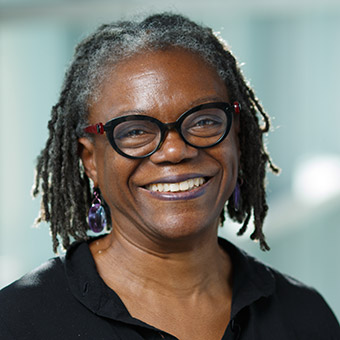 Marta F. Kauffman '78 Professor of African and African American Studies
Professor of English
Affiliate in Creativity Arts and Social Transformation (CAST), Latin American, Caribbean and Latin Studies (LACLS), and Women's, Gender and Sexuality Studies (WGSS)
PhD, Duke University
Research Interest
Caribbean cultural production; Black diasporic literature; afterlives of slavery, indenture and empire; gender and sexuality.
Selected Publications
"Strolling in the Ruins: The Caribbean's Non-sovereign Modern in the Early 20th Century." Duke University Press (2023).
"Fabricating Intimacies: Artificial Silk and Cloth Wives in the Interwar Moment." Caribbean Review of Gender Studies 12 (2018).
"And For You I Played a Sorrow Song: Looking at Frances Johnston's Sorrow Songs With Carrie Mae Weems" in Carrie Mae Weems: Strategies of Engagement. Eds. Robin Lydenberg and Ash Anderson
"The Soundings With My Sisters: Sovereignty, Intimacy, Disappointment." Small Axe 54 (2017).
"Good Enough for Booker T to Kiss: Hampton, Tuskegee, and Caribbean Self-Fashioning." Journal
of Transnational American Studies 5, 1 (2013).
"Sex and the Citizen: Interrogating the Caribbean." University of Virginia Press, 2011. Editor.
"Encyclopedia of African-American Culture and History: the Black Experience in the Americas." 2nd ed. 6 vols. New York: Macmillan Reference, USA, 2006. Editor-in-Chief Colin Palmer. Associate Editors Lisa Gail Collins, Marcyliena Morgan, Faith Smith, James Sweet, and Robert Reid-Pharr.
"Creole Recitations: John Jacob Thomas and Colonial Formation in the Late 19th-Century Caribbean." University of Virginia Press, 2002.
Guest Editor, Small Axe, 7 (March 2000). Special issue on "Genders and Sexualities."
"Coming Home to the Real Thing: Gender and Intellectual Life in the Anglophone Caribbean." South Atlantic Quarterly 93, 4 (Fall 1994): 895-923.
Articles and reviews in Small Axe, Callaloo, Research in African Literature, Journal of American Ethnic History, Journal of Latin American Anthropology, Shibboleths: Journal of Comparative Theory, Trinidad and Tobago Review.
Awards
Dean of Arts & Sciences Faculty Service Award, 2020
Sheila Biddle Ford Foundation Residential Fellow, W.E.B. Du Bois Institute for African and African American Research, Harvard University, 2008-09
Rockefeller Foundation Fellow, National Humanities Center, North Carolina for 2002-03
Selected Courses Taught
Black Looks (ENG 80A)
Caribbean's Asias (ENG 72A)
Reading the Black Transnation (ENG 237a)
Migrating Bodies, Migrating Texts (ENG 127b)Novel and Film of the African Diaspora (AAAS 134B)
Caribbean Women and Globalization: Sexuality, Citizenship, Work (AAAS 125B)