Latest News
Matthew Fraleigh has been chosen for the Hakuhodo Research Fellowship for 2021-22
Matthew Fraleigh (GRALL and EAS) received a Hakuhodo Research Fellowship at Waseda University in Tokyo for the coming academic year. The Hakuhodo Fellowship allows scholars based outside Japan to conduct research at one of eight institutions in Japan for one year. Professor Fraleigh's project is a new one focused on postwar Japanese literary journals devoted to classical Chinese poetry. There is almost no scholarship about the world of Sinitic verse composition in post-1945 Japan, and so he hopes to make a contribution relevant not only to Anglophone, but also to Japanese scholarship. He is delighted that his proposal was selected, and that Waseda University in Tokyo has agreed to host him for the research period.
Ann Olga Koloski-Ostrow has been named the Charles Eliot Norton lecturer by the Archaeological Institute of America for 2022-23
Ann Olga Koloski-Ostrow (CLAS and Head of the Division of the Humanities) received the Archaeological Institute of America's Charles Eliot Norton Memorial Lectureship for the 2022/2023 academic year. The Lecture Program Committee of the AIA has selected her from a slate of highly regarded nominations, and the Norton Lectureship is one of the highest honors that the Institute can bestow. The Norton Lectureship was founded in 1907 and endowed in 1909 by James Loeb, in honor of the founder and first President of the Archaeological Institute of America. Professor Koloski-Ostrow will join a list of other eminent scholars, such as D. G. Hogarth, A. J. B. Wace, Rhys Carpenter, Mortimer Wheeler, John Caskey, Homer Thompson, and Mary Beard, who have held the Norton Lectureship in the past. (This is one of the highest honors afforded to scholars by the AIA, and the first time a scholar from Brandeis has been chosen for it.)
Irina Dubinina receives 2020 AATSEEL Book Award
February 16, 2021
Irina Dubinina's (Associate Professor of Russian and Director of the Russian Language Program, GRALL) textbook, co-authored with Olesya Kisselev, 
Rodnaya Rech': An Introductory Course for Heritage Learners of Russian
, has been awarded the prize for Best Contribution to Language Pedagogy by the American Association of Teachers of Slavic and East European Languages (AATSEEL).
Alumni News from the English Department
Two Brandeis alums have published essays in the new collection Performing Disability in Early Modern English Drama, edited by Leslie Dunn. 
"By the Knife and Fire": Conceptions of Surgery and Disability in Early Modern Medical Treatises
Austin, Jodie (MA '09 and PhD '14)
Enabling Rabies in King Lear
Mendelson, Avi (PhD '19)
Irina Dubinina shortlisted for 2020 AATSEEL Book Award
January 4, 2021
Irina Dubinina's (Associate Professor of Russian and Director of the Russian Language Program, GRALL) book has been shortlisted for the 2020 AATSEEL Book Award in the category of Best Contribution to Language Pedagogy:
Rodnaya Rech'. An Introductory Course for Heritage Learners of Russian
by Irina Dubinina and Olesya Kisselev (Georgetown University Press, 2019)
November 3, 2020
Grace Talusan's (Fannie Hurst Writer-in-Residence, English) memoir The Body Papers won the 20th Annual Massachusetts State Book Award in Nonfiction and her short story, The Book of Life and Death, was chosen for Boston Book Festivals 10th annual One City One Story. 
THE BRANDEIS JUSTICE INITIATIVE INTRODUCTORY MEETING
September 17, 2020
The Brandeis Justice Initiative aims to facilitate engagement, learning, and reflection about liberal education for people impacted by, or vulnerable to, incarceration. The BJI is hard at work identifying ways that Brandeis folks can tutor, mentor, and teach in ways that make a meaningful and sustainable contribution to people within or in the shadow of the criminal justice system. 
There are a variety of ways that all members of the Brandeis community can be involved, and we invite you all  to attend an introductory event Thursday, September 17th  at 2 pm
The best way to let us know you are interested is to fill out a brief form on our website—it does not commit you to anything, but it ensures you will hear from us about opportunities that may appeal to you. 
July 7, 2020
A stellar review, published on Music Web International, reads in part:
"Viol consort Nota Bene and the quintet of singers whom they accompany have unearthed here a Renaissance gem, apparently its first recording. ...Overall this is a worthwhile excursion into a little known but stimulating corner of late Renaissance repertoire. Fans of this genre will find their investigations here amply rewarded."
Background information from Sarah Mead:
"The concert, one of a series funded in part by the Brandeis Arts Council and the Mandel Center for Humanities, was part of an exploration that began with a collaboration with Ramie Targoff during the 2013 meeting of the New England Renaissance Conference.  
From its inception, this project (which included a week's campus residency capped with a multimedia performance in Slosberg) has been nurtured by Brandeis, culminating in the recording last summer on the Brandeis campus. In conjunction with that recording, my edition of the 28 madrigals was also published last summer, with thanks to the Brandeis library for helping me to obtain an excellent facsimile from Italy, and to Paola Servino of Romance Studies who was tremendously helpful, assisting me in communicating with the authorities in Italy.
The reviewer pays careful attention to the music and poetry, and has clearly captured the essence of what we had hoped to put across in our performance."
Podcast about the multi-media performance of this program in Slosberg in 2017
Nota Bene, viol consort: Joanna Blendulf, Wendy Gillespie, Sarah Mead, Emily Walhout, with Julie Jeffrey
Guest vocalists: Anney Barrett, Alexander Nishibun, Jason McStoots, Michael Barrett, Steven Hrycelak
Readers: Marya Lowry and Paola Servino
with special thanks to Ramie Targoff, for her invaluable guidance on the poetry and world of Vittoria Colonna & Jonathan Unglaub, for advice and images of works by Michelangelo & his contemporaries
made possible by The Brandeis Arts Council, Brandeis Department of Music, The Poses Fund, Mandel Faculty Grants in the Humanities
July 1, 2020
The World Languages and Cultures committee has created a website dedicated to language learning at Brandeis. The site serves as a hub of information that ranges from information about the language requirement (the WLC requirement) to fellowships to extra-curricular/co-curricular opportunities to multilingual Brandeis. The WLC hopes this website will help promote language learning at Brandeis, become a valuable resource for students, and grow with more content over time.
Keziah Corbett named World Languages and Cultures Fellow for 2020-2021
June 8, 2020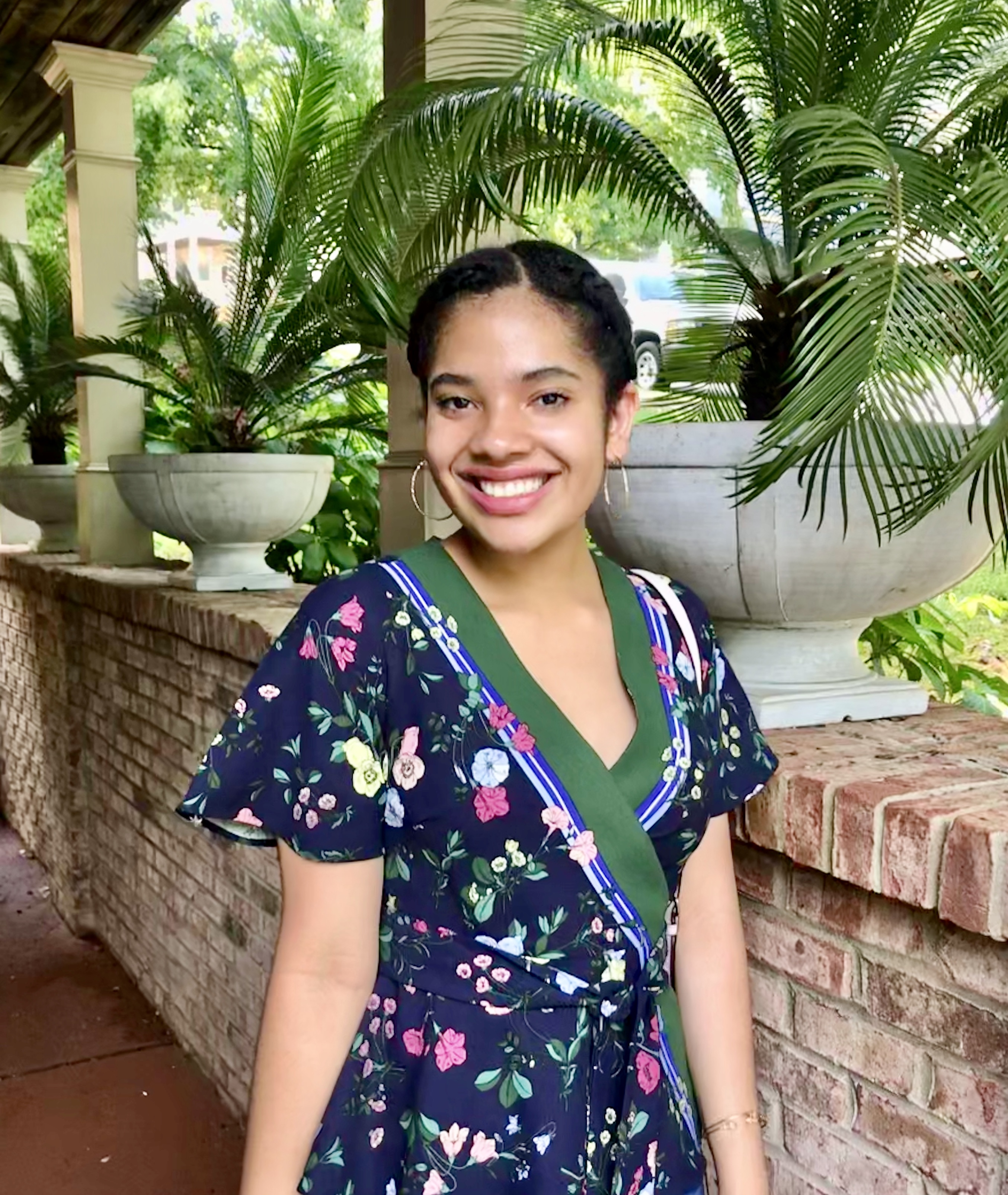 Keziah is a sophomore Posse Scholar from Atlanta, GA studying Health, Science, Society, and Policy (HSSP). At Brandeis, she is in her second year studying Chinese and volunteers with the Waltham Group. In her free time, she enjoys spending time with friends, knitting, and learning about various cultures and languages.
For a message from Keziah, watch her video introduction.
For questions or more information, email Keziah Corbett or check out the Brandeis Language Learning Facebook and Instagram pages!
Celebrating the Class of 2020
May 24, 2020
Sincere congratulations to all of the Humanities students who graduated and special congratulations to:
Doris Brewer Cohen Award in the Humanities, given yearly to recognize an outstanding senior thesis or essay.
Sonia Maria Pavel

Department of Philosophy

"In Defense of Meritocracy"
Dorothy Blumenfeld Moyer Memorial Award, given yearly to recognize creative work in the languages and/or literature.
Evan A. Robins

Department of German, Russian and Asian Languages and Literature

"A False God, Amoral Christ, and Unholy Spirit: The Corruption of Apophaticism in Dostevsky's Devils"
Renee B. Lang Prize in Literature, given yearly to recognize an outstanding senior honors project in a literature major.
Nyomi D. White

Department of English

"50 Shades of Copyright: The Legality of Fanfiction in Twilight and Fifty Shades of Grey"
We hope all students, faculty, and staff in the Division of Humanities enjoy their virtual mini-celebrations and we look forward to the in-person event in spring 2021.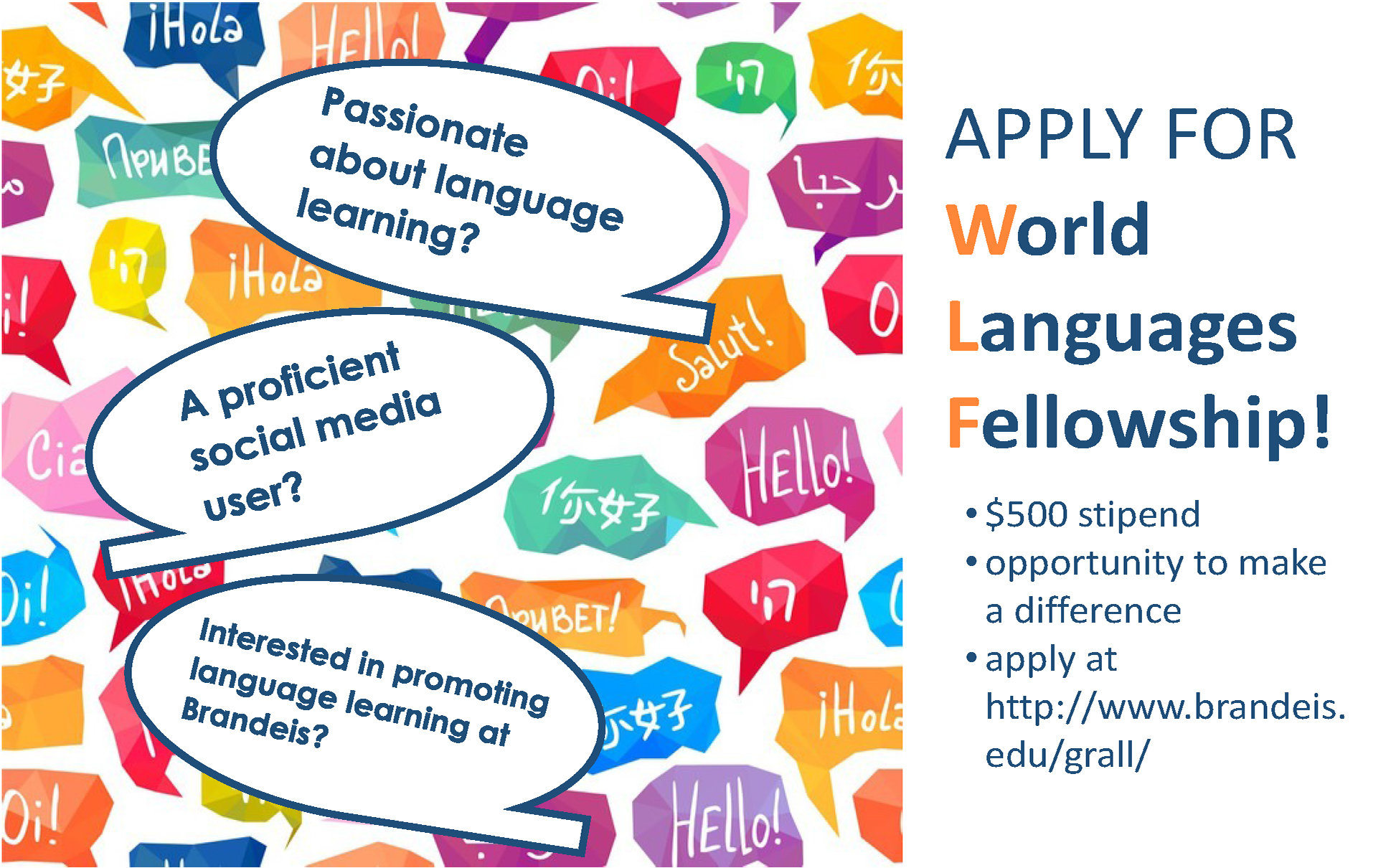 March 31, 2020
Are you passionate about learning language? A proficient social media user? Interested in promoting language learning at Brandeis?
Congratulations to the 2020-2021 Recipients of the Mandel Faculty Grants in the Humanities
January 21, 2020
The Mandel Center for the Humanities has announced the winners of the Mandel Faculty Grants in the Humanities, made possible by a generous gift from the Jack, Joseph, and Morton Mandel Foundation.
Emilie Diouf (English): "Errant Voices: Traumatic Text and the Making of African Women Refugees"
Yuri Doolan (History, WGS, and AAPIS): "The First Amerasians: Mixed Race Koreans from Camptowns to America"
Erin Gee (Music): "Shillim: Mouthpiece 32"
Faith Smith (English and AAAS): "Silk Roads and Highways: Imagining 'China' in the Caribbean Today"
Sheida Soleimani (Fine Arts): "Medium of Exchange"
Call for Proposals: 2019-20 Mandel Faculty Grants in the Humanities
The Mandel Center for the Humanities is accepting applications for four Mandel Faculty Grants in the Humanities. Each of these grants of $5,000-10,000 will support a member of the Brandeis faculty in the humanities, creative arts, and humanistic social sciences, or creative arts. Priority given to projects firmly located in the humanities (broadly defined). To apply for a Mandel Faculty Grant, please send a proposal of no more than 1000 words, to Mangok Bol, mbol@brandeis.edu, by December 6, 2019.
Catherine Theobald receives CSECS prize
September 25, 2019
Catherine J. L. Theobald, Assistant Professor of French and Francophone Studies, is the first recipient of the
Canadian Society for Eighteenth Century Studies
's best essay prize for her article titled "Soaring Imaginations: The First Montgolfier Ballooning Spectacle at Versailles in Word and Image," which is to be published in
Lumen
, a highly respected journal. The 2020 issue's theme is 
Wonder in the Eighteenth Century / L'Émerveillement au dix-huitième siècle.
Please join us in congratulating Catherine on this wonderful honor.
September 20, 2019
The Executive Committee of the International Society for the Study of Narrative (ISSN), has announced that the winner of the 2020 Booth Lifetime Achievement Award is the eighteenth-century scholar and pioneering feminist narrative theorist, Susan S. Lanser. She will be receiving her award during the Awards Luncheon at the 2020 annual conference in New Orleans on March 7, and will be honored with a special panel devoted to her work and career.
Please join the Humanities Division in congratulating Susan Lanser, Professor Emerita of English, Women's, Gender and Sexuality Studies, and Comparative Literature.
Maddie Herrup named World Languages and Cultures Fellow for 2019-2020
August 28, 2019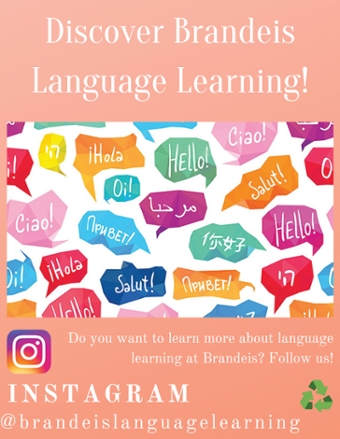 A message from Maddie:
I am a sophomore at Brandeis. Born and raised in Pittsburgh, PA, I am a double major in Anthropology and HSSP, while additionally pursuing Judaic Studies. Some of my many passions include Judaism, religion, prayer, writing, openly discussing mental health and illness, and (yes) language learning. 
Prior to university, I studied Spanish for 10 years, Hebrew for 7 years, and Mandarin for 4 years. Since starting at Brandeis I have continued my Hebrew studies and began learning Arabic (Modern Standard).
To me, language learning can build connections that transcend borders, and other physical or intangible barriers that exist within our world. Language learning, for me, has allowed me to expand my ways of thinking about the world and the individuals that exist within it.
As the new WLC fellow, I am not only hopefully a resource for students but also for instructors as well. To help in doing this, I would love to have any and all input or fun facts throughout my time as a fellow, from you all as instructors! I hope to create meaningful posts for everyone who chooses to follow the page. And I hope throughout the semester you all will communicate with me on what I can do to boost involvement and interest in the languages you all teach!
For questions or more information, email Maddie Herrup or check out the Brandeis Language Learning Facebook and Instagram pages!
HBI Scholar in Residence Announced
April 17, 2019
Esther Brownsmith, NEJS PhD student, will be a Scholar in Residence at the Hadassah-Brandeis Institute for the 2020 spring semester. While in residence she will work on her project, "Inconspicuous Consumption: Conceptual Metaphors of Women as Food in the Dueteronomistic History."
April 16, 2019
Congratulations to the winners of the Language Video Competition!
First Place: Italian
La Felicità Sopra I Soldi / Happiness Over Money


Olivia Spelman, Max Le Blanc, Gavi Klein

Second Place: Chinese
我们的电影 / Our Movie
Noah Rovner-Frydman, William Robitaille, Henry Wasserman, Matt Robin
Third Place: French
Princesse Blanche Neige En France/ Princess Snow White in France
Catherine Chen, Coco Zhang
To see the video finalists in French and Francophone, Hispanic, and Italian Studies, check out the Brandeis Language Oscars page.
Presented by World Languages and Cultures Committee and Office of the Dean of Arts and Sciences
March 26, 2019
Yehudah Mirsky participated in a panel discussion at the UN Headquarters, "The Genocide Convention at 70: From Definition to Implementation" with the Raphael Lemkin Award for exemplary work in the fight against genocide recipient: Father Patrick Desbois. This event was organized by the Permanent Mission of Rwanda to the United Nations and the World Jewish Congress marking the 25th anniversary of the genocide against the Tutsi in Rwanda where more than 800,000 people were systematically killed, overwhelmingly Tutsi but also moderate Hutu, Twa and others. On this Day, we honor those who were murdered and reflect on the suffering of those who survived.
March 12, 2019
On March 10, 2019, all members of the Brandeis community were invited to "Let's Dance! International Evening of Dance" that featured performances by various campus dance groups, brief dance lessons, international dance music, and various languages studied and spoken at Brandeis.
Kara Larsen named World Languages and Cultures Fellow for 2018-2019
Kara is a second-year Brandeis student majoring in East Asian Studies as well as International and Global Studies. They have been taking Mandarin for more than five years; they discovered their love for learning the language in high school while living in Tianjin, China. Kara's philosophy on studying languages is: "No matter what field you plan to be in, knowing another language can only benefit you." As a WLC Fellow, Kara is managing the Instagram and Facebook accounts. Follow these accounts to get regular posts that will highlight various aspects of language learning, share stories connected to language learning, and learn about students studying languages at Brandeis and faculty teaching them! Kara wants to express how grateful they are for the opportunity to help inspire other students at Brandeis about languages, and they hope they can make a difference in the language learning community.