This in-person conference brought together scholars of education, artists, funders and educational policy makers seeking to investigate the holistic, aesthetic, affective and cognitive dimensions of arts experiences to understand their educational potential. Whereas previous studies of Jewish cultural arts have framed the arts primarily as a gateway towards increased Jewish communal involvement, this conference began from the presupposition that an encounter with or production of Jewish culture and art offers important Jewish and educational experiences in their own right. We sought to address key questions:
— How can the affective dimensions of Jewish arts experiences spark journeys of learning and discovery?

— How can the arts help us redefine and reframe theories of Jewish education beyond cognitive outcomes and the acquisition of information or "content," and towards the valuing of aesthetic experience and the flourishing of vibrant Jewish culture as a goal?

— What role can Jewish cultural arts play in life-long Jewish education, particularly for learners who are not members of Jewish institutions?

— How can the arts distinctively open up conversations about ethnicity, race, racial justice and equity in Jewish spaces?
We began with a series of creative experiences that provided us with case studies of the arts that we explored together, including a several drawing and visualizing activities led by Boston artist, Shirah Rubin, and a communal music session led by "Let My People Sing." Our keynote lecturer, Dr. Kimberly Sheridan, George Mason University associate professor of educational psychology and co-director of the Mason Arts Research Center, utilized our collective creative experiences to help us explore how people learn in the arts, and how context shapes learning.

Our roundtable discussion featured artists whose work addresses the critical themes of race, ethnicity, identity and discrimination: Anthony Mordecai Zvi Russell, a vocalist, composer and arranger specializing in Yiddish song; Galeet Dardashti, Sephardi/Mizrahi musician and scholar; Jenni Rudolph, executive director of Lunar: The Jewish Asian Film Project; and Rachel Linsky, a dancer/choreographer/educator of project Zachor. In conversation, these artists highlighted the unique ways that the arts create educational opportunities for Jews and non-Jews to explore these issues together.

Our final session featured three educators and community organizers whose work illuminates the multi-generational dimensions of Jewish arts educational settings and the various ways that creative projects encourage us to expand our understanding of the Jewish canon: Eva Heinstein, senior research fellow at the Jack, Joseph and Morton Mandel Foundation; Laura Mandel, executive director of JArts Boston; and Lex Rofeberg, co-host of Judaism Unbound.

Finally, the entire experience was captured and visually documented through a graphic recording (see below) synthesized by Karyn Knight Detering, and through a curation of our artwork, displayed throughout the conference room.

Throughout the conference, participants had opportunities to meet in small reflection groups bringing artists, educators, funders and community organizers together in shared conversations.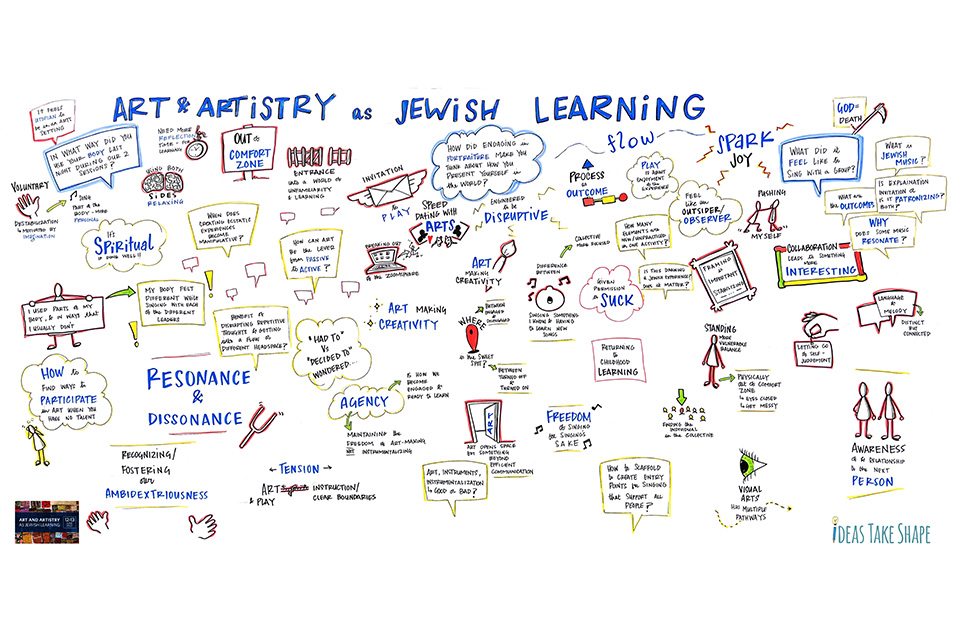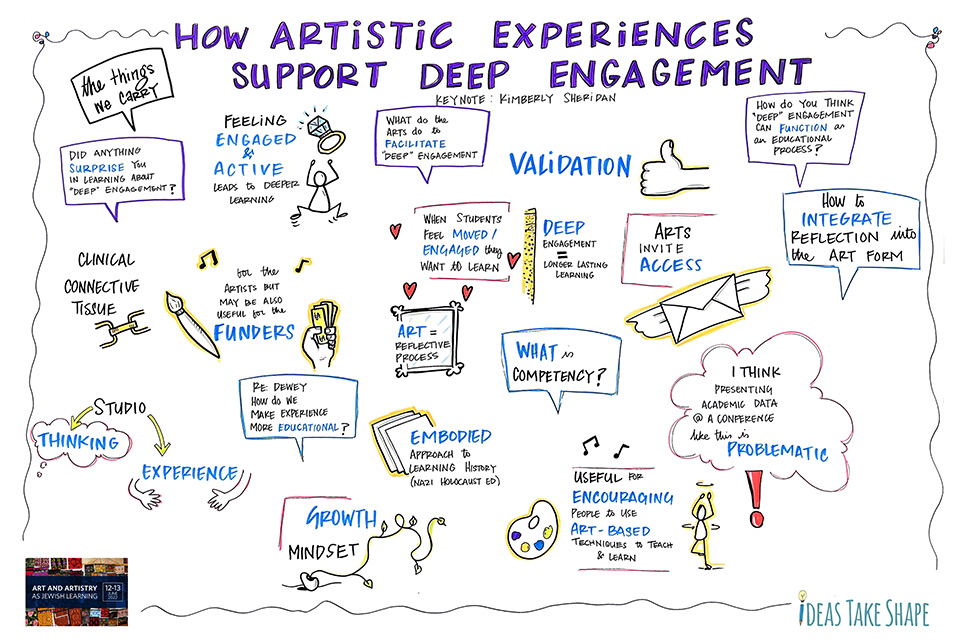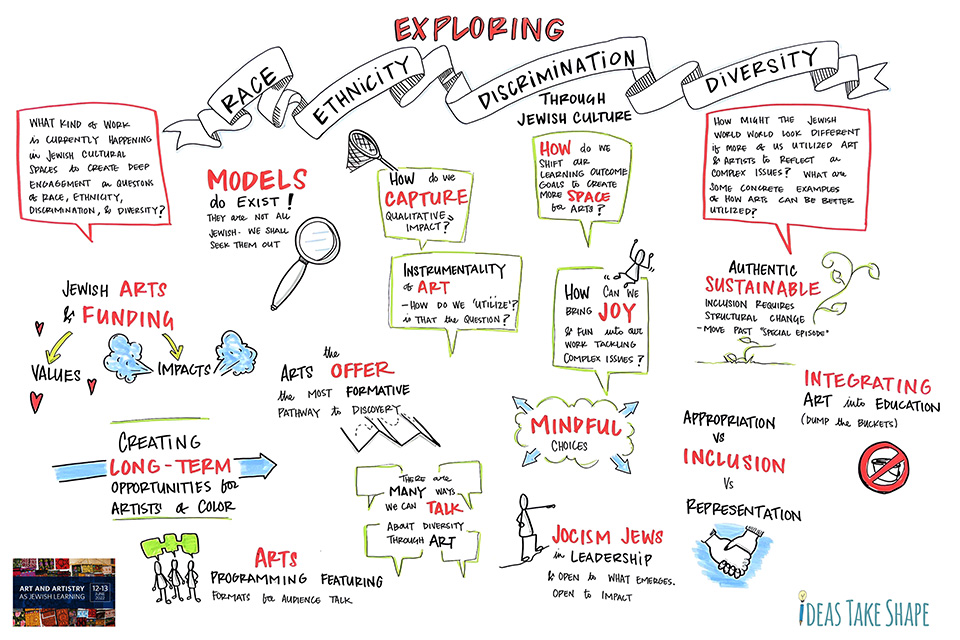 As a follow-up to the conference, Mandel Center Director and Spotlight Session host Jon Levisohn, recorded a Zoom conversation to explore questions generated by the conference and their significance for the field of Jewish education, with conference chairs Laura Yares (Michigan State University and director of the MCSJE project on Jewish Learning Through the Cultural Arts) and Galeet Dardashti (NYU), along with conference participants Eva Heinstein (Mandel Foundation), Miriam Heller Stern (HUC), and Laura Mandel (Jewish Arts Collaborative).

Watch the video of their conversation here.
PHOTO GALLERY