2020 Teacher Forum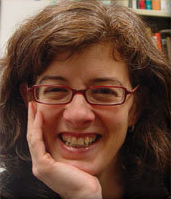 Teaching in a Time of Hate with Simone Schweber
Professor Schweber's presentation is now available.
What does it mean to teach against hate?

What ought we as teachers do in the face of hate-based incidents?
In this interactive workshop, we investigated what it means to teach at a time when demeaning discourses have become more acceptable in the public sphere, where extreme political polarization is the norm, and where hatred, generally, is on the rise. Together, we attempted to tackle what to do when hate-based incidents occur in our classrooms, schools and communities, as well as discussed how to teach against hatred across the curriculum.
Simone Schweber is the Goodman Professor of Education and Jewish Studies at the University of Wisconsin-Madison. She has done research on teaching and learning about the Holocaust and genocide, teachers' working environments in the wake of de-unionization, and the role of religion in public schools. Lately, she has become interested in the rise of white nationalism and authoritarian populism. She teaches courses for social studies teachers-to-be, qualitative research methodologies, and representations of the Holocaust and genocide.