Jewish Day Schools History Project
From the Day School Archives
Yeshivah of Flatbush
"The Emerging Modern Day School"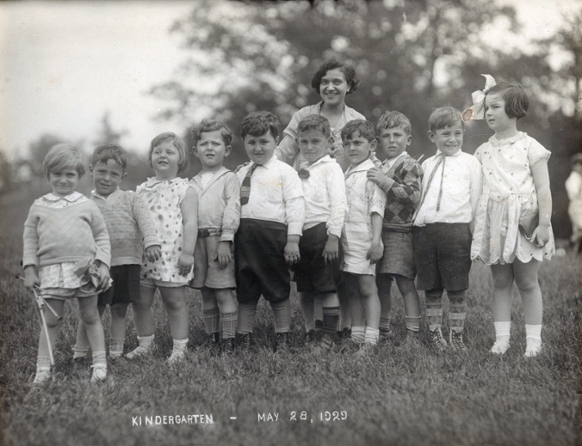 On February 1, 1928, the Yeshivah of Flatbush Hebrew Academy opened with twenty-two children in a kindergarten and a first grade. Among those first students was Shirley Kestenbaum, the girl on the far right of this photo with the bow in her hair. Shirley's daughter, Lynnette Schulder Gruenhut, emailed this photograph to me last year when I reached out to her to learn more about her mother's experience as one of the first girls to attend a modern Jewish day school. Shirley's parents, fur merchant Jacob and his wife Yetta, were members of an emerging Jewish middle class in Brooklyn, New York, who had the financial means and ideological commitment to found a new kind of institution: a bi-cultural private school with a robust dual curriculum. In other words, a modern Jewish day school.
Yeshiva day schools are often perceived as guardians of tradition, but the Kestenbaums and their friends were innovators. It is true that the Yeshivah of Flatbush sought to provide students with a grounding in classical Jewish texts in an environment where religious observance was treated as normative. But no one would mistake the children in the photograph, who look like they were plucked out of a casting call for a Shirley Temple film, for traditional yeshiva students. The co-educational nature of the school was wildly innovative for the time. So, too, was its commitment to placing general and Judaic studies on an equal footing. The third pillar that made the school distinctive was its commitment to modern Hebrew culture and the Zionist movement.
In search of a teacher who would embody the school's values, the parents found Judith Pinta (pictured in the photograph behind the children), a Hunter College graduate with a teaching degree from the Jewish Theological Seminary Teachers Institute (TI), and an active member of the Mizrachi Women's Organization of America. (Pinta eventually left the Yeshivah of Flatbush in the early 1930s to become the private secretary of Mizrachi leader Rabbi Meir Berlin, in British mandatory Palestine.) TI, along with similar teacher training institutions at Yeshiva University and the Herzliya Hebrew Teachers College supplied day schools like Flatbush with a homegrown, mostly female teaching force. Taking their cue from the public schools, modern Jewish day school leaders hired mostly female teachers, especially in the lower grades, because they were perceived as more nurturing (and could be paid less than their male counterparts).