Choosing to Teach
A comparison of context-specific teacher education programs preparing beginning teachers to serve in Jewish, Catholic and urban public schools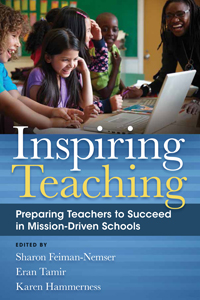 Now available: Inspiring Teaching: Preparing Teachers to Succeed in Mission-Driven Schools (Harvard Education Press)
"Choosing to Teach: Enacting Values in Practice" was a research study that offered a more nuanced understanding of what draws people into teaching and what keeps them there. It explored how their work as teachers intersects with their personal background, teacher preparation, school context and evolving personal and professional selves to shape their practice and commitments.
The "Choosing" study was jointly designed by the Mandel Center and the Alliance for Catholic Education at the University of Notre Dame (ACE). The study focused on beginning teachers in Jewish, Catholic and urban public schools who have chosen to prepare to teach in mission-driven, context-specific teacher education programs.
We investigated new teachers' decisions to teach, their decisions to become trained in particular teacher education programs (DeLeT at Brandeis University, ACE at University of Notre Dame and Urban Teacher Education Program (UTEP) at University of Chicago), and their decisions to teach in particular schools. Data for this qualitative study included interviews with 30 beginning teachers (10 in each program) at two points in time (after their second and fourth years in teaching) and interviews with program directors, focus group conversations with program faculty, classroom observations and interviews with school principals.
All in all, our collaborative investigation discovered the impact of context-specific teacher education programs on the ways teachers:
teach in their specific schools,

develop career commitments to their respective fields of education, and

form their religious and professional identities.
The study grew out of a three-day retreat in May 2005 that brought together a small group of DeLeT (Day School Leadership Through Teaching) teachers and faculty and a small group of University of Notre Dame's ACE (Alliance for Catholic Education) teachers and faculty (30 in all).
Research Work