Bachelor of Arts in Mathematics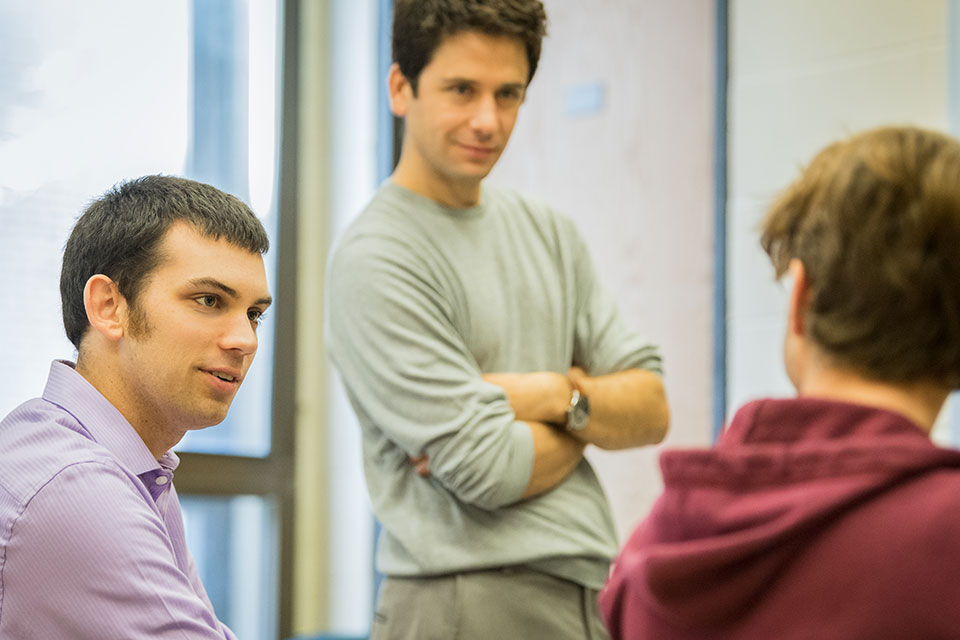 Our technological society is increasingly affected by mathematics. Mathematics is the tool we use to describe, represent and predict phenomena in the natural and social sciences, as well as in the technological and commercial realms of our lives. In understanding mathematics, you will better understand the world and be prepared to act in it.
By studying mathematics, you'll be introduced to fundamental fields—algebra, real and complex analysis, geometry and topology—and to the habit of mathematical thought. Our curriculum includes courses in calculus, linear algebra, abstract algebra, real and complex analysis, topology, differential geometry, differential equations, number theory, combinatorics, statistics and probability theory.
As a mathematics major, you'll be well prepared for graduate study, as well as for a career in scientific research, finance and actuarial science. Whatever path you choose, we also want you to love mathematics for its own sake. As Albert Einstein said, "Pure mathematics is, in its way, the poetry of logical ideas."
Why Brandeis?
Our department is small, flexible and friendly. It's also intellectually rigorous. Our faculty's accomplishments have placed it among the top departments in the country.
And speaking of our faculty, they are not only outstanding academicians, they are also dedicated teachers and mentors. Especially in advanced-level courses, you'll often find them in the audience while a student lectures. By fostering dialogue among all members of the department, we aim to bring mathematics to life.
A separate teacher preparation track leads to a license to teach high school in the state of Massachusetts. The new major in applied mathematics, available starting in fall 2018, provides several tracks for students seeking to use mathematical tools in the physical and computational sciences, or in economics and finance.
Just beyond Brandeis, you'll find an area teeming with first-rate universities that create a mathematical community of great diversity and depth. In addition to attending lectures, seminars and colloquia, you'll have many opportunities for contact with mathematicians at Boston College, Boston University, Harvard, MIT and Northeastern, to name a few.
Academics and Research
Toggle

Student Research Projects
Our Directed Reading Program offers you the opportunity to undertake an independent study project over the course of a spring semester. The project can take the form of reading and working through a mathematics text, reading research papers, or even doing research. The goals are to enable you to study mathematics in greater depth than you can in a classroom and to give you an opportunity to practice explaining mathematical ideas in conversation and in presentations.
Faculty and Student Excellence
Toggle

Distinguished Faculty
Our faculty are not only dedicated teachers, they are scholars who are widely recognized for their work. Here are some recent faculty highlights:
Toggle

Stellar Students
Thomas Aloysius O'Hare '19 excels as a double major in math and physics, and is pursuing a master's degree in mathematics in the combined BA/MA program. He is an Undergraduate Department Representative (UDR) and president of the Brandeis Mathematical Society. He has competed in the prestigious William Lowell Mathematical Putnam Competition and was chosen to participate in the competitive Directed Reading Program (DRP), studying Lie algebras with Biji Wong, PhD'17. This fall, Thomas will begin work on a senior honors thesis with Professor Dmitry Kleinbock and will also apply to PhD programs in mathematics, aspiring to a career in research and academia.
Brandis Whitfield '19, a double major in math and philosophy, was selected for the National Science Foundation's highly-competitive Research Experience for Undergraduate program, and researched low-dimensional topology and geometry at the Institute for Computational and Experimental Research in Mathematics. She was also selected for the DRP program, and studied category theory with graduate student Eric Hanson. She is also a UDR and tutors students in linear algebra and multivariable calculus in the BUGS program. She plans to pursue a career in research and education in mathematics when she graduates.
Graduate Study, Careers and Alumni
Toggle

Graduate Programs and Career Opportunities
Our mathematics majors often choose to continue their studies in mathematics or statistics. In 2017, for example, Brandon Shapiro received a National Defense Science and Engineering Graduate Fellowship to support his PhD studies in mathematics at Cornell University.
Others pursue careers in scientific research, finance, actuarial science or teaching math. Recent graduates include an elementary school math specialist, an actuary at MetLife, a senior financial analyst, an accountant and a speech language pathologist.
Toggle

Renowned Alumni
Many Brandeis mathematics majors have become well-known mathematicians, including:
Ruth Charney '72, professor of mathematics at Brandeis and former president of the Association for Women in Mathematics.

Robert Zimmer '68, president of the University of Chicago.

Ulrike Tillmann '85, professor of mathematics at the University of Oxford.

Harald Helfgott '98, researcher at CNRS/ENS in Paris and winner of the Leverhulme, Whitehead and Adams prizes.

Thordur Jonsson '76, professor at the University of Iceland.